Dr. Nathan Ashmead is a physician in the Emergency Departments at Royal Jubilee and Victoria General hospitals. He comes from a family of caregivers—his father, Glenn, and wife, Allison, are also physicians, and his younger sister is currently in medical school. He's also the proud father of three-year-old Amelia and one-year-old Isla.
We asked Dr. Ashmead to share his perspective on his inspiration to become a physician, and what it's like balancing family with work.
Who inspired you to practice medicine?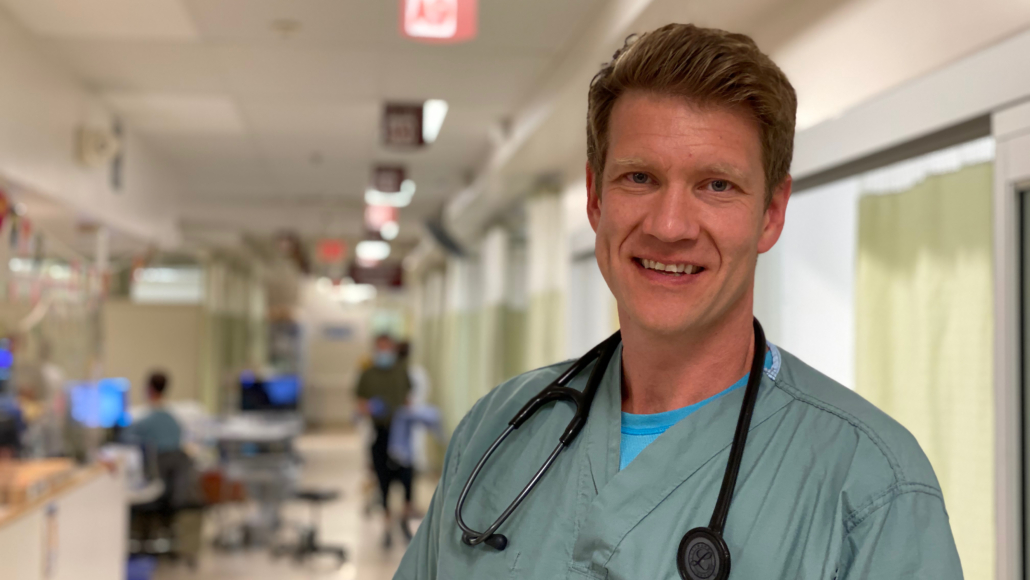 My father was an emergency physician in Victoria for 40 years. I certainly had the model of seeing my father through his practice. Growing up, knowing what he did and seeing how he helped people. I played a lot of basketball and when somebody got injured it was always like "where's Nathan's dad? where's Dr. Ashmead?" I was always very proud to see him charge out there and be able to help a situation.
I actually started working as an ER doctor in Victoria right when my dad retired. Some of my first experiences professionally were with people from different departments sharing experiences of working with my father. So many positive stories about his legacy and his career. It felt amazing to get a glimpse of that side of his life. To us, he went to work and he came home, but to his colleagues his hard work and dedication created a reputation. I hope one day that my children could learn about me in that same respect and get that unique perspective. Father-to-son or father-to-daughter, because it is truly unique.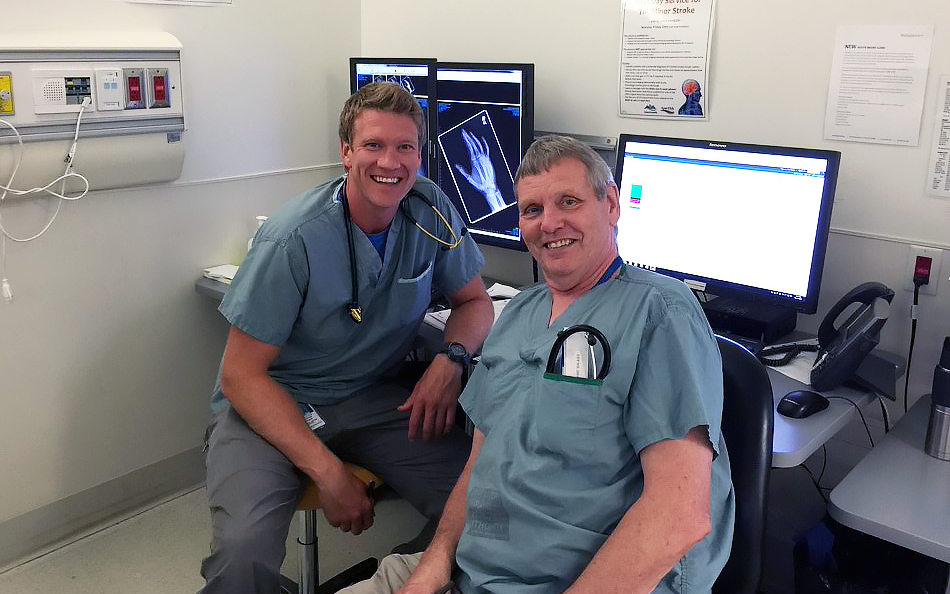 These days, I'm able to share my professional experiences with my dad and hear his wisdom. I run things by him and I'm astounded by his experiential knowledge. He's just seen so much.
How has COVID-19 affected you at home and at work?
My wife and I are both physicians and as such both essential service workers. Allison is a pediatrician. Babies are still being born, she has to work the same amount as before however some of her visits occur through telemedicine. Emergency departments stayed open and although our volumes decreased temporarily and we didn't experience a large spike in COVID cases, my work schedule has stayed pretty much the same. Other than being more aware of infection control, our routines around work didn't change much. The hardest change at home was separating both sets of grandparents from the children and knowing how incredibly important they were to each other. Having my three year old, Amelia, ask on a daily basis when can we see Grammy and Grampy, "are the germs gone yet?" That was really hard.
We were all really touched by the support of the community, the recognition of value for the hospital staff. To have that outpouring of support—I would go outside and hear bagpipes playing in the middle of a shift and see a big sign that says "Thank you to our frontline workers." I think we've all bonded and felt connected over that. To feel that we're valuable, that it's important and powerful work that we do—just taking a moment to acknowledge that.
How has being a parent changed you as a physician?
Becoming a father is something that I always wanted to do. And not just wanted to do, but I felt like it was a part of my being. It wasn't "if," but "when." I saw becoming a father was just fulfilling me as a human and making me complete.
I think that being a physician you have to be the best version of you that you can be. And for me, being a father is the best version of me.
As a physician, being a father certainly helps me understand family dynamics and the connection that a parent has to a child. Understanding and recognizing that intense anxiety about your children's wellbeing. Sometimes it puts patients at ease when I tell a mother or father that I'm also a parent. They immediately feel that they have that connection.
Being a father has also probably made being a physician harder—if you want the flip side of it—because it is so much harder to go to work and leave your kids at home. Growing up, my father managed to work as much as he did and still make time for us—he would switch to midnight shifts so that he could come to our games or take us to the park, even on very little sleep. I think emergency medicine afforded him that opportunity and I now seeing myself doing that. I remember on Easter I worked all night and then did an Easter egg hunt with my kids the next day, just so I had that opportunity to be there.
What is a typical day like balancing your family and work?
Often, I go to bed quite early because I'll be up at 4:30 for a 6:00 a.m. shift. Then I work from 6:00 until to about 3:00 in the afternoon and then I will race home as fast as I can to take the girls so that my wife can go to sleep, because then she often works 16 hours starting at 7:00p.m., overnight. We'll get to see each other in passing in between her sleeping and going to work. Being physicians we understand that we don't work Monday to Friday. We have to work nights, we have to work Father's Day and Christmases, and we have to work odd hours.
How would your daughter Amelia describe what you do?
Oh! I think she's actually told me. She knows I'm a doctor and she knows I help people, so she'll sometimes say "daddy come lay down, I want to examine you" and she'll listen to my heart and pretend to be a doctor. She knows about it and she's emulating some behaviours. She says "I'm Doctor Amelia!"
Our current campaign—It's Critical—aims to increase critical care capacity and build Vancouver Island's first permanent High Acuity Unit (HAU). How would that change your work?

I think the High Acuity Unit is extremely valuable. There is a huge need for that in-between patient that's not quite sick enough for the Intensive Care Unit (ICU), and not quite appropriate for the ward. When I trained in Winnipeg, we had High Acuity Units in every hospital. It was all I ever knew in training and so to come out here and not have it was quite surprising. What ends up happening, currently, is that some patients who don't fit the ICU or the wards end up staying in the emergency department. I think the HAU is the perfect bridge. I think it is an absolute need.
What would you say to our community right now?
I would say "thank you." I think there's been an overwhelming positive response to the directives from Dr. Bonnie Henry and from the province and the health authorities. Recognizing this situation is extremely hard—I see the economic impact, the loss of childcare, the loss of school. But the reason that everybody did that was to prevent the spread and keep us all safe.  And I think BC, and Victoria in particular, did just a fantastic job at that. So I would say thank you for keeping us safe at work.
What would you say to donors to our hospitals and people thinking about giving?
I'd say their impact is huge. Everything that we can get to improve our care of critically ill patients can make a difference. With resources stretched in all directions, to have the Foundation step up and support a new ultrasound machine or a new video laryngoscopy device is invaluable. Every resource puts more arrows in our quiver, so to speak.
There is no way to express the impact if even one of those devices or investments saves a single life. And we experience that on a regular basis, seeing somebody's health—or their life—changed so significantly. Words can't even express how important that is, or how thankful we are.
And our patients! Seeing patients on the other side, when they've survived a horrific ordeal. How thankful they are knowing that any one of those tools or resources made a difference in their care.