A letter from Dr. Gustavo Pelligra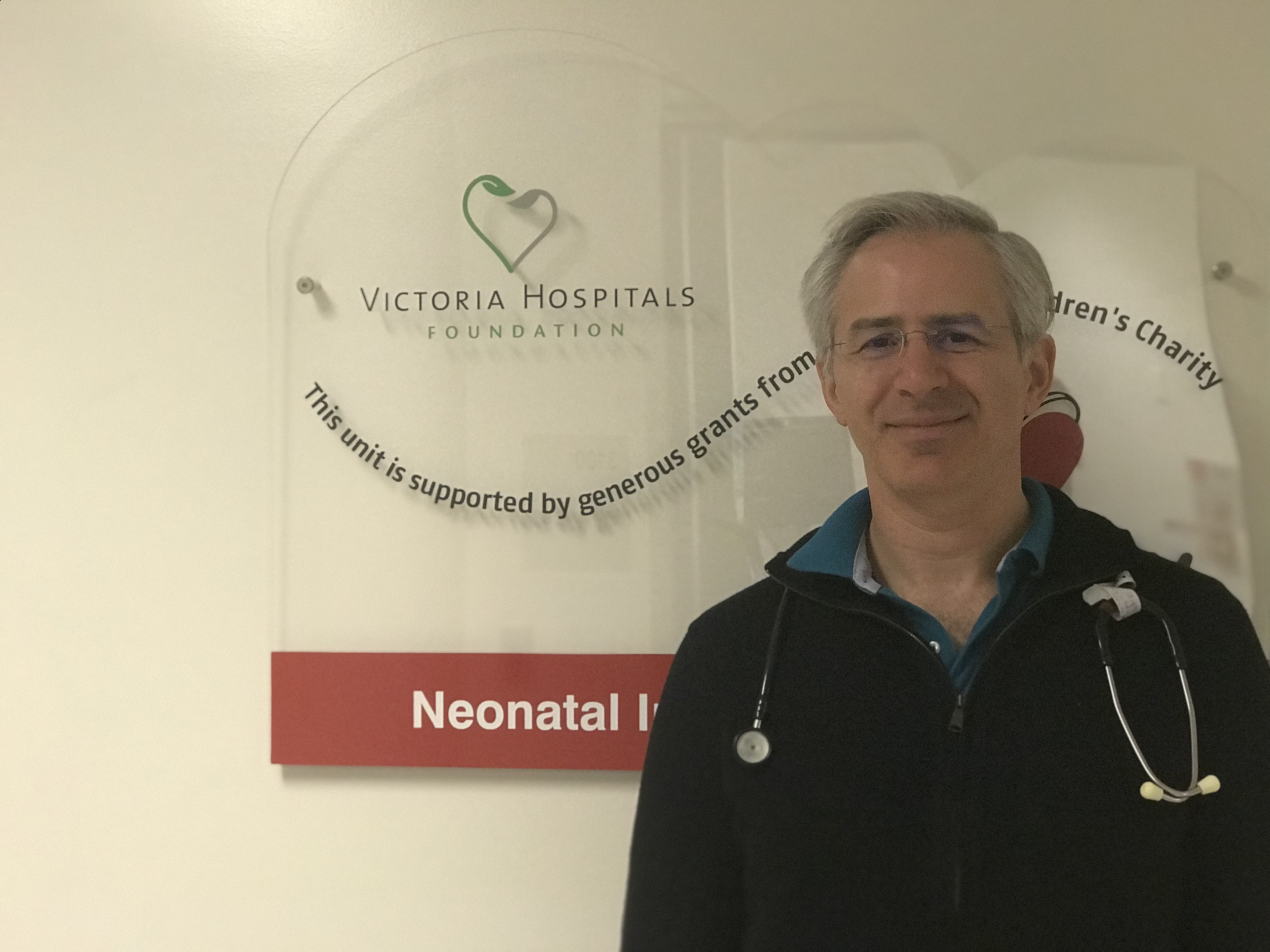 Very early in my career, I determined I wanted to support the healthy development of newborns, especially the ill and premature infants.
As a neonatologist, my job is to help these newly born babies on Vancouver Island during the first few seconds, hours and days of their precious lives, and continue to care for them throughout the weeks and months following. It's a profound role: when infants are critically ill, my top priority and that of our Neonatology team is helping them live, survive and thrive.
Our devoted team cares for more than 1 in 6 of the 3,000 babies born at Victoria General Hospital (VGH) every year. These 500 young patients come to the Neonatal Intensive Care Unit (NICU) right after birth, and are in dire need of the high-level care only our unit can provide. Often, they are tiny premature babies, some small enough to fit in the palm of your hand, or critically ill newborns who aren't healthy enough to leave the hospital — babies who can't breathe well enough on their own, or whose tiny heart can't quite beat fast enough, for example.
We are lucky on Vancouver Island to be able to offer this specialized, critical care as one of only four high level NICUs in the province. Serving Vancouver Island and accepting patients from across BC, our team is critical in ensuring our tiniest patients get well, here close to home and their families.
And we cannot do our work without you. In the last five years, donors to the Victoria Hospitals Foundation have funded an astonishing 60% of our equipment needs. Know that our dedicated team relies on this critical equipment every minute of every day to save lives. We are so thankful.
As you can imagine, much like any technology, hospital equipment changes quickly. In the last decade, I have witnessed dramatic advances in neonatal technologies and pediatric tools that have truly life-saving impact on our little ones.
That is why I am so grateful that, through the You Are Vital: Pediatrics campaign, our NICU will be equipped with 29 new leading-edge patient monitors that monitor vital signs at each crib or bassinet, and 3 central monitors to give our care teams a consolidated, centralized view of every patient's current status in the unit. This is a direct outcome of the role philanthropy plays in our community.
As our current monitors were installed back in 2005 and 2007, this modern technology is essential. The new monitors will be able to intelligently record and alert our teams of any concerning changes or trends in a baby's vital signs and raise concerns of any subtle hints that we cannot always detect by a physical exam. They will also allow us to record and transmit a newborn's vital signs to virtually any point of care in the hospital, meaning we can make important diagnostic decisions quicker.
In supporting the You Are Vital: Pediatrics campaign, you will be helping many children for years to come. In our NICU, every newborn is connected to a patient monitor — the monitors are our lifelines. Because our patients can't speak and are extremely fragile, the monitors provide us with the information we need to understand how they are doing. Are they getting enough oxygen? Are they agitated? Are their bodies adapting well to life outside of the womb?
For a new parent, a premature or critically ill child can be a terrifying experience. Our NICU is built around family-centered care. Our care team integrates family as partners to provide the best experience possible for all involved. As part of that, parents are educated on what vital signs mean so they can have comfort knowing their child is safe.
Benjamin, whose story is enclosed, is one of my recent patients. His mother Nori and his father Nathan know just how critical monitors are. Benjamin couldn't breathe on his own when he was born and required several days of ventilation support. Our NICU team relied on the monitors to adjust medication and ventilation, and to ensure he was gaining strength. While our team closely monitored his vitals, so did Nori and Nathan. They took comfort knowing that he was becoming healthier and stronger.
You can play a critical role in the healthcare journey of our Vancouver Island babies. I invite you to read Nori and little Benjamin's story and consider making a gift to the Victoria Hospitals Foundation to help fund new patient monitors that will help us care for thousands of critically ill babies for years to come. Know just how much of a difference your gift will make. Thank you for your generosity.​
Dr. Gustavo Pelligra
Section Head, Neonatology
Island Health
https://www.victoriahf.ca/wp-content/uploads/2019/06/IMG_0574.jpg
3024
4032
Victoria Hospitals Foundation
https://www.victoriahf.ca/wp-content/uploads/2018/04/vhf-logo.png
Victoria Hospitals Foundation
2019-06-28 17:59:50
2020-02-10 22:25:20
A letter from Dr. Gustavo Pelligra