Charlotte Salomon and Chris Robinson
Local Hospital Heroes Match Public Donations in Lieu of Event
Victoria Hospitals Foundation has made the difficult decision to postpone the 30th anniversary of the annual Visions gala until November 2021. We're incredibly grateful that the Salomon Robinson Family Foundation will be matching community donations made to Victoria Hospitals Foundation in lieu of the event to a total of $200,000 in support of our latest campaign, It's Critical.
Together with them, you can give patients in our hospitals access to improved critical care. Donations to support local hospitals and frontline caregivers can be made below. Community members are also invited to create their own fundraising to share with their networks, and businesses are encouraged to get in touch to learn more about how we can work together.
Read a full media release about the Visions postponement here.
Donate & Double Your Impact
Donate to have your gift matched and help put life-saving equipment into the hands of our hospital caregivers.
All donations made via this form will be generously matched up to $200,000 by the Salomon Robinson Family Foundation.
Start Your Own Donation Page
Engage your network and help raise donations in lieu of Visions to help support critical care expansion. We invite you to create your own fundraising webpage to share with your network. It just takes a few clicks to set up your page, and all donations will be matched.
Support Our Hospitals Via Your Business
Thanks to hundreds of generous leaders in the community, local hospitals have benefitted from the support of Visions.
We would love to discuss how we can help you create a healthier community and support patients in our local hospitals via VHF.
Please contact:
Denise Grant
Philanthropy Officer
Community Leaders in Conversation: Charlotte Salomon
We spoke with Charlotte, a Senior Partner at McConnan Bion O'Connor & Peterson, and her daughter Jenna to learn more about the Salomon Robinson Family Foundation's challenge to our community, why healthcare and philanthropy are so important to them as a family, and what inspired their incredible gift.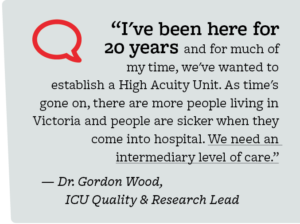 In response to today's challenges and tomorrow's healthcare needs, VHF has launched a $7 million campaign, It's Critical, to expand critical care capacity at Royal Jubilee Hospital (RJH) and build the Island's first High Acuity Unit (HAU).
The first $1 million raised will immediately purchase critical care equipment to increase critical care capacity and equip a temporary High Acuity Unit (HAU) at Royal Jubilee Hospital. The additional $6 million will support the imminent construction of a new permanent High Acuity Unit at Royal Jubilee Hospital, a first for Island Health.
Hear it from the front lines: how It's Critical will make a difference for our caregivers and patients:
For 29 years, funds raised at Visions have gone directly towards purchasing equipment for Royal Jubilee and Victoria General hospitals.
In 2019, Visions raised funds to purchase priority, leading-edge imaging equipment for Royal Jubilee and Victoria General hospitals. This powerful equipment includes a CT scanner, 3T MRI, and ultrasounds. With more than 275,000 medical imaging procedures performed at Royal Jubilee and Victoria General hospitals annually, it supports decision-making and quality care for Vancouver Island residents. A remarkable testament to the generosity of our guests, sponsors, and donors, we exceeded our original goal of $850,000 and raised a record-breaking $1 million.
Thanks to hundreds of generous leaders in our community, our hospitals have benefited in a variety of areas of care:
Our Steering Committee is an integral part of Visions. We are thankful for their leadership and support with event details, sponsorships, and securing Live and Silent auction donations.
Steering Committee Members:
Darlene Hollstein – Chair, Jane Johnston, Mary Lou Newbold, Ruth Mogensen, Charlotte Salomon, Cathy Scott, Carolyn Harries-Duncan, Christine Smart, Carly Russell-Huntley, and Carolyn Carlson.
Darlene Hollstein
Chair of the Visions Steering Committee and General Manager of the Bay Centre
Victoria Hospitals Foundation
"We look forward to joining our community once again in 2021 to honour our caregivers, and to raise funds to support their vital work. The 30th anniversary of Victoria's premiere fundraising gala event is an incredible milestone, and we believe it's important we celebrate our giving community together."