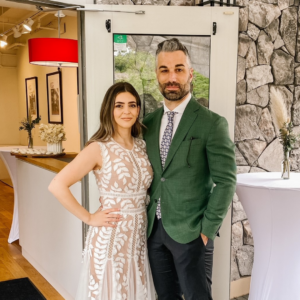 Born and raised in Vancouver, Amy has always looked for ways to use her creativity. From attending Pacific Design Academy for interior design, taking wedding and event planning courses, staging homes, and spending evenings baking five-layer cakes for no reason, she finds happiness expressing herself in creative ways. She shares her passion for real estate with her husband, Lewis Ratcliff, where they run the real estate team, "The Ratcliff Group" at Engel & Völkers, which has allowed them to give back to our community. Her greatest accomplishment is her daughter, Camden, who she can be found chasing around at most times!
VHF: What inspired you to take on the role of Committee Chair for this year's Miracle on the Mountain Gala?
Amy: Getting involved in Miracle on the Mountain last year, as a sponsor, was a highlight of 2022 for me. After the time I spent with the VHF team and witnessing the work they do and their passion to improve healthcare on Vancouver Island, I knew I had more to contribute and that this was the foundation I wanted to be associated with. It has been such a fulfilling experience!
VHF: What are you enjoying most about your role so far?
Amy: Building relationships with those who share the same values. It has been so beautiful to see leaders and businesses, who care deeply about bettering our community, use their platform to step up and help our hospitals. It really is inspiring!
VHF: How does volunteerism align with your personal values or sense of purpose?
Amy: More than anything, I value my family. I want my children to see that we are larger than ourselves in the ways we help others, have compassion, and work with others to create positive change. What better way to show them that than doing it myself?
VHF: What compelled you to dedicate your time to advancing local healthcare and our hospitals through the Victoria Hospitals Foundation specifically?
Amy: We heavily rely on our hospitals! Better equipping our healthcare teams with newer, more advanced technology and equipment impacts patient care for over 860,000+ Vancouver Islanders. It's a cause that benefits our children, ourselves, our parents and elders.
VHF: Why is it important to find ways to give back to our community if we are able?
Amy: We all have something to offer—whether it's our time, finances, using our voice, or supporting charitable initiatives. Giving back strengthens our community as a whole and benefits us all, not to mention the pride you feel knowing you're making a positive impact.