Community impact and investment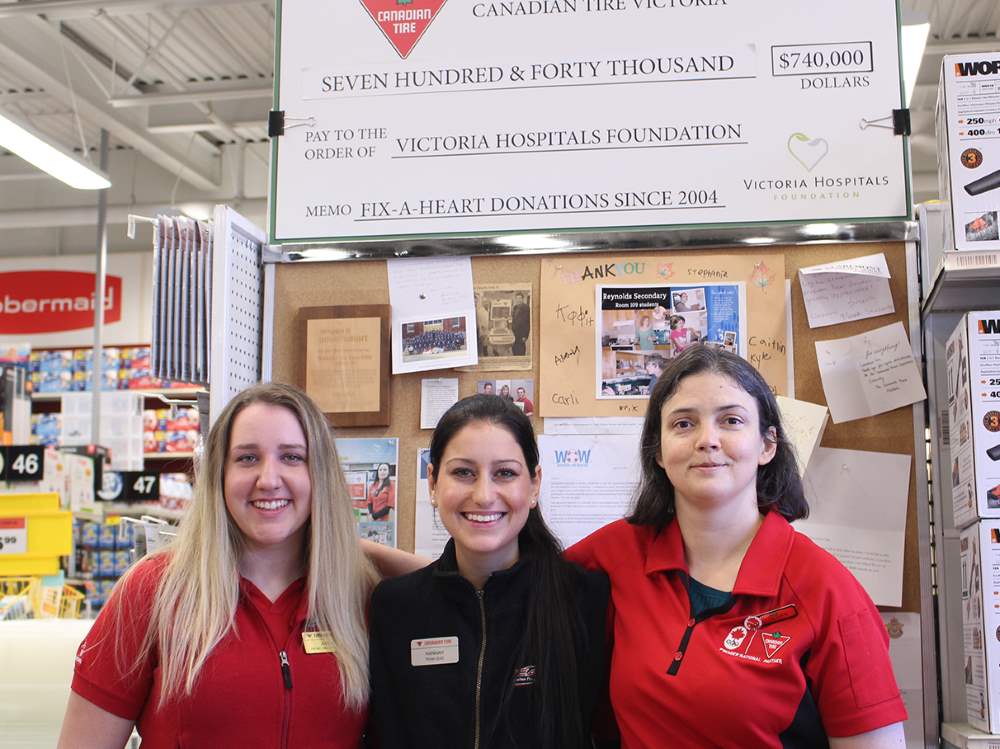 Canadian Tire's annual Fix-A-Heart campaign nears $800k
We extend our heartfelt thanks to the Canadian Tire stores at Hillside, View Royal, Royal Oak, and the Gordon Head automotive centre for their 15th annual Fix-A-Heart campaign. From November 24 to December 24, 2017, these stores raised more than $58,100 through at-the-till donations! Since 2003, Canadian Tire has cumulatively raised more than $798,900 for Heart Health at Royal Jubilee Hospital! To the owners, staff, and shoppers of Canadian Tire, we are grateful.
Most people know Canadian Tire as the place to go when something needs to be fixed.  Fifteen years ago, Langford store dealer Peter Spillette decided that since they were already in the business of fixing things, why not take the opportunity to help fix hearts too? Peter passed away from cancer in 2008, but by then an incredible legacy had begun to take shape. Just five years after Fix-A-Heart was born, it had already raised $300,000 for cardiac care at Royal Jubilee Hospital. Dave Ullathorne, former owner of the Douglas Street store, took the reins to continue the effort to improve cardiac care. Although now retired, he can be proud that today, Fix-A-Heart has raised more than $798,900.
"It is a great feeling to be able to help our community," says Ullathorne. "The Fix-A-Heart Campaign has become a tradition and all the staff at the Canadian Tire stores are very proud of the money we have raised. Every dollar that is donated by our customers is matched by the stores and it all goes to the Victoria Hospitals Foundation. Customers understand that their $2 donation actually makes a huge impact because it's part of something much bigger."
Dr. Manjeet Mann, Chief of Heart Health for Island Health, knows firsthand the difference Fix-A-Heart makes to patients. "It's a beautiful thing to see so many people rally around a cause for so many years. We are so appreciative of this tremendous support of our work. When we have the best tools to do our jobs our patients receive better care. Fix-A-Heart has helped the cardiac department at Royal Jubilee stay on the leading–edge of care."
Since 2003 the campaign has purchased advanced equipment such as specialized beds for cardiac patients, diagnostic treadmills, defibrillators and other sophisticated equipment that directly benefits patients and enables doctors and nurses to offer state-of-the-art care. We are so grateful to have so many people in the community working towards a common goal. Thank you!
https://www.victoriahf.ca/wp-content/uploads/2018/08/canadian-tire-e1544661211490.jpg
749
1000
Victoria Hospitals Foundation
https://www.victoriahf.ca/wp-content/uploads/2018/04/vhf-logo.png
Victoria Hospitals Foundation
2018-08-08 21:50:27
2019-11-12 20:11:29
Community impact and investment