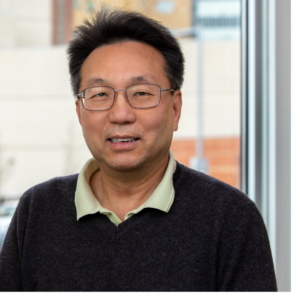 VHF: Can you share a little of your professional and personal background?
DW: I was born in Hong Kong, and I immigrated to Canada when I was 11 years old. My dad left Hong Kong before I was born and lived here in BC by himself for 10 years. He started a grocery store in a small town near Nelson, BC. For 10 years, he saved up his money until he was able to sponsor our family to immigrate to Canada. A year later we moved to Nelson, where I grew up and my dad operated his own grocery store.
After I graduated from high school, I moved to Vancouver to attend UBC and graduated with a Bachelor of Commerce degree.  I moved to Victoria as an articling student and obtained my chartered accountant designation with what is now KPMG. From there, I had a number of accounting/auditing jobs in the public sector. After that, my wife and I both quit our jobs and travelled in Southeast Asia for six months.
When we returned, I started work at ICBC and later spent over 20 years in a number of executive roles spanning  from finance and investments to regulatory affairs, strategic planning, privacy, legal, insurance underwriting, marketing, and road safety. My career took a turn towards healthcare when I became the CEO of Healthcare Benefit Trust, where we provided employee benefits to the healthcare sector in BC.
I joined the Victoria Hospitals Foundation Board of Directors in 2018. I'm also on the Board of Canadian Blood Services, the BC Financial Services Authority and the S.U.C.C.E.S.S. Society (one of the largest social agencies in BC).
I have two adult children. My daughter is a French immersion teacher, and my son works for a start-up HR software company. They both live in Vancouver.
VHF: What feels most meaningful to you about your role in supporting the Victoria Hospitals Foundation?
DW:  It is heartwarming when I hear all the stories about the people we are able to help. What really energizes me is the patients and how the Foundation has supported our hospitals to help them recover and move forward. I attended the Visions Gala last November and I heard the story of police officers who were injured in a bank shooting in Saanich last summer. We heard about all the challenges they went through, how supportive the caregivers in the hospital were, and how appreciative they were of the care they received. We also heard from a Victoria woman who was told that she only had a 1% chance of survival, and how she was able to receive care and get back to who she is.
VHF: How does volunteerism align with your personal values or sense of purpose?
DW: Part of my reason for wanting to give back is my upbringing. When my family was in Hong Kong, we lived with my aunt and two cousins in a three-bedroom apartment. My grandma always taught me about unconditional giving, and my humble upbringing motivates me to help people realize their full potential. I also think about my dad who spent ten years by himself raising enough money to bring us to Canada to start a new and better life.