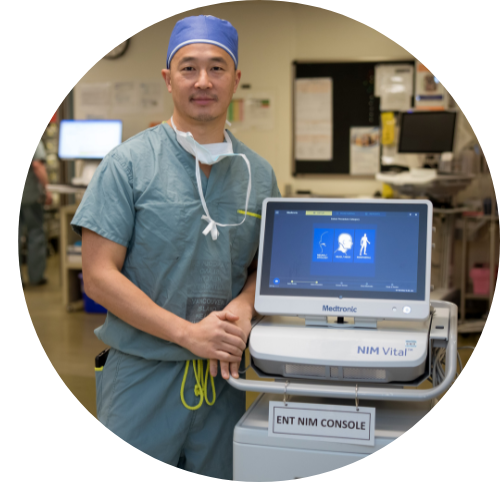 As a physician who is dedicated to helping those with cancer, every time I can offer a patient a better quality of life it feels incredibly meaningful. However, as a surgical oncologist, my ability to provide the most advanced care is limited without access to specialized pieces of equipment that my team needs to make a greater impact on the lives of our Vancouver Island patients.
When anyone receives news that they have a tumour, it can be scary. Most patients who are referred to me have either cancerous or benign (non-cancerous) tumours, which primarily require thyroid or salivary gland tumour surgery. Since these tumours are located in the head and neck region, the surgeries pose a potential risk to a patient's facial nerves. Without the proper tools and monitoring during surgery, there is a chance of facial paralysis.
Thankfully, with the help of generous donors to the Victoria Hospitals Foundation, I can reassure our patients that the community is funding the leading-edge equipment my team needs to ensure we can provide the most advanced and innovative care.
A standard of care and one of the most vital pieces of equipment required in these surgeries is the Nerve Monitoring System. This system locates and monitors cranial, spinal, peripheral motor, and mixed motor-sensory nerves, and registers muscle response during surgery. The Nerve Monitoring System improves quality of care and patient safety by increasing operative efficiency and precision, reducing the risk of nerve damage, and helping surgeons find the site of any nerve injury, which helps inform surgical decisions.
Previously, without these monitors or the advancement of surgery, a surgeon's priority was to take out the tumour and save the patient's life. Now that technology has advanced, we are not only able to safely remove the tumour, but we can also ensure the facial nerves are preserved and improve a patient's overall quality of life.
Our communities continue to grow, which means there are more and more Islanders for our hospitals to serve. As one of only three South Island head and neck oncologists, I receive referrals from across Vancouver Island. However, without crucial pieces of equipment like the Nerve Monitoring System, my colleagues and I would encounter situations in which we may have to send patients to the Mainland for care.
Gifts from our community allow priority hospital equipment to be purchased faster— and updated more frequently—than through government funding alone. Your gift means more Islanders can access specialized procedures and world-class care right here at home. Thank you for this investment in our vital work.
Dr. Roy Cheung
Head and Neck Surgical Oncologist, Otolaryngology
You can help equip local caregivers like Dr. Cheung, a leading ENT specialist, with the tools they
need to care for local patients. Will you support Emerge Stronger with a gift today?