As our hospitals continue to adapt and navigate this pandemic, the need for new and updated equipment has never been greater. Emerge Stronger aims to raise $10 million to fund over 200 pieces of priority equipment for local care teams. Today, will you help us fund a new Retinal Laser? This state-of-the-art machine will improve efficiency and patient comfort for thousands of Island patients.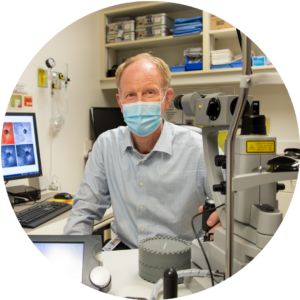 I see many patients with retinal tears, many of whom have only just found out about their diagnosis—and the fact that this can be a sight-threatening condition. Understandably, most people are very anxious, especially when I tell them we need to treat it urgently, or they could risk losing their vision.
A retinal tear—which may have few or no symptoms—can progress into a retinal detachment within hours. This can permanently damage a patient's vision. When someone needs retinal laser treatment, I often need to treat them within 24 hours.
At Royal Jubilee Hospital, I use a Retinal Laser to repair tears and help reattach the retina in some cases where it has detached. Patients are awake for the surgery, and the laser helps seal torn areas to the wall of the eye, to prevent retinal detachment. Our current Retinal Laser is about 15 years old, and delivers one laser spot at a time. In some laser surgeries, we place 800 to a thousand laser spots into the retina, one by one. It takes a long time, and it's tough on some patients—remember, they're often frightened and anxious.
I see many situations where people have gone blind in one eye, and then something starts to happen with their remaining eye. You can imagine people's fear surrounding the potential of losing their vision completely.
Through the Emerge Stronger campaign, our community can make an enormous impact by funding a new, state-of-the-art Retinal Laser for Royal Jubilee Hospital. The new Retinal Laser will allow us to pre-program grids of laser treatment and deliver multiple spots at once, within a fraction of a second—which will not only improve efficiency, but patient comfort as well.
The new laser's sophisticated software delivers just the right amount of energy to the tissue. With our current Retinal Laser machine, laser treatment can be uncomfortable, especially when we have to deliver several hundred laser spots. This new machine uses the best technology, is more comfortable for patients, and the treatment is carried out more rapidly. It's truly on the cutting edge of what's available.
Another concern is that, currently, there is no back-up Retinal Laser. So, if our laser needs repair and is down for a week, there could be multiple patients who don't receive the urgent care they need. A new Retinal Laser will allow us to use the one we have now as a critical back-up.
I'm passionate about helping Island patients. When a patient is worried they're going to go blind, it's a stressful and emotional situation for them. And for me. I know that we have to win this battle—otherwise, this person's life has changed forever.
On behalf of my colleagues and our patients, I want to thank you for helping to fund this vital piece of equipment. Your donation will truly benefit thousands of Vancouver Islanders.
—Dr. Murray Erasmus, MD, FRCSC
Ophthalmologist, Royal Jubilee Hospital
Every week, Dr. Erasmus and his colleagues perform 20–25 laser treatments at Royal Jubilee Hospital, with referrals from all over Vancouver Island. These surgeries are often categorized as urgent, or semi-urgent, and have continued throughout the COVID-19 pandemic. Through the Emerge Stronger campaign, you can help fund a new $159,000 Retinal Laser. This state-of-the-art machine will not only improve patient comfort and efficiency, but it will also allow the current Retinal Laser to be used as a back-up, ensuring that thousands of Islanders will be able to get the treatment they urgently need, when they need it.