Dr. Franco & Matthew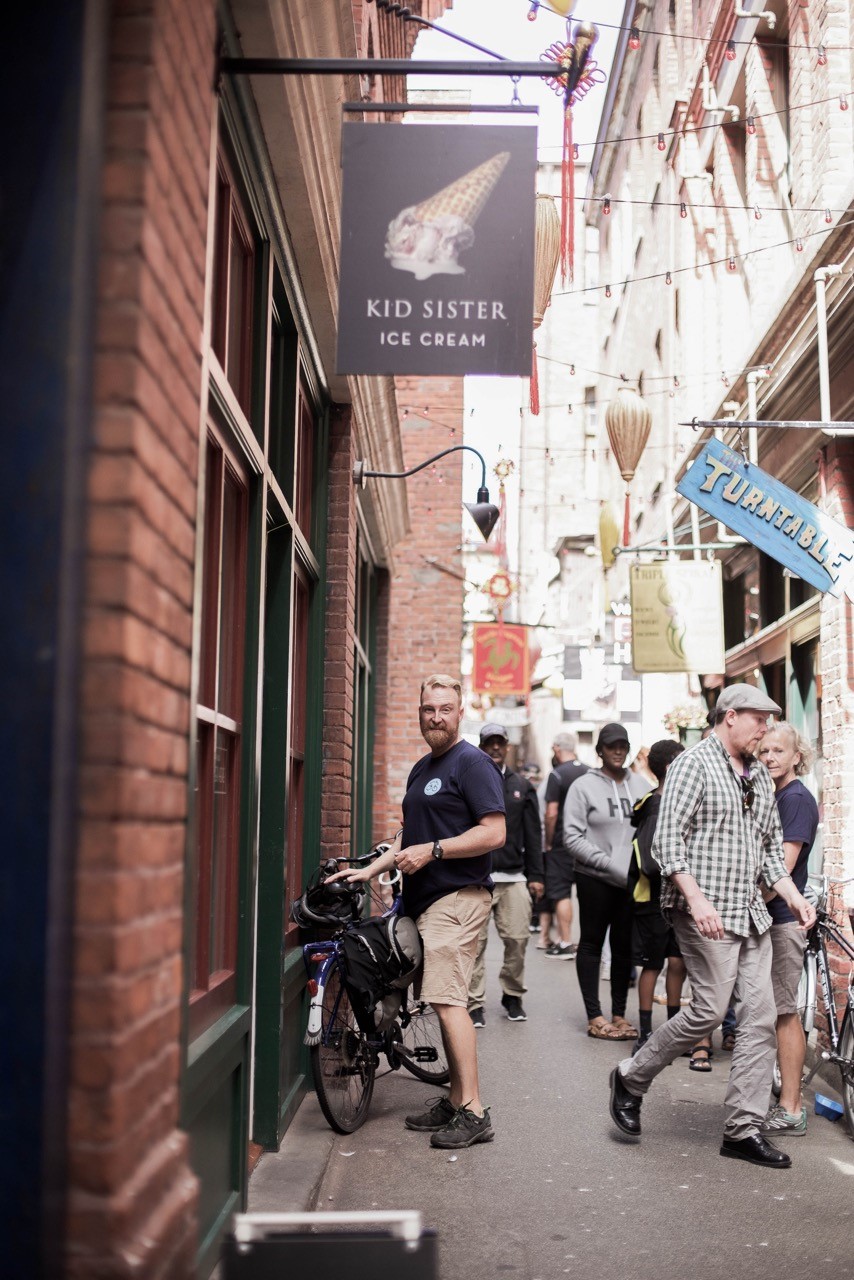 On December 23, 2017, Matthew Oliver believed he was experiencing a severe case of heartburn. Little did he know that at the age of 44, he was showing signs of a heart attack.
Originally from rural Ontario, Matthew lived in Vancouver for eight years before moving to Victoria. Five years later, he has fully explored what the West Coast has to offer: hiking, cycling, and staying active. Through his time here, he returned to his childhood passion, biking, and opened his new business Bike Tours Victoria, where he combines his love of facilitation with his love of the outdoors, leading locals and visitors through Canada's cycling capital by bicycle.
In 2017, as the holiday season approached, he began experiencing what he thought was very bad heartburn. Looking back, he says, he had all the early warning signs, including weight gain, abdominal pain and fatigue. On the second day, a day like any other, he felt even worse, and a friend told him to dial 8-1-1. That night he called; a nurse listened then made him promise to call an ambulance. He promised, but imagining the inconvenience to the Emergency so close to Christmas for what was probably only heartburn, he decided to drive instead. Upon arrival at Victoria General Hospital he waited in line, handed his ID to the receptionist, and immediately fell over, collapsing to the ground. When he woke up he was at Royal Jubilee Hospital, surrounded by concerned medical staff who had revived him twice. They gently told him he had had a heart attack.
Matthew was in shock and distraught. Little by little, the team explained what had happened to him: how he was transferred to Royal Jubilee Hospital, a centre for excellence in Heart Health; how nurses had prepared him for a cardiac procedure; how an Interventional Cardiologist had placed a stent in one of the arteries outside of his heart through a minimally invasive procedure; and how Dr. Chris Franco, Medical Lead for the Coronary Care Unit and Cardiology, oversaw his care before and after the procedure.
Matthew's sister and parents flew out to Victoria where nursing staff assured them he was in capable hands at Royal Jubilee's comprehensive, world-class Hearth Health Program. Regionally, he couldn't be better placed. Royal Jubilee is Vancouver Island's referral centre for cardiac care, and oversees 3,500 inpatient cases annually.
Following the procedure, Matthew spent four or five days in hospital, where nurses cared for him, observing him closely. "I was in shock, faced with my mortality and wondering how much time I had left," says Matthew. "The nurses were gentle with how much they shared with me. They didn't share it all at once."  Matthew recalls the inspiration and encouragement he received from his care teams: they told him that they would all ride next summer, him and them, healthy.
Instrumental to his care in these critical hours was the Patient Monitoring System, an advanced hospital-wide system that allows caregivers to monitor patients and their vital signs remotely. An essential communication tool, the Patient Monitoring System provides a centralized, consolidated view of each patient's current status. Had Matthew gone into distress again, his caregivers would have been alerted right away, and they would have been able to make crucial decisions based on what is happening this instant inside his body. As part of its You Are Vital campaign, the Victoria Hospitals Foundation is funding 14 new central monitors and system upgrades, including cardiac units at Royal Jubilee Hospital, to benefit patients like Matthew for years to come. The campaign is also funding two wearable cardiac holters that monitor electrical cardiac functioning while allowing patients to engage in their normal daily routines outside of the clinical environment.
Dr. Chris Franco can't underscore enough how essential this equipment is. "The Patient Monitoring System is critical to allow us to monitor the rhythm of the patient when they're at their sickest in the throes of a heart attack, after a heart attack, even after an angioplasty, when there is always the possibility of arrhythmia. We watch every heartbeat every second," he says. "The Patient Monitoring System is instrumental to what we do, and it helps every patient under cardiology."
Dr. Franco began as a general cardiologist in Victoria in July of 2017. As a general cardiologist, he sees all manner of cardiac patients, but his specialty is premature coronary artery disease — that is, cardiovascular prevention and risk reduction in younger adults, including those with genetic or inherited issues. He helps patients modify their cardiovascular risk in a forward-thinking way to reduce the likelihood of the next heart incident, and ideally the first one.
And Dr. Franco understands the role our Vancouver Island community has in advancing patient care in our hospitals. "Our collaborative, multidisciplinary Heart Health team is an incredible local resource," says Dr. Franco. "Community support is necessary for a cardiac centre of excellence and for doctors and nurses to have the right tools to do this important job. Cardiac care is getting more complicated, more complex, and we want to be as prepared as we can be. Giving touches on every aspect of a patient's journey — from their initial acute sickness, through surgery and rehabilitation, to the outpatient world."
In the year since Matthew's heart attack, his recovery involved a plan for appointments and medications and occasional sessions at the patient gym with his trainer. "This heart attack was the first time my body had let me down," admits Matthew. "I've only recently begun to trust my heartrate again."
The next year, Matthew did indeed ride well into the summer. He got back to cycling before his busy summer season and continued to lead tours through Bike Tours Victoria. "Now I focus on doing what I love to do," he says.
Matthew is experiencing a profound gratitude for this holiday season, his health, and the community who annually support our hospitals. "Donors are angels," he says. "Without their gifts, no matter how small or big, I wouldn't be here."
To read more stories like Matthew's, learn more about the You Are Vital campaign and to donate, please visit www.victoriahf.ca/vital
https://www.victoriahf.ca/wp-content/uploads/2018/12/matt.jpg
1280
854
Victoria Hospitals Foundation
https://www.victoriahf.ca/wp-content/uploads/2018/04/vhf-logo.png
Victoria Hospitals Foundation
2018-12-13 00:51:59
2019-11-12 20:11:27
Dr. Franco & Matthew