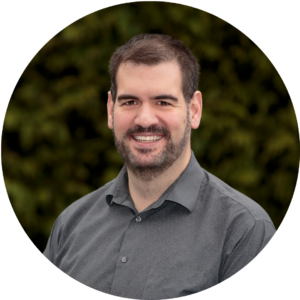 Without a doubt, the most rewarding part of my work as physician and as the Vice President of Medicine for Island Health is when my colleagues and I are able to improve patient care.
During the pandemic, we've seen changes in healthcare that once took months or years happen in weeks or months—because of the incredible support of our community. Examples include the new interim High Acuity Unit (HAU) at Royal Jubilee Hospital and the HAU that is on the way for Victoria General Hospital. We've needed these new critical care units for many years—in fact, we were previously the only BC health authority without them. With donor support through the Victoria Hospitals Foundation, our ability to care for the sickest patients has increased dramatically in such a short time.
The challenges we face aren't all unique to healthcare. Like many organizations today, we sometimes have fewer workers available for the work that needs to be done. Compounding that, we have an aging population whose healthcare needs continue to increase, and who rely on our hospitals more and more.
But our teams' ability to improve and innovate the way they deliver care gives me hope. When we arrive at optimal patient outcomes more efficiently, it's a win-win. The 200 pieces of equipment identified as priority needs through the Emerge Stronger campaign will, without a doubt, help improve patient outcomes and support our hospitals to have greater capacity for the ever-increasing demand.
Emerge Stronger. What a powerful campaign vision for something we all hope for.
Our healthcare professionals went into their fields because it was their calling. They have an inherent desire to do better every day. Sometimes, improvement requires investment. And when the community helps make that investment, it doesn't just make a difference for patients—it sends a message to our care teams that Vancouver Island is committed to better care for everyone. It shows that there's a partnership between the people who need care and those who are able to deliver it at the very highest level. That is what makes healthcare better every day, and you're as much a part of it as I am.
As a member of your Island community, a father, and as a physician, I thank you for supporting our hospitals. We need—and are deeply grateful for—your help in providing the incredible care that every doctor, nurse, and care team member in Island Health wants to provide for you and your family.
Ben T. Williams, MD, CCFP
Vice President – Medicine and Quality, and Chief Medical Executive, Island Health
As Vice President of Medicine and Quality, and Chief Medical Executive, Dr. Ben Williams is responsible for the leadership and governance of all of Island Health's medical staff, including those at Royal Jubilee and Victoria General hospitals. He has worked extensively throughout Island Health communities in both facility-based and primary health care, in both rural and urban settings. Dr. Williams is a family physician whose clinical practice is in Parksville.