First Open Heart Society donates $45,000 to the Victoria Hospitals Foundation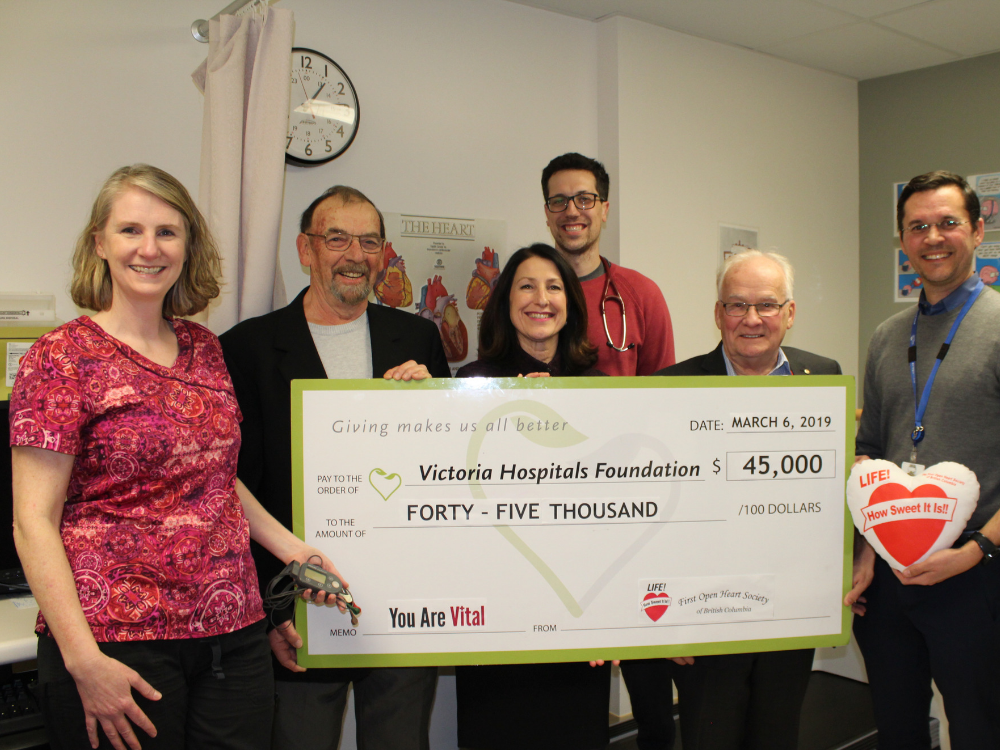 The First Open Heart Society has donated a generous $45,000 to the Victoria Hospitals Foundation in support of Heart Health at Royal Jubilee Hospital. Since 1977, the First Open Heart Society has donated more than $776,545 to cardiac care in Victoria through the Victoria Hospitals Foundation.
The donation is supporting the Foundation's $3.5 million You Are Vital campaign, and will help fund the purchase of a wearable cardiac monitor for the Heart Health unit at Royal Jubilee Hospital. This technology allows the Heart Health team to monitor the electrical cardiac functioning of a patient while they are engaged in their normal daily activities. Dr. Chris Franco, Medical Lead for the Coronary Care Unit and Cardiology, notes the importance of advanced decision-making equipment, stating "cardiac care is getting more complicated, more complex, and we want to be as prepared as we can be."
"We are so grateful for the long time support of The First Open Heart Society and their efforts to improve Cardiac Care on Vancouver Island. Their generous gifts have helped so many people in our communities have access to the leading-edge cardiac technology that ultimately saves their lives," said Melanie Mahlman, President & CEO of the Victoria Hospitals Foundation. "The leadership and commitment they have demonstrated to our community is extraordinary."
The First Open Heart Society of British Columbia was formed in 1973 on the initiative of cardiologists and early heart surgery patients to function as a support group for patients awaiting and recovering from heart surgery. The idea was first conceived by Dr. W. Glenn Freisen, a Victoria cardiologist, who realized patients and their families experience significant stress prior to, and following, open heart surgery.
Jim Weaver, President of First Open Heart Society, was on hand to present the cheque. "We are strongly committed to supporting Cardiac Care through the Victoria Hospitals Foundation. We take pride and comfort in knowing that when people from across Vancouver Island require live-saving heart surgery or treatment, Royal Jubilee is well equipped to provide state-of-the-art care."
Every year, over 200,000 Vancouver Island residents undergo cardiac assessment, and more than 6,300 cardiac procedures are performed through Royal Jubilee Hospital's Heart Health program. Over the past 30 years, our Heart Health program has become a national leader in cardiac care, overseeing 3,500 inpatient cases annually, with half from outside Greater Victoria. The Heart Health program administers to all cardiac needs, with the exception of heart transplants. Every year, almost two dozen talented cardiac physicians and hundreds of specially-trained caregivers perform hundreds of cardiac procedures.
To learn more about the You Are Vital campaign, visit www.victoriahf.ca/vital
About First Open Heart Society of British Columbia
The First Open Heart Society of British Columbia is a non-profit, volunteer organization formed in 1973 on the initiative of cardiologists and early heart surgery patients to function as a support group for patients awaiting and recovering from heart surgery, and their families. The idea was first conceived by Dr. W. Glenn Freisen, a former Victoria cardiologist. He suggested that both pre-op and post-op stress and trauma could be eased if those patients who were about to undergo surgery could talk to those who had "walked the path."
https://www.victoriahf.ca/wp-content/uploads/2019/03/Website-Blog-Post.png
750
1000
Victoria Hospitals Foundation
https://www.victoriahf.ca/wp-content/uploads/2018/04/vhf-logo.png
Victoria Hospitals Foundation
2019-03-06 22:26:42
2019-11-12 20:11:26
First Open Heart Society donates $45,000 to the Victoria Hospitals Foundation