Tammy shares her unique perspective as a Licensed Practical Nurse at Gorge Road Hospital.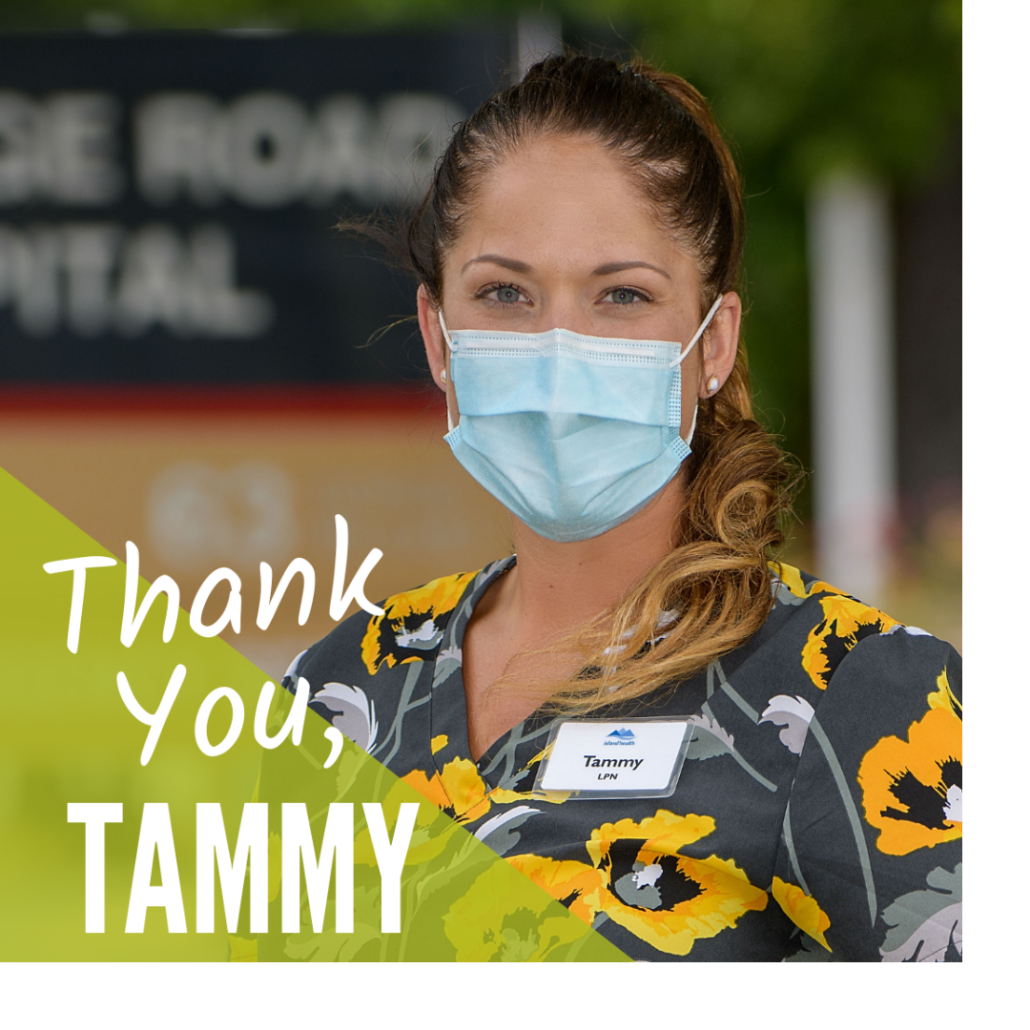 Victoria Hospitals Foundation: What is your role within our hospitals?
Tammy: I work at Gorge Road Hospital in Long Term Care as a Licensed Practical Nurse.
VHF: Why did you decide to become a nurse?
T: I decided to pursue nursing when I was 22 after my experience working in group homes. My grandmother was also a nurse and my Oma worked in housekeeping. Caring for others has come naturally to me.
VHF: What is your favourite part of your job?
T: My favourite part of my job is helping people when they need it most. It's holding the hands of scared residents. It's comforting them and assessing them after falls or major health changes. It's using critical thinking skills to problem solve health issues when the residents are unable to vocalize. It's working within a variety of team members to provide the best care possible.
VHF: Who or what inspires you to care for others?
T: My mantra for caring for residents is: "Care for them how I would want my own family to be cared for."
VHF: What does "Hospital Hero" mean to you?
T: Hospital Hero means we showed up when no one else could. We continued to care for our residents when families and visitors weren't allowed in. We worked when we were tired and still maintained our best possible care. It's adapting to changes that are out of our control.
VHF: The past year and a half has been challenging for all of us. Have these challenges motivated you in any way?
T: This past year and a half has shown me that anything can happen and things within healthcare are ever changing. I show up every day to do my best for myself, my colleagues, and my residents.
VHF: What would you say to current VHF donors and people who are thinking about giving in the future?
T: Please continue to give to the Victoria Hospitals Foundation as it helps the people in our care. Because of your donations, us caregivers can access better equipment to assist patients' recovery.
You can support the unsung heroes in our hospitals like Tammy:
Support Island Health's most critical needs at any given time, right away, when matters most. Thank you!
Recognize a hospital staff member or team with a Caring Spirit Award and donate in their honour.
Show our caregivers your gratitude and encouragement by writing them a short personal message.