Howie Meeker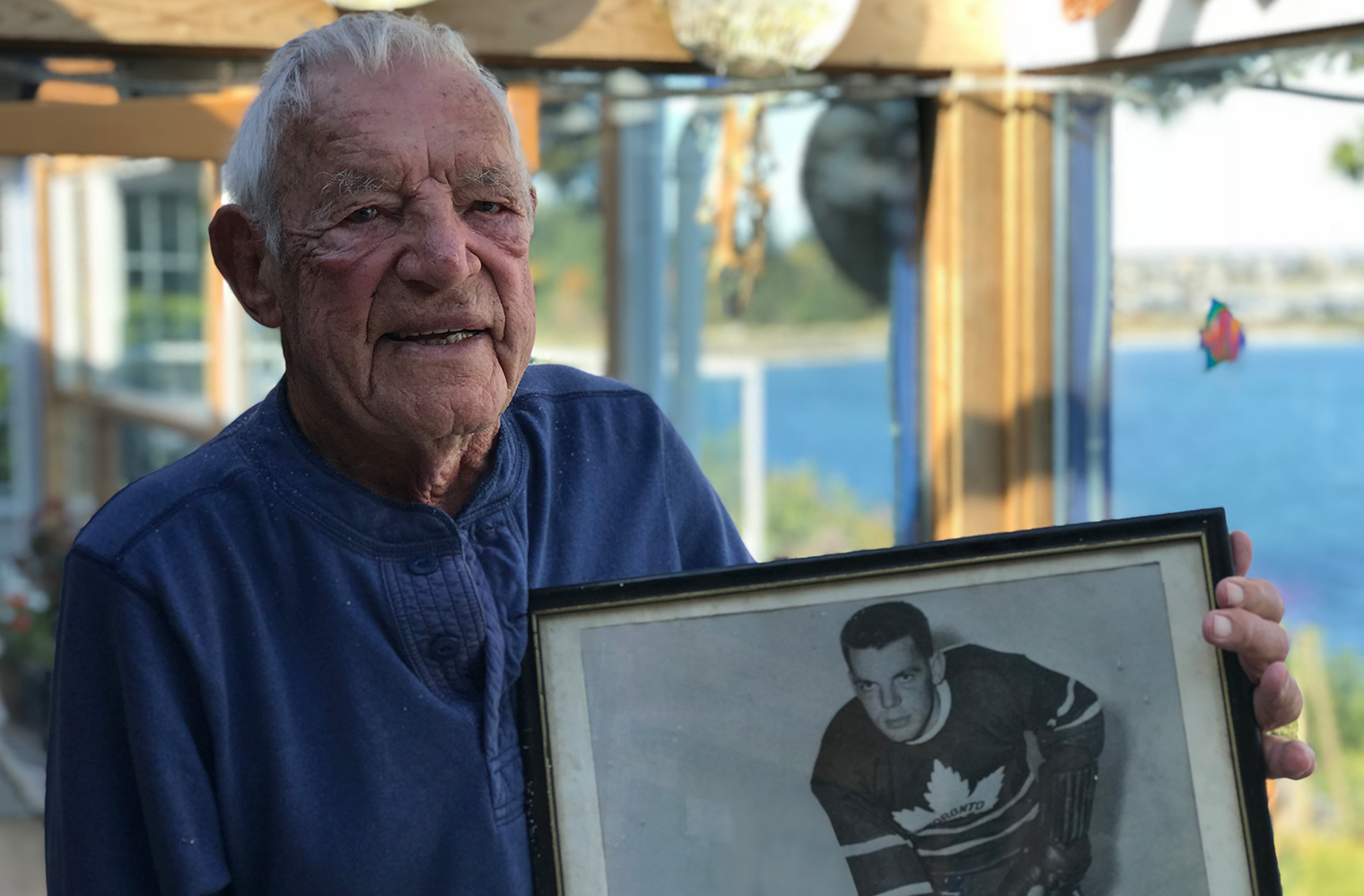 Interventional cardiologists fix hearts through minimally invasive procedures for patients who are having a heart attack or living with cardiovascular disease. The work they do often provides patients with instantaneous results and immediate relief for a better, longer life. Royal Jubilee Hospital's team of cardiologists, technicians, nurses and support staff use a heart catheterization laboratory C-arm to obtain high-definition images of a patient's heart and blood vessels.
Howie Meeker is one of many Vancouver Island patients who have benefited from the C-arm. Told he only had six months to live, the C-arm and the new TAVI procedure helped a cardiologist save his life. We hope Howie's story inspires you to give.
From Howie Meeker
You may know me as Howie Meeker, former player on the Toronto Maple Leafs or Howie Meeker, broadcaster on Hockey Night in Canada. But I am also Howie Meeker, Vancouver Island resident and grateful cardiac patient.
My healthcare story started at 16-years-old when I was denied entry into the Canadian Air Force because of an unhealthy heart. No one told me what was wrong with it then, only that I could not endure the physical strain of the job.
I didn't let the bad news slow me down; in fact, I made the best out of life. I played more hockey than ever before, and became a starting right-winger for the Toronto Maple Leafs by the time I was 23. My team and I won four Stanley Cups together, and my passion for the game only grew fonder as the years went by.  In my lifetime, I have been an NHL Head Coach, NHL General Manager, national commentator, and keen advocate and instructor for minor hockey leagues across North America.
I loved being on the road but after I visited Parksville, I fell in love with the Island and decided to make it home. My wife Leah and I were looking forward to settling down and enjoying fishing and local hockey. Soon after, I was given six months to live.
I was diagnosed with aortic stenosis, a condition that makes the heart work harder to pump blood due to calcium deposits in the valves. I had a blockage in my left ventricle, and I could feel my body slowing down. Unfortunately, medication could not reverse the damage and I was too much of a high-risk patient to receive surgery.
This was hard on me and my family. I had lost all hope until I met Dr. Anthony Della Siega at Royal Jubilee Hospital.
After initial testing, he told me about the ground-breaking TAVI procedure. I was amazed that a life-saving valve would be threaded through a small incision in my leg.
I remember the day my heart starting beating normally again. When I arrived at Royal Jubilee Hospital, I was quickly greeted by administrators, volunteers, and educators. They were all so compassionate that any fear I had quickly dissipated.  I went down to the heart catheterization laboratory,  got onto the procedure table himself, laid down and discussed hockey with the friendly nurses and technicians in the room as they sterilized my right leg and put me under local anesthesia. The environment was calm and friendly ― it put me at ease.
I was only in the heart catheterization laboratory for a short hour. The entire time, Dr. Della Siega was explaining what he was doing while a piece of equipment called a C-arm was moving around my chest. I quickly understood that the images it took were crucial to his work. In fact, it was crucial to saving my life.
The procedure was extraordinary. Once the new valve was put in, my heart immediately started pumping normally again and I could feel a real difference. I was up and walking the very next day, feeling lighter and stronger.
Today, I am doing great and no longer feel run down. I am grateful to Dr. Della Siega and the entire Heart Health team for their compassion and remarkable care, and to fact we have access to a C-arm on Vancouver Island. All together, they gave me a second chance at life.
– Howie Meeker
https://www.victoriahf.ca/wp-content/uploads/2018/08/howie-meeker-large.png
999
1520
Victoria Hospitals Foundation
https://www.victoriahf.ca/wp-content/uploads/2018/04/vhf-logo.png
Victoria Hospitals Foundation
2018-08-09 17:00:28
2019-11-12 20:11:28
Howie Meeker