Local Canadian Tire Stores Help Royal Jubilee Hospital Care Teams Fix Hearts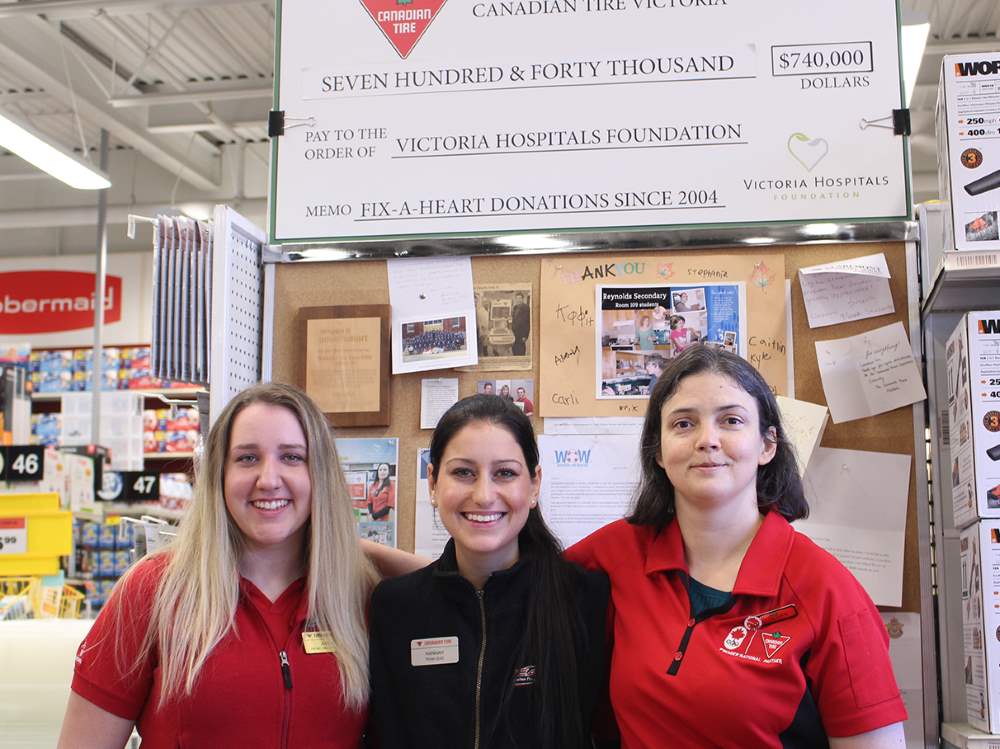 Canadian Tire has launched its 16th annual Fix-A-Heart campaign to support the Victoria Hospitals Foundation's current You Are Vital campaign at Royal Jubilee Hospital (RJH). From November 22 until December 24, customers at the Hillside, View Royal and Royal Oak stores, as well as the Gordon Head automotive centre, can donate any amount at the till towards urgently needed cardiac equipment. The stores will match customer donations up to $20,000 to reach their goal.
"We love to partner with the Victoria Hospitals Foundation every year to support cardiac care at Royal Jubilee Hospital," said Kim Reynhoudt, Associate Dealer for Canadian Tire View Royal. "For 15 years now, our generous customers have helped purchase important pieces of cardiac care equipment for our community. With this year's Fix-A-Heart campaign, we strive to take another big step towards our ultimate goal of raising one million dollars for cardiac care on Vancouver Island."
This year, in conjunction with the Victoria Hospitals Foundation's You Are Vital campaign, Fix–A–Heart donations will help purchase central monitoring equipment that allow the Heart Health care teams to monitor the vital signs of cardiac patients.
The new equipment is an essential communication tool that benefits the most critically ill. The central monitoring system gives a centralized, consolidated view of each patient's current status and alerts caregivers to any changes or trends in a patient's symptoms so they may intervene even faster — enabling immediate, informed action.
"We are grateful local Canadian Tire stores have come together for the 16th year to support Heart Health on Vancouver Island," said Melanie Mahlman, President & CEO of the Victoria Hospitals Foundation. "We are counting on our community to help raise money for equipment that will help our talented medical teams deliver the highest standard of care. Thousands of patients in our region will benefit from this equipment for years to come. Thank you Canadian Tire staff and customers — you are making a great impact in our community."
Since 2003, the Fix-A-Heart campaign has raised more than $798,000 for cardiac care on Vancouver Island. Their ultimate goal is to reach $1 million.
Royal Jubilee is the Heart Health referral centre for all 794,000 residents of Vancouver Island. The Heart Health program administers to cardiac needs such as open-heart surgeries, angiograms, angioplasties, cardiac device insertions and electrophysiology procedures. Every year, over 200,000 Vancouver Island residents undergo cardiac assessment and more than 6,300 cardiac procedures. In 2018, this dynamic program celebrated its 25,000th open-heart surgery — a monumental milestone.
To learn more about the You Are Vital campaign, visit www.victoriahf.ca/vital
https://www.victoriahf.ca/wp-content/uploads/2018/08/canadian-tire-e1544661211490.jpg
749
1000
Victoria Hospitals Foundation
https://www.victoriahf.ca/wp-content/uploads/2018/04/vhf-logo.png
Victoria Hospitals Foundation
2018-11-30 00:16:05
2019-11-12 20:11:27
Local Canadian Tire Stores Help Royal Jubilee Hospital Care Teams Fix Hearts