WEST SHORE HOSPITAL GALA RAISES $790,000 TO BENEFIT MRI IMAGING ADVANCEMENT FOR VICTORIA GENERAL HOSPITAL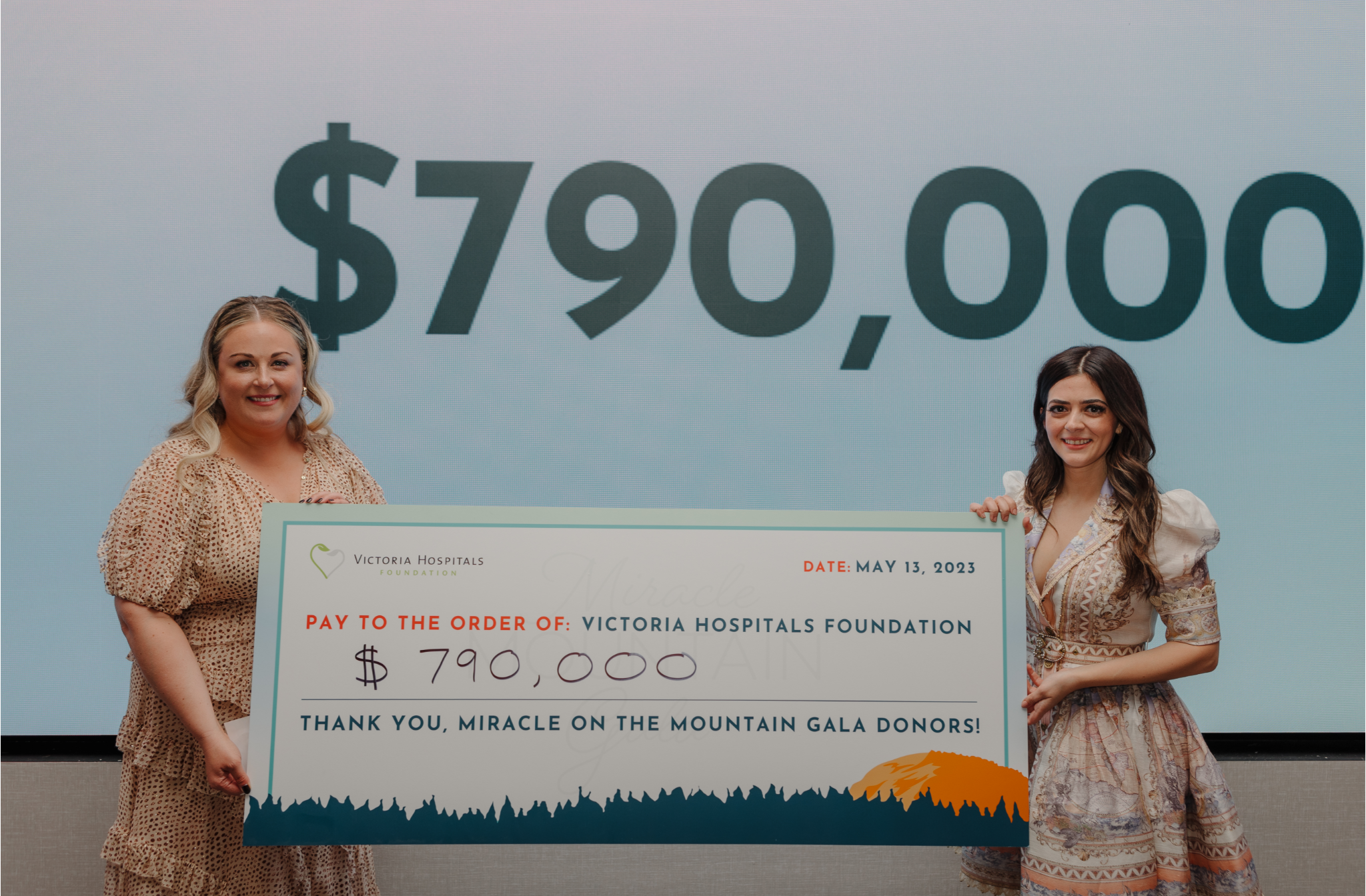 Victoria, BC – The Victoria Hospitals Foundation's second annual Miracle on the Mountain gala raised an astounding $790,000 to support priority imaging needs at Victoria General Hospital (VGH). The sold-out event, held on May 13 at the Westin Bear Mountain Resort, welcomed 300 guests and community leaders from the West Shore and beyond.
"For the second year, our Greater Victoria and West Shore communities joined together with a shared vision to advance care at Victoria General Hospital. We experienced a profound sense of community in the room on Saturday—and remarkable generosity," says Avery Brohman, Chief Executive Officer, Victoria Hospitals Foundation. "The Miracle on the Mountain gala is an occasion to celebrate the care teams and hospitals who serve all of us on Vancouver Island, and this ultimately means uniting together to help equip them with the tools they need to do their best work."
Funds raised at the Miracle on the Mountain gala will support the $2 million upgrade of an existing MRI machine at VGH. This leading innovation in Canada will preserve the durable magnetic core of the system while completely rebuilding and revolutionizing the technology, software, and structure around the magnet. By replacing this outdated imaging equipment with new, best-in-class components, we can achieve the benefits of a brand new system for a third of the cost.
"The invaluable benefits of upgrading this MRI include: faster and more precise imaging, a more comfortable patient experience, and a most sustainable and cost-effective alternative to replacing the equipment entirely," says Dr. Alan Andrew, Radiologist and Medical Director, Island Health Medical Imaging. "This replacement method will allow us to continue to prioritize the needs of our patients without disrupting care. It also means our teams will be better-equipped to serve the community."
Event highlights of note:
During the pledge drive:
• Don and Ruth James pledged an extraordinary $250,000 to the cause. A standing ovation celebrated the surprise gift.
• Clint and Carole Forster then pledged a remarkable $100,000.
• This led to Larry and Estelle Boulet pledging an exciting $50,000.
• Together, the James, Forster and Boulet pledges inspired the room. An additional $90,000 pledge donations were made by gala guests, for a total of $490,000.
The live auction featured remarkable packages, including:
• a cruise package donated by Celebrity Cruises and supported by Departures Travel,
• a one-of-a-kind painting by Montreal's Rio Artiste Inc., represented in Western Canada by Avant-Garde Art Canada Inc.
Guests had an opportunity to hear powerful stories:
•  In a video, Sophie Shackleton highlighted her daughter Odette's care journey. Odette was only a day old when she had her first MRI scan at VGH. Odette was diagnosed with achondroplasia dwarfism.
•  Dr. Ralph Lapp, semi-retired orthopedic surgeon, spoke as a patient, highlighting how MRI technology drastically led his treatment plan after a diagnosis of prostate cancer. At the gala, Dr. Lapp called on his surgeon and urologist Dr. Iain McAuley, and thanked him in front of gala guests.
A bear raffle, sponsored by the Viking Group, sold out. Three winners went home with stunning prizes: roundtrip flight with WestJet for two guests, beautiful diamond earrings gifted Rick Arora and Stones Jewellery, and an ultimate fashion shoot.
An after-party, sponsored by RBC, closed out the evening in style.
Engel & Völkers: The Ratcliff Group generously stepped forward as the Miracle on the Mountain gala's presenting sponsor, having also served as the event's inaugural presenting sponsor in 2022. The Ratcliff Group recently announced a $165,000 pledge in support of the West Shore event and its cause, and the real estate group will now hold the title of presenting sponsor for the next five years.
Amy Ratcliff, from Engel & Völkers: The Ratcliff Group, was this year's Chair on the gala committee. Mark Colgate, professor at the Gustavson School of Business, was the evening's emcee.
Every year, 130,000 patients pass through the doors of Victoria General Hospital. It is the busiest healthcare centre on Vancouver Island, and serves as the referral centre for maternity, pediatric, trauma, and neuroscience for all 860,000+ Island residents. Together, Royal Jubilee and Victoria General hospitals perform approximately 2,000 MRI imaging tests each month. The MRIs in these hospitals run 24 hours a day, seven days a week, and serve patients of all ages.
To learn more or make a contribution in support of current imaging needs in Greater Victoria hospitals, please visit victoriahf.ca or call 250-519-1750.
https://www.victoriahf.ca/wp-content/uploads/2023/05/Avery-and-Amy.png
1344
2048
Victoria Hospitals Foundation
https://www.victoriahf.ca/wp-content/uploads/2018/04/vhf-logo.png
Victoria Hospitals Foundation
2023-05-16 10:47:39
2023-05-18 09:39:33
WEST SHORE HOSPITAL GALA RAISES $790,000 TO BENEFIT MRI IMAGING ADVANCEMENT FOR VICTORIA GENERAL HOSPITAL