Young Patients at Victoria General Hospital Thank Firefighters for Ongoing Support and $25,000 Donation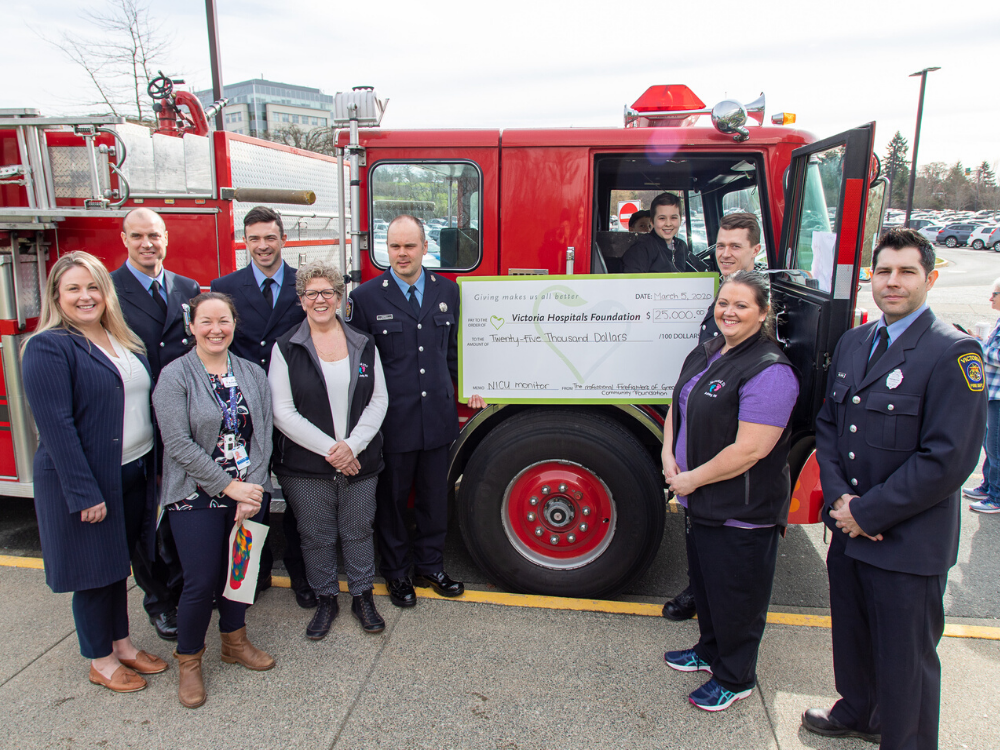 Today, firefighters from Saanich, Oak Bay, Victoria, and Esquimalt departments presented a cheque for $25,000 to the Victoria Hospitals Foundation in support of pediatric care at Victoria General Hospital (VGH). The gift is part of a 10-year $250,000 pledge made by the Professional Firefighters of Greater Victoria Community Foundation in 2011 to fund an array of priority equipment for the Pediatric Unit at VGH.
"We do our jobs every day because we love our community," said Brian Swanson of Saanich Fire Fighters Charitable Foundation. "For us, our contribution is a way to give back to the Island we love so much, to help our peers who provide critical care in our local hospital, and to let children know that we are behind them, even in the most difficult of times."
Joining in the celebration of giving back, caregivers and some of the children currently in the Pediatric Unit at VGH came down to recognize the firefighters with speeches, a thank you card and drawing. The young patients were invited to visit and play in a firetruck with their community heroes.
"What a humbling feeling to see our local firefighters, caregivers, and children—our donors and beneficiaries—together and united," said Avery Brohman, Executive Director of the Victoria Hospitals Foundation at today's cheque presentation. "We are deeply thankful for the ongoing support of the Professional Firefighters of Greater Victoria Community Foundation. Our firefighters' commitment to ensuring our most vulnerable patients are not only safe but also have access to the latest in pediatric care technology is a testament to their humanity and passion."
To raise funds for pediatric care, each charitable foundation holds community events throughout the year. This year, Saanich Fire Fighters Charitable Foundation will be hosting their 18th annual Rock and Roll for Little Souls Car Show May 29 to 31 at Pearkes Recreation Centre. The Oak Bay Fire Fighters Charitable Foundation will host their fundraiser Sausage Fest at Willows Beach on June 13 from 12 p.m.to 9 p.m. Rib Fest, a fundraiser hosted by the Esquimalt Fire Fighters Charitable Foundation, will be held at Bullen Park in Esquimalt September 11 to 13.
Including today's cheque, the firefighters' pledge payments total $225,000.
This year's donation is supporting the funding of a new monitor for life-saving neonatal care at VGH. This important equipment records and monitors vital signs in 100% of cases in the Neonatal Intensive Care Unit (NICU) at VGH. More than 3,000 babies are born every year at VGH.
"We simply could not do our best work without putting this crucial equipment in the hands of our excellent care teams," said Emma Carrick, NICU Manager, Island Health. "We are so thankful to donors and community members like our firefighters for helping us provide the very best care to children that need it the most."
At the forefront of newborn and child care, Victoria General Hospital is the referral centre for maternity and pediatrics on the Island, and accepts transfers from within the province. Host to one of BC's four high-level NICUs for critically ill newborns, and one of its two Pediatric Intensive Care Units for critically ill children aged 0-17, the teams care for young patients who may require life support, special medications, and one-to-one observation.
https://www.victoriahf.ca/wp-content/uploads/2020/03/Copy-of-Website-Blog-Post.png
750
1000
Victoria Hospitals Foundation
https://www.victoriahf.ca/wp-content/uploads/2018/04/vhf-logo.png
Victoria Hospitals Foundation
2020-03-05 20:21:23
2020-03-05 20:21:23
Young Patients at Victoria General Hospital Thank Firefighters for Ongoing Support and $25,000 Donation