Victoria Hospitals Foundation launches $7 Million It's Critical campaign to fund immediate and long-term critical care needs in response to COVID-19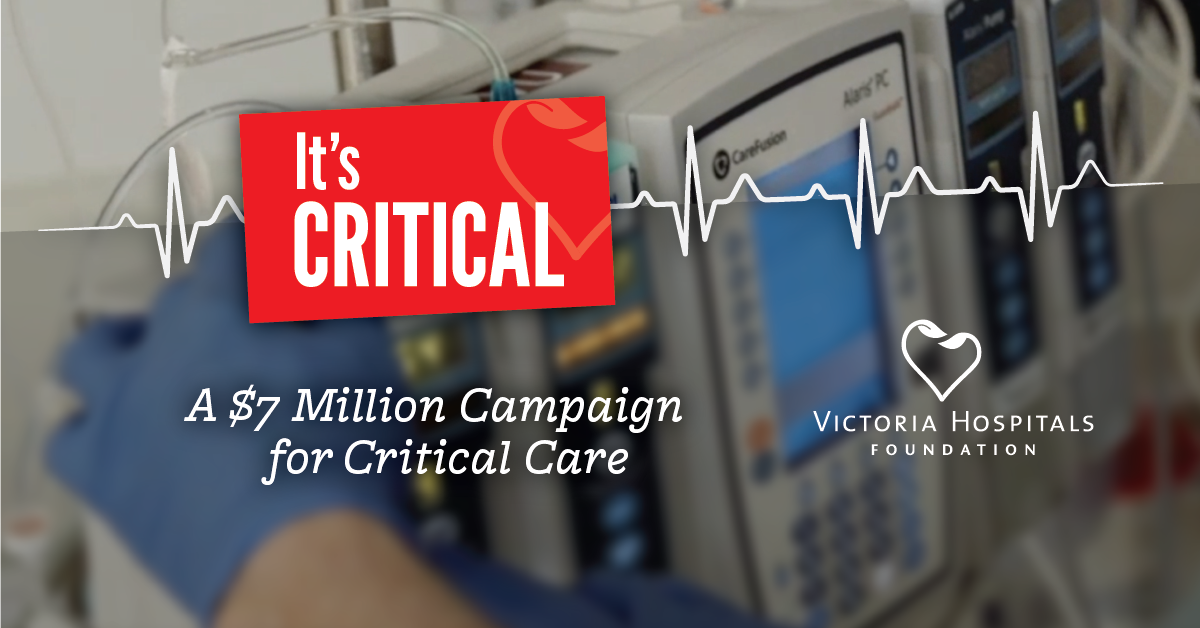 Victoria, BC — The Victoria Hospitals Foundation has announced a commitment of $7 million for priority critical care needs at Royal Jubilee Hospital (RJH). An immediate $1 million will fund equipment needed to outfit an interim High Acuity Unit (HAU) for critical care at RJH in response to the COVID-19 pandemic. Another $6 million will support the construction of a new permanent HAU at RJH, the first of its kind on Vancouver Island. Donors have been asking how they can support our front line and our hospitals, and this is how.
"Today we are facing unprecedented times, and all members of the Island Health family are responding with energy, commitment and compassion for those we are privileged to serve," shared Leah Hollins, Board Chair, Island Health. "While Island Health hospitals are currently treating our initial COVID-19 confirmed patients, we know that number will increase and we will be ready to support their needs. We are so grateful for the support of the Victoria Hospitals Foundation's donors to help our care teams on the front line today, and for tomorrow as well. Thank you on behalf of all of us at Island Health."
Royal Jubilee Hospital, one of the two designated primary sites for COVID-19 patients on Vancouver Island, will be the beneficiary of the funding.
The equipment purchased with the initial $1 million commitment for the interim High Acuity Unit includes the following:
Eight new critical care beds, specially designed to care for ventilated and other complex patients.
Additional upgrades to the critical care patient monitoring system, including a new central monitoring station and eight new patient monitors.
One new dedicated ultrasound and other vital specialized equipment.
Purchasing has begun on all of these items. Island Health is working jointly with its provincial partners to procure this equipment as quickly as possible.
The remaining $6 million commitment will allow Island Health to build its first HAU—a longstanding goal. This special unit will provide a critical level of care that is intermediate between ICU and acute care units. HAUs benefit patients with a wide range of serious medical conditions, including severe respiratory distress, shock, and those recovering from surgery among many other conditions. This level of care cannot be provided on the regular ward. This commitment accelerates plans that have been in
development for the last two years. Island Health has committed operational funding to this project and began hiring and training nurses earlier this year.
"As a frontline caregiver, this is the very best support we can ask for at this time and for the future," says Dr. Omar Ahmad, Department Head of Emergency and Critical Care Medicine with Island Health. "These investments will support us as we move through the waves of this pandemic today, and ensures Island Health has the critical care capacity and ability to offer the absolute best support to individuals with high acuity needs well beyond today."
"I cannot describe just how important the High Acuity Unit will be. It will absolutely save lives, of that I have no doubt," Ahmad adds. "Please know this need is so critical, and we truly value all community members who can support us. We are in this together, now more than ever."
The $7 million commitment from the Foundation comes as a result of great momentum and community engagement since the launch of its latest initiative, Hospital Heroes of Victoria, on March 25. In a matter of days, the campaign saw hundreds of community members share messages of praise and encouragement for the hospital front line. This campaign inspired the initial $1 million commitment for the equipment, which will be used in the new HAU and purchased immediately.
The Foundation has now launched It's Critical, a dedicated campaign to raise the $7 million needed.
"More than ever, we see our community united, and deeply connected to our hospitals. We are so proud to support Island Health's priority needs at all times, but especially now. This is just the beginning. Our Foundation's mission to champion a culture of philanthropy that transforms healthcare on the Island has never been so true. Our community needs this critical care expansion; it's an urgent priority for now, and into the future," shares Steve McKerrell, Board Chair of the Victoria Hospitals Foundation.
"Our community has already shown great support for our frontline heroes and has funded a portion of our $7 million commitment," he adds. "We are genuinely moved, and we know we will continue to be astonished by the outpouring of community spirit in the weeks to come. We cannot do this without their continued support."
Donations directed to It's Critical and the Hospital Heroes of Victoria initiative in support of this campaign, ensure local care teams have access to critical tools and technology as well as supports for staff and medical staff during these challenging times, as determined by Island Health. While Provincial and Federal governments continue to fund COVID-19 expenses, the support of the community through the Victoria Hospitals Foundation allows other critical equipment to be in place in our hospitals quicker. 40% of equipment at Royal Jubilee and Victoria General hospitals is funded by donors.
Contributions to this ambitious campaign can be made by donating online at www.victoriahf.ca/critical, mailing a cheque, through gifts of securities, or calling 250-519-1750.
https://www.victoriahf.ca/wp-content/uploads/2020/04/IC-Featured-Image.png
628
1200
Victoria Hospitals Foundation
https://www.victoriahf.ca/wp-content/uploads/2018/04/vhf-logo.png
Victoria Hospitals Foundation
2020-04-09 15:33:44
2020-04-09 15:33:44
Victoria Hospitals Foundation launches $7 Million It's Critical campaign to fund immediate and long-term critical care needs in response to COVID-19