Young Patients at VGH Say Thank Firefighters for $25,000 Donation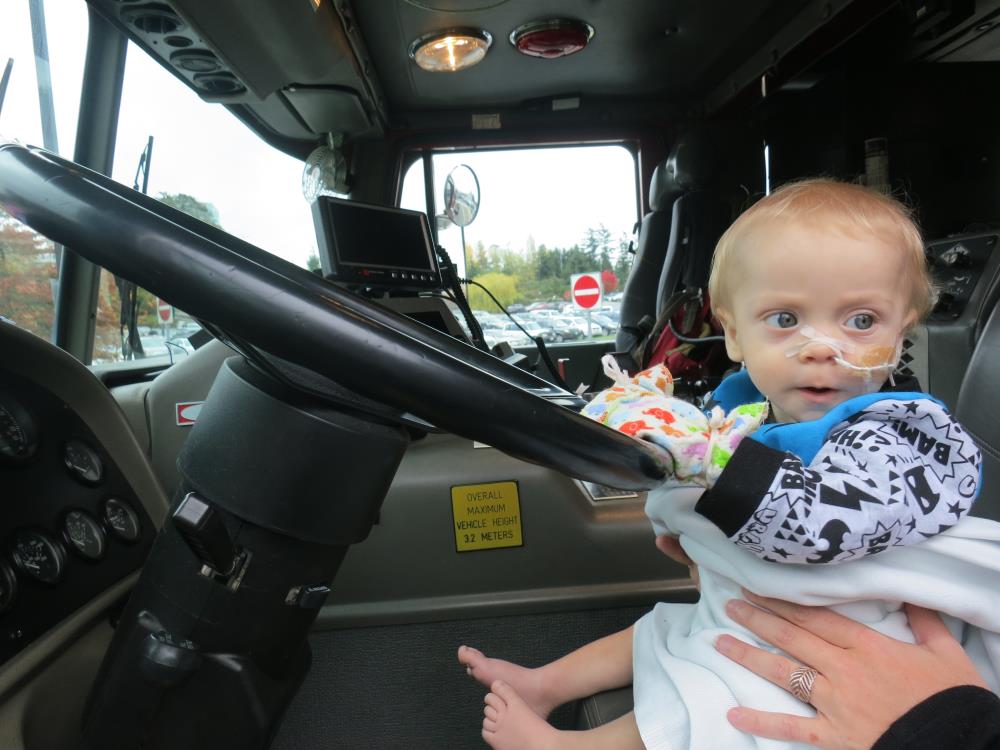 The Professional Fire Fighters of Greater Victoria gathered today at Victoria General Hospital (VGH) to present a cheque for $25,000 to the Victoria Hospitals Foundation. The gift is part of a 10-year $250,000 pledge made by the firefighters in 2011 to fund an array of leading-edge equipment for the pediatric unit at VGH. As the Island's pediatric specialty hospital, VGH cares for children from across Vancouver Island.
"We are so grateful for the commitment and dedication the Professional Fire Fighters of Greater Victoria have shown to our tiniest patients," said Steve McKerrell, Victoria Hospitals Foundation Board Vice Chair. "When a child is sick, nothing is more important than helping them get well again. Better tools and equipment means better healthcare for our children, and we are thankful the firefighters are committed to ensuring our community's most vulnerable pediatric patients have the best possible chance at not only surviving, but thriving."
The firefighters were thanked by a small group of children, all past and present patients from the Neonatal Intensive Care Unit (NICU) and the Pediatric Intensive Care Unit (PICU), with a giant thank you card covered in tiny signatures. Following the cheque and card presentations, the youngsters were invited to partake in Valentine's Day activities, explore a firetruck and meet the firefighters.
"It's so heartwarming to meet some of the children our pledge has helped," said Bonnie Fiala of Saanich Fire Fighters Charitable. "The equipment we are funding allows children and their families to overcome critical health challenges and go on to live full and healthy lives. We are proud to do everything we can to help our hospital provide the best possible care."
The Professional Fire Fighters of Greater Victoria Community Foundation includes members from Saanich, Oak Bay, Victoria and Esquimalt fire departments. Throughout the year, the Fire Fighters raise funds through community events such as Rock and Roll for Little Souls, Rib Fest, Fashion Inferno, and Sausage Fest.
Including today's cheque, the firefighters' pledge payments total $175,000. Previous gifts have supported critical equipment for the Pediatric and Neonatal Intensive Care units at VGH such as an infant resuscitation unit and a specialized pediatric ventilator. Their latest gift will complete funding for a pediatric cardiac ultrasound, which is used at Victoria General to diagnose and monitor heart conditions in newborns, infants and children.
"This new equipment will help our Pediatric Cardiology Clinic care for young children and infants with heart conditions, from simple and benign problems to very complex and life threatening issues," said Dr. Brian Sinclair, a Pediatric Cardiologist with Island Health. "This ultrasound is the primary diagnostic tool for pediatric cardiology. More than 1,500 ultrasounds are performed annually in the Pediatric Cardiology Clinic at Victoria General Hospital, so this equipment is critical."
More than 90% of Vancouver Island children who need hospital care are treated on the Island. Victoria General Hospital is the Island's pediatric specialty hospital and operates one of only four high-level Neonatal and Pediatric Intensive Care units in the province.
https://www.victoriahf.ca/wp-content/uploads/2018/02/IMG_3493.jpg
750
1000
Victoria Hospitals Foundation
https://www.victoriahf.ca/wp-content/uploads/2018/04/vhf-logo.png
Victoria Hospitals Foundation
2018-02-14 18:16:46
2019-11-12 20:11:29
Young Patients at VGH Say Thank Firefighters for $25,000 Donation