VHF launched $3.5 million You Are Vital campaign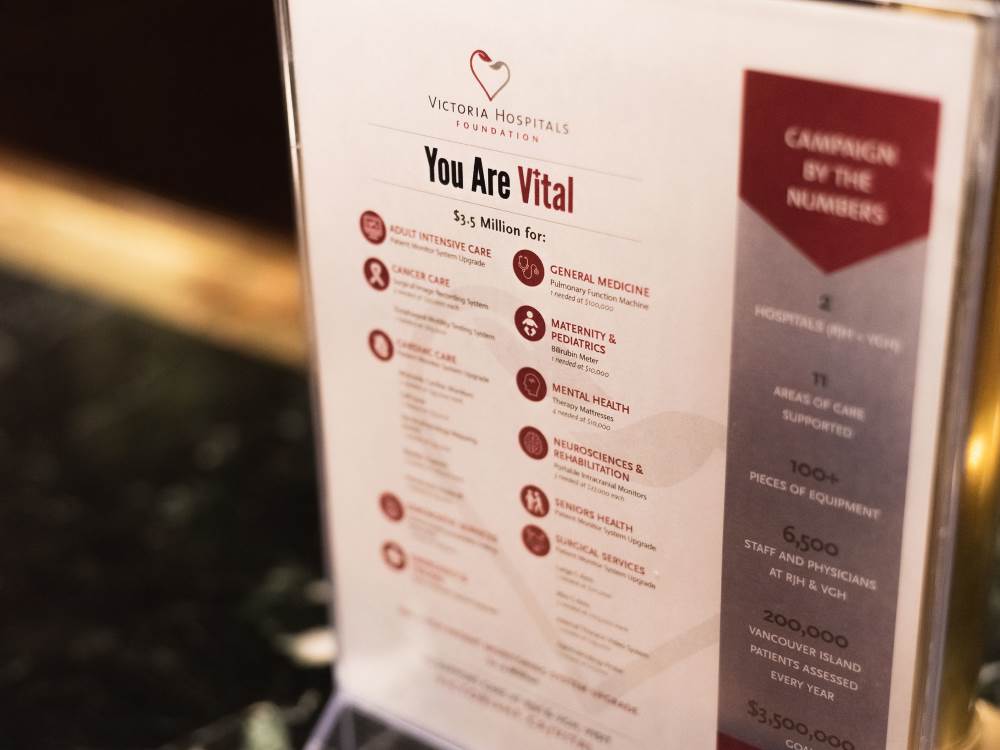 A campaign to raise $3.5 million to purchase more than 100 pieces of leading-edge equipment for 11 areas of care at Royal Jubilee and Victoria General Hospitals was launched today by the Victoria Hospitals Foundation.
Foundation Board Chair, Steve McKerrell announced the campaign called You Are Vital. Equipment to be funded includes an improved patient monitoring system that will benefit several areas of the the two busiest hospitals on Vancouver Island. The campaign will continue through to March 2019 with the Foundation telling the stories of Island Health caregivers and the patients they serve in several specialties.
"Island Health's care teams play a vital role in a patient's journey. Ensuring they have tools of the highest quality means our Vancouver Island patients can continue to receive excellent care," said McKerrell. "The equipment that will be purchased through this campaign, paired with our caregivers' experience and expertise, allow for the right decisions to be made in the right moment, leading to the best outcomes. When the right tools are in place, our teams care for patients more carefully and with improved accuracy."
More than 200,000 Vancouver Island residents are assessed and treated each year at Royal Jubilee and Victoria General hospitals. As referral centres, these hospitals are home to renowned specialists, modern technology, and specialized tools in all areas of care.
The equipment that will be purchased through this campaign will:
provide critically important information to our care providers so they can provide immediate, informed actions;
alert our caregivers of any changes or trends in a patient's symptoms so that they may intervene more quickly;
ensure our caregivers have leading-edge tools to provide the best possible outcome.
Joining Steve McKerrell for the announcement were Dr. Omar Ahmad, Island Health's Department Head of Emergency and Critical Care Medicine and Registered Nurse, Sophie Gatward.
Dr. Omar Ahmad said, "My team and I rely on this equipment to make sure that we have the right information to provide the highest quality care. I cannot say enough how inspiring it is for us all to know we have the support of our community to help fund equipment that allows us to do our best work."
"Thanks to the generous support of the Victoria Hospitals Foundation and their amazing donors, our care teams will have access to state-of-the-art monitoring equipment that will enable them to provide the highest quality care to our patients," said Kathy MacNeil, Island Health President & CEO. "It also ensures that we're able to attract medical professionals who are in high demand all across the country."
Contributions can be made by donating online at www.victoriahf.ca, calling 250-519-1750 or mailing a donation to Wilson Block, 1952 Bay Street, Victoria BC, V8R 1J8.
To learn more about You Are Vital and read stories from former patients please visit: www.victoriahf/vital. A list of equipment that will be funded through the campaign is attached.
https://www.victoriahf.ca/wp-content/uploads/2018/12/DSC_9059-e1544661485505.jpg
750
1000
Victoria Hospitals Foundation
https://www.victoriahf.ca/wp-content/uploads/2018/04/vhf-logo.png
Victoria Hospitals Foundation
2018-10-25 00:31:27
2019-11-12 20:11:27
VHF launched $3.5 million You Are Vital campaign