Patient Story: Baby Olivia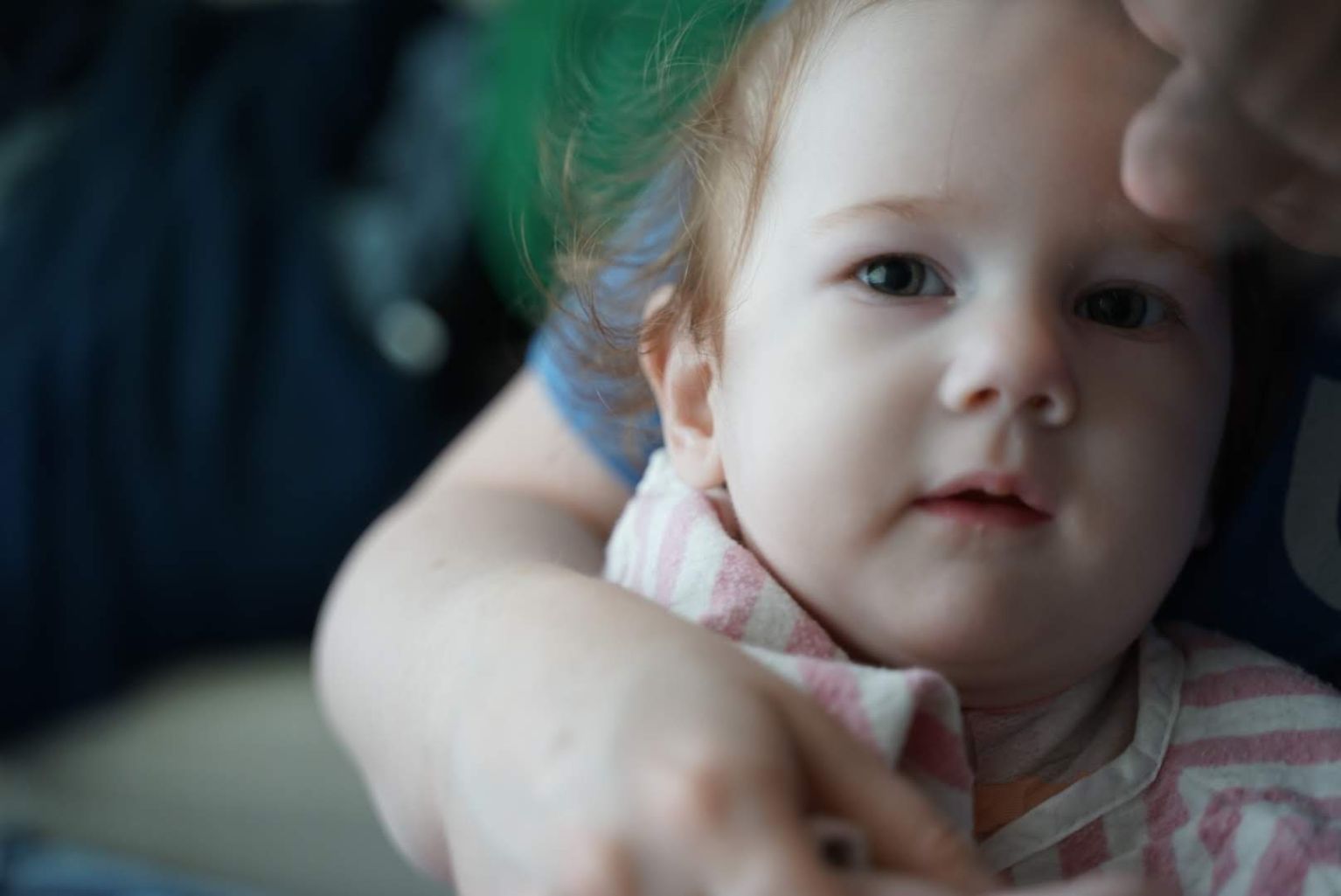 Nothing is quite as terrifying as illness in a newborn or child.
Thankfully, Victoria General Hospital (VGH) — the referral centre for maternity and pediatrics on Vancouver Island — is at the forefront of newborn and child care.
This is one local family's story:
After an emotional year trying for a baby, Gloria and Chris McDonald were overjoyed when their daughter Olivia was born at VGH on December 15, 2017. As months passed, she was a healthy and happy child, but although she continued to grow tall, she wasn't gaining weight.
Then, on July 18, 2018, at seven months old, Olivia would not wake up from a nap. When her parents tried to rouse her, she remained lethargic and unresponsive.
At VGH, doctors learned that Olivia's blood sugar was dangerously low, and she had high levels of both lactic acid and creatine kinase (CK) in her body.
After many tests and physician consultations, Olivia was diagnosed with a progressive, palliative genetic/biochemical disorder called Tango2-related metabolic encephalopathy and arrhythmia. Under 50 people worldwide have been diagnosed with it since it was discovered in 2016. She was the 13th patient diagnosed with it worldwide and the second in Canada.
Tango2 is a gene that helps create energy through the processing of fats, proteins and carbohydrates from food. When the gene is absent in infants like Olivia, the cells stop producing energy. Toxins build up and harm the organs throughout the body, risking muscle breakdown, seizures, and heart failure. At every metabolic crisis, Olivia's immune system is compromised.
Once Olivia recovered from the initial episode, she and her parents returned home. But within 24 hours, Olivia had another metabolic episode: a buildup of acid in her body led her to hyperventilate, vomit, and fall unconscious. Gloria and Chris rushed her to VGH, host to one of only two PICUs in British Columbia for critically ill children and an excellent Pediatric Unit.
Olivia is now one-and-a-half years old and has lived in hospital for over a year. She has been through at least eight surgical procedures, two blood transfusions, and at least eleven illnesses and infections. At VGH, she has occupied every bed in the PICU and five different rooms on the ward.
To this day, Gloria and Chris continue to be with her, close to home, through full-time care with the goal of extending her life, overseeing her intravenous and feeding tubes, and communicating with her rotating care teams.
Every pediatric clinical and administrative staff — nurse, physician, clerk, rehabilitator, dietitian, psychologist, therapist — plays a vital role in a child's diagnosis and treatment. Children, like Olivia, susceptible to infections and disease receive one-to-one monitoring. Gloria and Chris commend the care team at VGH's PICU.
"We weren't sure she was going to survive, but they brought her back — they saved her life," says Gloria. "Even though Olivia is now on the general pediatric ward, PICU nurses often stop by to check in on her."
"They gave us such great attention and care, which made what we were going through a little easier," says Chris. "They treated us like family."
98% of pediatric cases on Vancouver Island are treated right here at VGH, where 250 kids receive care each year. "We were fortunate Olivia has received the majority of her care close to home, near friends and family who are our support," says Gloria. "Many people don't realize how much harder it would be if our only option were to be uprooted to Vancouver."
"They know her really well here," says Chris. "This felt like the place we needed to be."
Recently, the family celebrated Olivia's one year anniversary in care by handing out cake and sparkling juice to the PICU's patients and staff, with Olivia in her stroller. She continues to grow stronger and more playful, and thinks the word 'woof' is the funniest thing ever.
Gloria and Chris don't know what's in store for their daughter. But they hope their story can help make this condition better known. Today, they also share their story to support the Victoria Hospitals Foundation's You Are Vital: Pediatrics campaign.
The campaign aims to raise $1.8 million for 40 new patient monitors in the VGH PICU and its sister unit, the Neonatal Intensive Care Unit (NICU). This equipment is used for diagnosis and monitoring in 100% of cases.
"These vital signs monitors give parents peace of mind," admits Gloria. "If something goes wrong a nurse will rush over, already knowing what's happening."
"Without the care Olivia received from her amazing team of medical professionals, her story would have ended one year ago," Gloria says. "We are forever grateful for everyone who had a hand in helping her get to where she is today."
For more information on the You Are Vital: Pediatrics campaign, and to support our VGH neonatal and pediatric care teams so that more Vancouver Island children can survive and thrive, please visit www.victoriahf.ca/vitalkids
https://www.victoriahf.ca/wp-content/uploads/2019/07/Baby-Olivia-4.jpg
1025
1534
Victoria Hospitals Foundation
https://www.victoriahf.ca/wp-content/uploads/2018/04/vhf-logo.png
Victoria Hospitals Foundation
2019-08-09 23:54:15
2019-11-12 20:11:23
Patient Story: Baby Olivia