Canadian Tire Stores Lead with Heart to Support Cardiac Care on Vancouver Island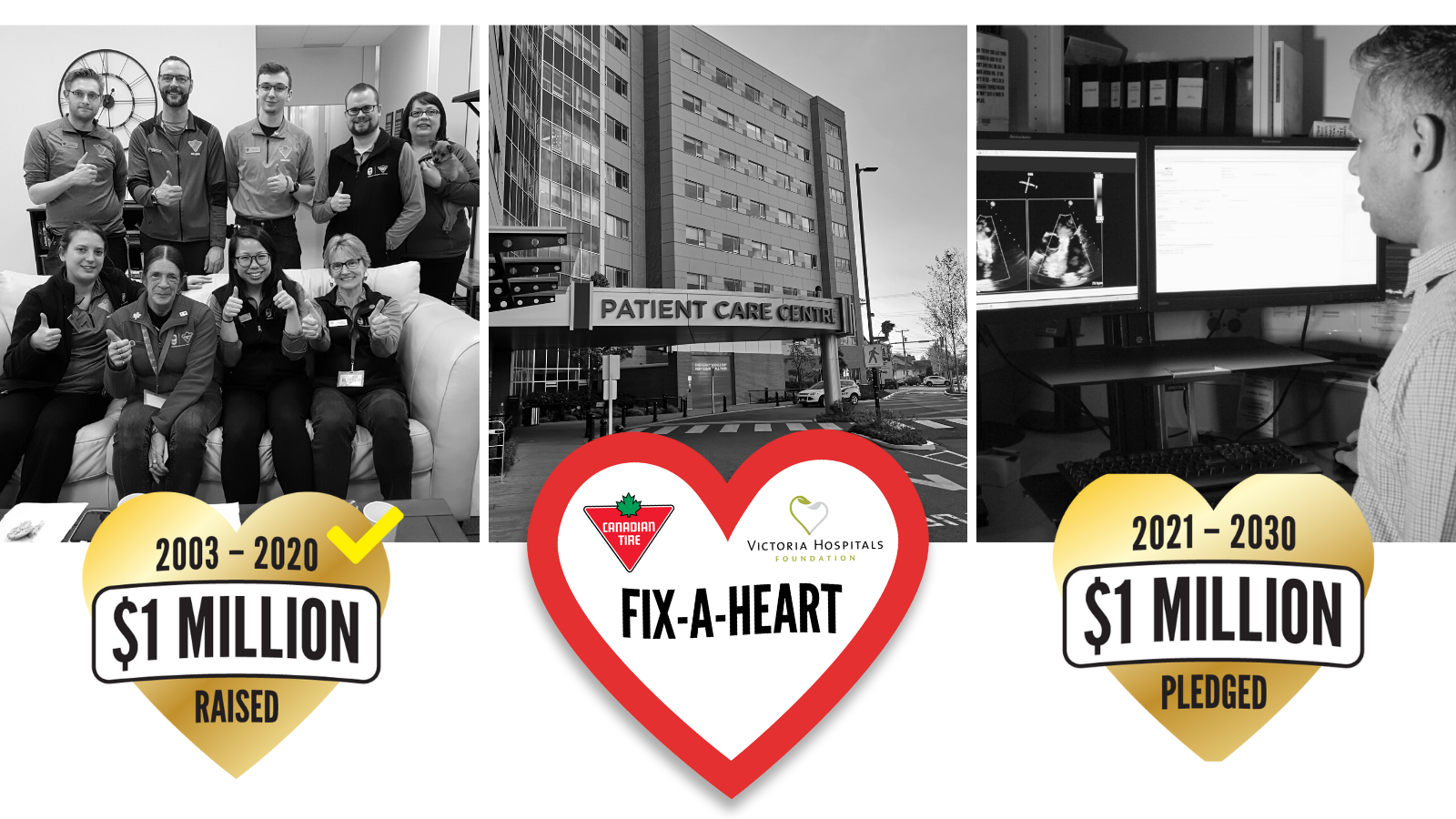 Victoria, B.C. — The Victoria Hospitals Foundation is thrilled to recognize the 20th consecutive Fix-A-Heart campaign championed by local Canadian Tire owners, staff, and customers. Through community donations at-the-till at the Hillside, View Royal, North Saanich, and Langford stores, more than $64,000 was raised to support urgent cardiac equipment needs in December 2022.
Fix-A-Heart began in 2003 with former Langford Canadian Tire store owner Peter Spillette, a champion of cardiac care on Vancouver Island. When Peter passed away in 2008, Canadian Tire owners and staff honoured his vision with a $1 million commitment for leading-edge cardiac equipment at RJH. Five existing store owners, plus three past owners, have all contributed to this annual tradition that runs from November 24 to December 24.
"Our local stores are proud to support heart health in our community alongside our customers, cashiers, and neighbours through the Fix-A-Heart campaign each year. For 20 years, we have been honoured to give back to the expert cardiac care teams at Royal Jubilee Hospital, who provide world-class care to all of us across Vancouver Island when we need it most," says Justin Young, Canadian Tire.
From 2003 to 2020, the at-the-till initiative raised over $1 million for critical cardiac care equipment at RJH. In the past decade, the local Canadian Tire's Fix-A-Heart campaign has helped fund 89 pieces of equipment for cardiac care, including: ECG machines, critical care beds, a Catheterization Lab C-Arm, Telemetry Monitors, and cardiac ultrasounds.
In 2021, the Hillside, Langford, View Royal, Royal Oak, and North Saanich Canadian Tire stores, as well as the Gordon Head Auto Centre, generously renewed their commitment to raise an additional $1 million for cardiac care at RJH over the next 10 years.
Funds raised in 2022 will support a new C-Arm for RJH's Heart Catheterization Lab. A C-Arm is a versatile, maneuverable machine that captures X-ray images of a patient's heart and blood vessels in real-time, which costs $1.9 million. This is the first gift the Foundation has received to fund the C-Arm. Heart catheterization is needed to see if a patient's heart muscle, valves, or coronary arteries are diseased. The C-Arm assists care teams with patient diagnosis and treatment on the spot, reducing recovery times and side effects and improving the patient's overall healthcare journey. The team in the Heart Catheterization Lab cares for patients undergoing diagnostic cardiac procedures, angioplasty, TAVI (transcatheter aortic valve implantation), and high-risk severe heart attack patients.
"As we recognize Heart Month, we are delighted to celebrate the community spirit of our local Canadian Tire owners, staff, and their customers," says Danielle Mulligan, Manager of Events & Annual Giving, Victoria Hospitals Foundation. "The Fix-A-Heart campaign embodies joyful philanthropy and empowers our award-winning Heart Health program and cardiac care teams with the resources that keep our hospitals on the leading edge".
Royal Jubilee is the Heart Health referral centre for all 860,000+ residents of Vancouver Island. The Heart Health program administers to cardiac needs such as open-heart surgeries, angiograms, angioplasties, cardiac device insertions and electrophysiology procedures. Every year, over 200,000 Vancouver Island residents undergo cardiac assessment and more than 6,300 cardiac procedures. In 2018, this dynamic program celebrated its 25,000th open-heart surgery—a monumental milestone
To learn more about the Heart Health program at Royal Jubilee Hospital and to donate, please visit victoriahf.ca/cardiac-care.
https://www.victoriahf.ca/wp-content/uploads/2021/11/Fix-Webpage.png
900
1600
Victoria Hospitals Foundation
https://www.victoriahf.ca/wp-content/uploads/2018/04/vhf-logo.png
Victoria Hospitals Foundation
2023-02-22 15:51:47
2023-02-22 15:51:47
Canadian Tire Stores Lead with Heart to Support Cardiac Care on Vancouver Island