Five Local Canadian Tire Stores Unite, Raise $75,000 For Royal Jubilee Hospital's Heart Health Program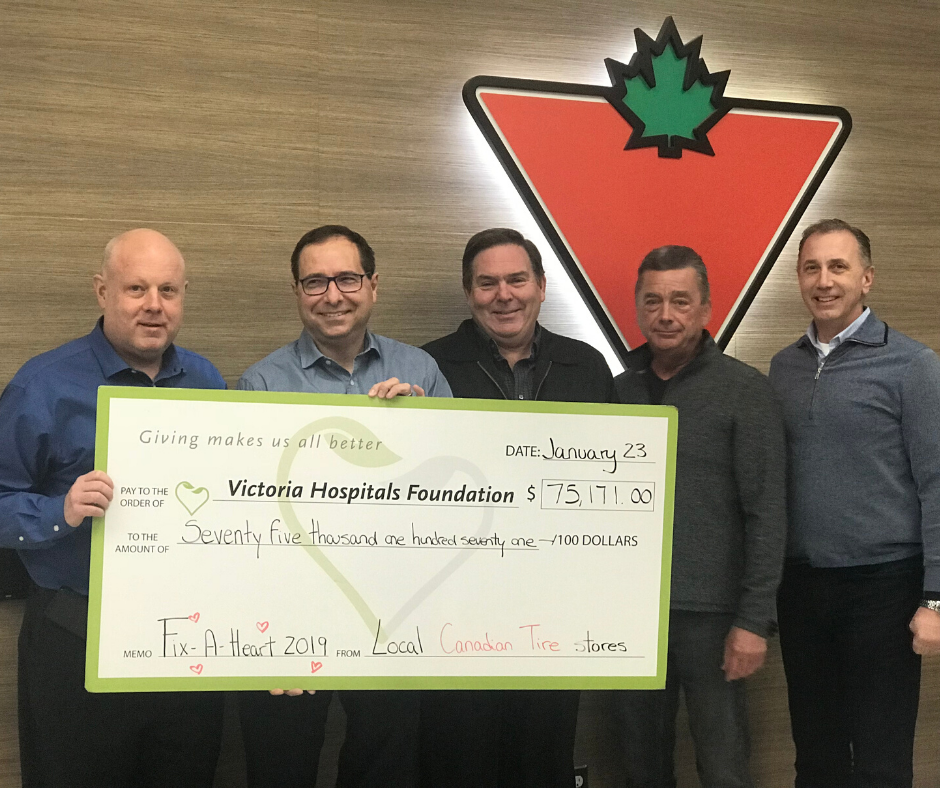 Victoria, B.C. — Among cashiers and community members, five local Canadian Tire owners gathered today to celebrate and donate a remarkable $75,171 to the Victoria Hospitals Foundation in support of cardiac care equipment at Royal Jubilee Hospital (RJH). The stores, which include Hillside, View Royal, Royal Oak, North Saanich, and Langford, as well as the Gordon Head automotive centre, collectively raised the impressive total through their annual at-the-till Fix-A-Heart campaign, which ran from November 24 to December 24, 2019.
"We are proud and honoured to be in five different neighbourhoods and give back to a local hospital that unites us all," says Langford Canadian Tire store owner Mark Barsanti. "Heart health is near and dear to many of us in the community, and we are so grateful to contribute to the great work done by our expert caregivers at Royal Jubilee Hospital."
Fix-A-Heart was started 16 years ago by former Langford Canadian Tire store owner Peter Spillette, a champion of cardiac care on Vancouver Island. When Peter passed away in 2008, Canadian Tire owners and staff honoured his vision with a $1 million commitment for leading-edge cardiac equipment at Royal Jubilee Hospital.
Langford came back as a participating store for this year's campaign and was joined by the team at the new Canadian Tire store in North Saanich.
"It's so special to be back and to not only uphold Peter Spillette's legacy, but to see our customers, our cashiers, and our neighbours so passionate about supporting our local Heart Health program," says Barsanti.
This year's Fix-A-Heart initiative is contributing to large volume infusion pumps for the hospital's Cardiovascular Unit, Coronary Care Unit, and Electrophysiology Lab. Royal Jubilee is the Heart Health referral centre for all 800,000 residents of Vancouver Island.
"These infusion pumps are essential for the treatment of our patients who have had open heart or major vascular surgery, or experienced cardiac arrest or a heart attack. It's with these pumps that we ensure our patients receive nutrients and medications safely and accurately for the best chance at recovery." says Heart Health Medical Director, Dr. Peter Gladstone. "As a member of this community, and on behalf of all of us in the Heart Health program, I thank from the bottom of my heart every cashier, store owner, manager, and customer who has made a contribution to this vital equipment."
With the generous support of the community, the at-the-till campaign has contributed over $915,500 since 2003 towards the Heart Health program at RJH, bringing this cumulative total one step closer to the $1 million commitment.
"Every year, we see the true giving heart of our community through the Fix-A-Heart campaign," says Victoria Hospitals Foundation Associate Director, Marketing & Communications Gaëlle van Erp. "It's magical and impactful to see thousands of community members band together for our cardiac program, patients, and caregivers at Royal Jubilee Hospital. We are just so thankful; this really is the epitome of community spirit."
To learn more about the Heart Health program at Royal Jubilee Hospital, visit www.victoriahf.ca/cardiac-care.
https://www.victoriahf.ca/wp-content/uploads/2020/01/Fix-A-Heart-Media-Release1-.png
788
940
Victoria Hospitals Foundation
https://www.victoriahf.ca/wp-content/uploads/2018/04/vhf-logo.png
Victoria Hospitals Foundation
2020-01-23 22:26:45
2020-01-23 22:26:45
Five Local Canadian Tire Stores Unite, Raise $75,000 For Royal Jubilee Hospital's Heart Health Program