Local Save-On-Foods Stores Showcase their Glowing Hearts, Support Pediatric Care at Victoria General Hospital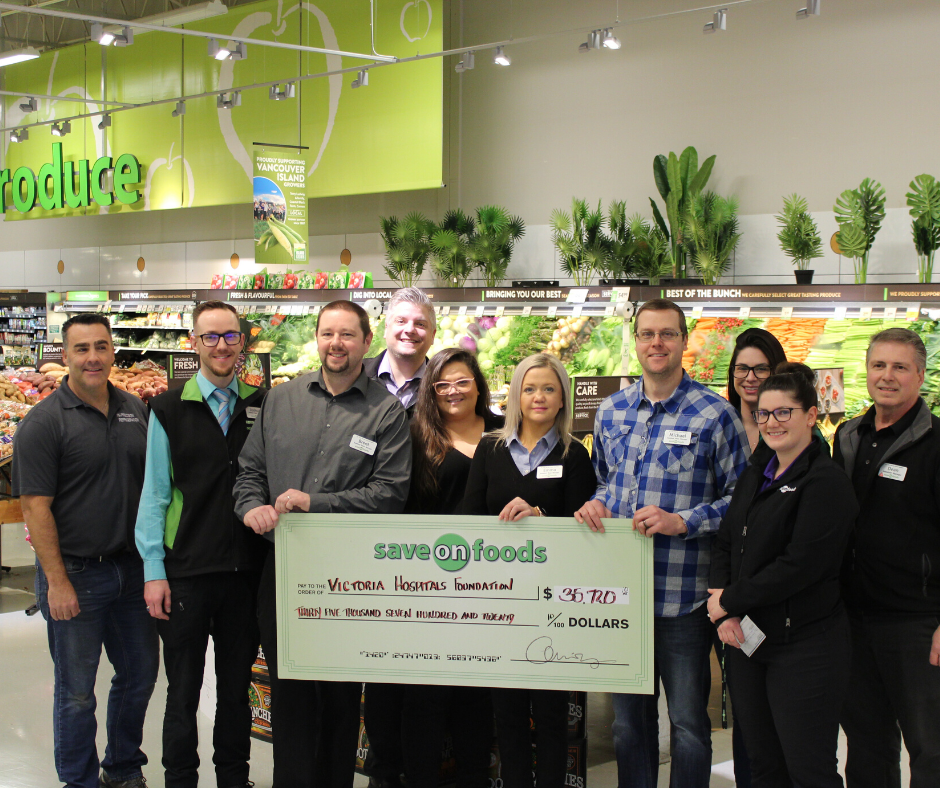 Victoria, B.C. — This past fall, eight local Save-On-Foods stores rallied to support the Pediatric Intensive Care Unit (PICU) at Victoria General Hospital (VGH). On January 23, they presented a collective cheque for $35,720 to the Victoria Hospitals Foundation to support the purchase of a new, critically needed patient monitor for the PICU.
"We love local. Local products, local customers, and important local causes like pediatric care for our tiny Island patients," says Brent Wellman, Assistant Manager at the Save-On-Foods on Blanshard Street. "We are so proud of our cashiers, staff, and loyal customers for coming together this past November. Every little donation, every little message of support contributed in a big way."
The inaugural in-store campaign, called Glowing Hearts, ran from November 14 to December 4, 2019. Through it, customers at the Blanshard Street, Fort Street, Langford, Pandora Avenue, Sidney, Tillicum, University Heights, and Vic West Save-On-Foods locations made at-the-till cash contributions in support of the PICU. Donations were recognized on green hearts and showcased on walls, windows, and tills.
"The response of our community was overwhelming," says Victoria Hospitals Foundation Associate Director, Marketing & Communications, Gaëlle van Erp. "We heard from many caregivers and patients, all so thankful to know the local Save-On-Foods stores were giving back to our local hospital, equipping our talented pediatric caregivers and supporting our friends and neighbours. We are incredibly grateful to all Save-On-Foods team members for their generosity, and their glowing hearts."
The campaign raised well over its initial goal of $25,000 in support of the PICU. This specialized unit at VGH is one of British Columbia's two PICUs for critically ill children. 98% of pediatric cases on Vancouver Island can be treated at VGH.
Thanks to its incredible success, the local Save-On-Foods managers hope to run more Glowing Hearts campaigns in the future in support of the Victoria Hospitals Foundation and the local pediatric programs at VGH.
https://www.victoriahf.ca/wp-content/uploads/2020/01/Fix-A-Heart-Media-Release1-1.png
788
940
Victoria Hospitals Foundation
https://www.victoriahf.ca/wp-content/uploads/2018/04/vhf-logo.png
Victoria Hospitals Foundation
2020-01-24 17:19:29
2020-01-24 17:21:48
Local Save-On-Foods Stores Showcase their Glowing Hearts, Support Pediatric Care at Victoria General Hospital