Dr. Andrew shares how, together, we can advance local healthcare by funding new MRI technology and support a leading innovation in Canada. Your gift today benefits people of all ages and areas of care on Vancouver Island.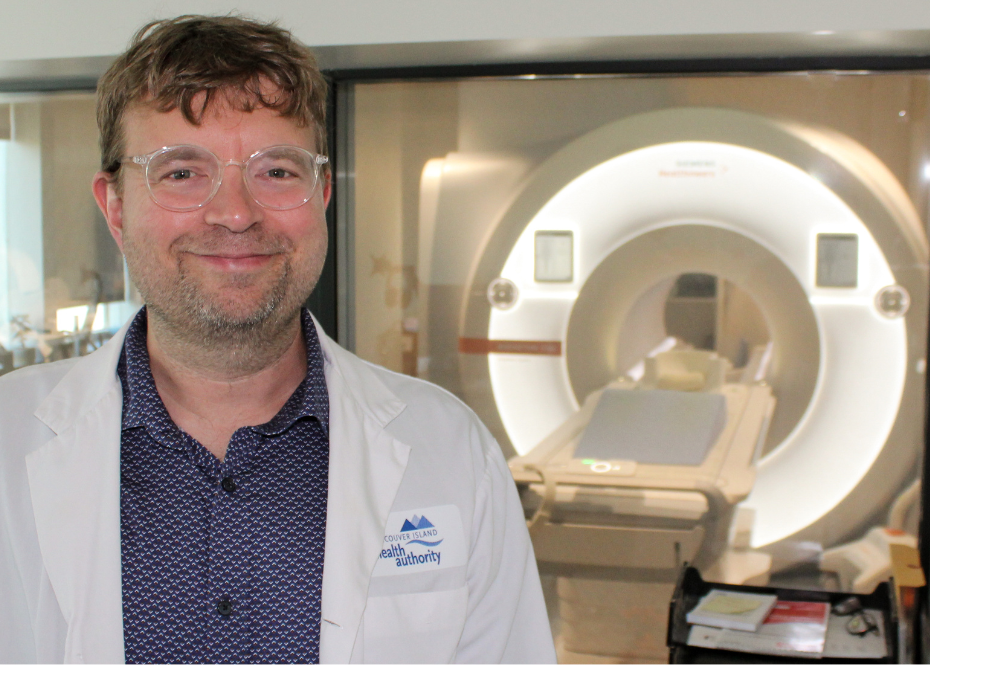 One of the most common questions received by our hospitals' medical imaging staff is: Why does it take so long to get an MRI scan? It's a question you may have even asked yourself, or on behalf of a friend or loved one.
While there is no single answer, as a care provider, and as the Medical Director for Imaging at Island Health, I want you to know that our team desperately wants to be able to serve our community and patients as efficiently as possible. Inside the walls of our hospitals, medical imaging never stops. Members of the public undergo scheduled scans 24/7, and my colleagues and I are reading scans and getting answers to healthcare providers around the clock. But, at any given time, there are also emergent cases when scans are needed without delay. This is the balance our teams navigate each and every day.
Often, a care journey begins with an imaging scan. For some patients, an MRI can determine a diagnosis or treatment plan, while others might receive the relief of a clear scan. Regardless of the outcome, the information received from MRI scans is often life-changing.
Vancouver Island's population is estimated to exceed one million in the next decade, and we want to ensure we are strategic and patient-focused as we plan for the future. It is clear that we need our MRIs to be replaced with the most advanced technology available as we continue to strive to improve wait times. Our community deserves it.
I am pleased to report that, for a third of the cost, we can revolutionize an MRI machine at Victoria General Hospital by replacing outdated machinery with new, best-in-class components. This is a leading innovation in Canada. To achieve this, we will preserve the core of our current MRI machine: the powerful magnet that are in themselves very durable and will last for several decades. Our focus will be on completely rebuilding the technology, software, and structure around the magnet.
The invaluable benefits of a transformed MRI machine includes faster and more precise imaging, a more comfortable patient experience, and a more sustainable and cost-effective alternative to replacing the equipment entirely.
This is an exciting project we are embarking on, and the efficiency of revolutionizing and rebuilding this equipment—rather than completely replacing it—means we can continue to prioritize the needs of our patients without disrupting care and adding to existing wait times. It also means my team and I can better serve our community.
On behalf of our imaging teams, I thank you for making the decision to join the Victoria Hospitals Foundation for a vital MRI upgrade that will benefit thousands of Vancouver Island patients every year.
With gratitude,
Dr. Alan Andrew
Radiologist and Medical Director, Island Health Medical Imaging