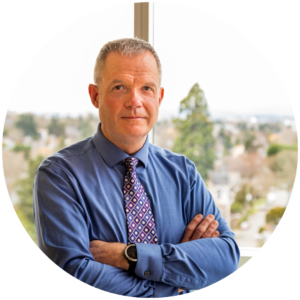 By nature, surgeons are perfectionists. We look ahead for the approach that will give us the best result possible for our patients. In order to do this, we rely on the best equipment. When we operate on a patient, we want to know we've done everything we possibly can to treat them and get the best outcome.
Many people may not realize that 40% of the specialized equipment in our hospitals is funded by the generous donors in our community.
As a urologist, one of the most rewarding elements in my work is the variety of patients we treat every day. We diagnose and treat benign (non-cancerous) and malignant (cancerous) conditions that affect the urinary tract and the male reproductive organs. Our teams perform a wide range of operations from complex surgeries to small procedures on both adults and children. With the right equipment, we can offer patients a less invasive approach, significantly speeding their recovery. For a patient, this vital equipment can get them back to doing the things that are important to them and their families.

One such piece of equipment is the ureteroscope, which allows for a minimally invasive surgical approach to diagnosing and treating conditions like urinary tract stones and tumours. These scopes allow us to detect and treat even the smallest tumours—in some cases, before a patient begins to display symptoms. Using a natural opening that already exists in the body, we insert the ureteroscope directly into a patient's urinary tract. These surgeries can often be completed on an outpatient-basis. This option has many benefits compared to surgeries requiring an incision, including reduced recovery times and shorter hospital stays—which means our patients can get back to their lives sooner.
Through the Emerge Stronger campaign, donors are helping to fund 12 new rigid ureteroscopes, which will have a profound impact on urology patients at Victoria General and Royal Jubilee hospitals. We use these scopes every single day, and we simply could not provide adequate care without them.
Our surgical teams have the privilege of serving patients through our local hospitals—including our next door neighbours, colleagues, friends, and loved ones. Your gift to the Emerge Stronger campaign impacts the healthcare we all depend on when we need it most.
It has been two difficult years in our hospitals, but the support of the donor community buoys our spirits. From surgeons, to nurses, allied health professionals, and support staff, we all appreciate your encouragement.
Donors to the Victoria Hospitals Foundation are truly our partners in healthcare. I am grateful for the generosity of our community—your support equips our care teams with the tools we need to provide life-changing care every day.
—Dr. Iain McAuley, MD
Urologist, Royal Jubilee Hospital
Dr. McAuley and his colleagues rely on equipment like ureteroscopes to treat approximately 1,800 patients like Lionel each year, diagnosing and treating a variety of conditions, including ureter and kidney stones. Ureteroscopes enhance the precision of minimally invasive surgical procedures and promote better patient outcomes and reduced recovery times. Through Emerge Stronger, donors are helping to fund  12 new ureteroscopes, which will serve patients at Victoria General and Royal Jubilee hospitals.