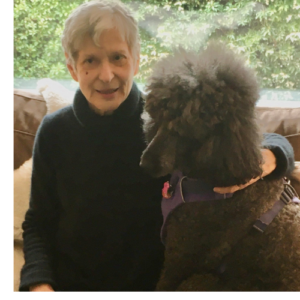 Cynthia has a poodle named Lena who she likes to walk for an hour or more every day. She enjoys being close to trails and parks, some of which are only a five-minute drive from where she lives in the Cowichan Valley.
But one day in February, Cynthia was out walking Lena when she suddenly felt very weak.
She had experienced this sensation while out walking several times before—first in 2011. The feeling was so odd that she didn't think she could describe it to a doctor.
"It was almost like I had been hit in the back of the legs with a heavy object," she says.
This year, the episodes started occurring more frequently, and worse. Usually, they passed—but this time was different. Cynthia had woken up a rapid heartrate and, while she had tried to go about her day and walk Lena as usual, the symptoms persisted.
"I did manage to make it home from my walk," says Cynthia. "But my pulse was racing, and I felt like I needed to go to the hospital."
In 2019, Cynthia had undergone laser eye surgery at Royal Jubilee Hospital (RJH) with Dr. Murray Erasmus to repair a retinal detachment. It was because of Dr. Erasmus' calm demeanor and excellent care that Cynthia knew there was only one place she wanted to go for treatment. Worried she could be having a heart attack, she called a friend in Victoria and asked him to pick her up and take her to RJH—45 minutes away.
"When you go to the hospitals, you want to feel safe and secure," says Cynthia. "The staff at Royal Jubilee are very good at calming you down and explaining what's happening."
In the Emergency Department at RJH, Cynthia's blood pressure and heartrate were elevated to concerning levels—but she felt grateful just to be there.
"I was just so relieved that I made it. If I had to be sick, there was no place I'd rather be," says Cynthia. "Every time someone came in to examine me, I felt confident about why I was there. I knew that if they could fix it, they would."
Fortunately, the physicians and care teams were able to stabilize Cynthia's heartrate and blood pressure with medication.
"At one point, I remember someone saying that my blood pressure had just come down 100 points," says Cynthia.
She stayed in hospital for twelve hours for monitoring and additional testing before she was diagnosed with an arrhythmia and discharged. Some kinds of arrhythmias can persist for months and, left untreated, can eventually lead to complications like a heart attack.
"I don't know how long it would have gone on if I hadn't gone to the hospital," says Cynthia. "I'm glad I didn't make the assumption that it was going to stop."
Recovery is going well, and her arrhythmia is currently managed with medication. She's also back to walking Lena every day.
"Since the day I went to the hospital, I haven't had another symptom. Not one," says Cynthia.
The care she received from Dr. Erasmus in 2019 is what first inspired Cynthia to become a monthly donor to the Victoria Hospitals Foundation.
"When the day comes that you have to go to the hospital, you're going to want the best care, and hospitals need funding in order to provide that," she says. "That foundation has to be there."
Our monthly donors know that everyone has a connection to our hospitals. Like you, if they haven't received care themselves, they know someone who has.  And, whether they donate $10, $25, or $100 each month, their commitment creates a legacy that transforms the very care Vancouver Islanders and their families depend on—care that any of us could need at any time. 
Today, will you help advance care for your own family by joining ours?