Community Support of Victoria Hospitals Foundation Exceeds $7 Million, Benefitting New Critical Care Unit at Royal Jubilee Hospital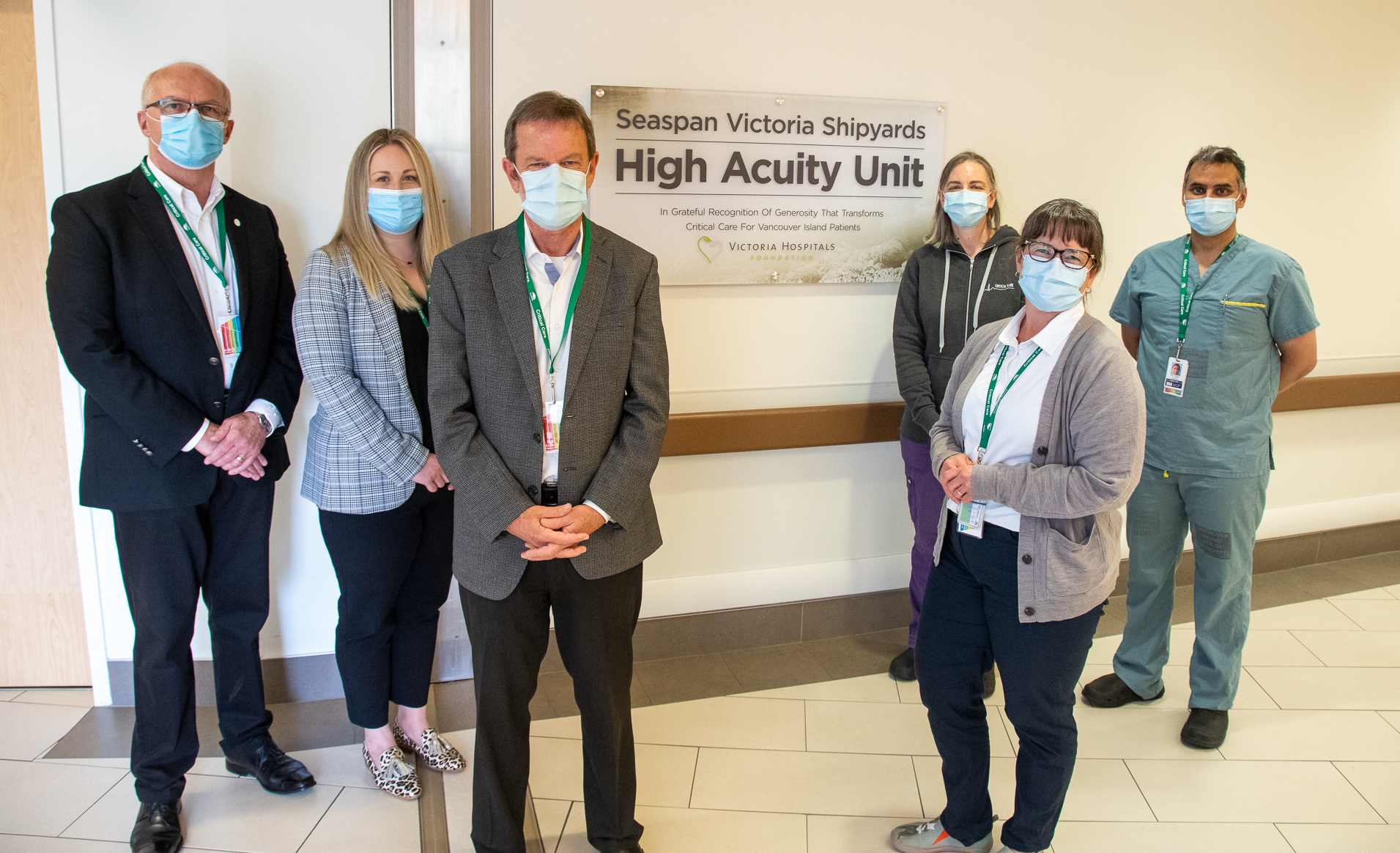 Pictured from left to right: Tom Siemens, Board Secretary, Victoria Hospitals Foundation; Avery Brohman, Executive Director, Victoria Hospitals Foundation; Joe O' Rourke, Vice President & General Manager, Seaspan Victoria Shipyards; Heather-Ann Heyd, Clinical Nursing Lead for the HAU; Carrie Homuth, Manager for the HAU; Dr. Omar Ahmad, Department Head, Critical Care and Emergency Medicine for Island Health
In just over a year since launching, the Victoria Hospitals Foundation's It's Critical fundraising campaign has exceeded its $7 million fundraising goal. Over 4,000 individual and corporate donors, as well as charity raffle players and those who supported in-store fundraising campaigns have helped accelerate the building of Vancouver Island's first permanent High Acuity Unit (HAU), which will boost critical care capacity at Royal Jubilee Hospital (RJH) by 73%.
The HAU provides an intermediate level of care between Acute Care units and the Intensive Care Unit (ICU) and supports patients recovering from surgery, trauma, severe respiratory distress, or those being treated for serious medical conditions like COVID-19. High Acuity Units are also a vital resource to manage hospitalization surges due to influenza, a pandemic response, or mass casualty events.
"The community's support of It's Critical has been truly wonderful. Thank you to each and every Victoria Hospitals Foundation donor—as a frontline caregiver your support is inspiring," says Dr. Omar Ahmad, Department Head, Emergency & Critical Care Medicine, Island Health. "The new donor-funded High Acuity Unit will save lives, and allow us to support patients from all across Vancouver Island for years to come."
It's Critical is the largest capital investment in critical care in Victoria by the Foundation, Island Health, or any level of government in 20 years. Through the first phase of It's Critical, Victoria Hospitals Foundation donors funded critical care equipment and resources to support the opening of an interim HAU at RJH in October, which has already helped over 250 patients from around the province. The donor-funded equipment includes ventilators, patient monitors, video bronchoscopes, a portable ultrasound, a continuous renal replacement therapy (CRRT) machine, and more critical care tools. With the opening of the new High Acuity Unit, many new healthcare specialists have been hired. So far 20+ registered nurses, five critical care physicians, seven respiratory therapists, and other specialist positions have been added to the team.
The second phase of It's Critical was bolstered by a transformational $2.65 million gift from Seaspan Victoria Shipyards and the Dennis and Phyllis Washington Foundation in November 2020. This gift inspired many to follow suit including the Wilson Lai Trust who donated $500,000 to advance the campaign. As part of Seaspan and the Dennis and Phyllis Washington Foundation's initial commitment, the final $500,000 of donations were matched and community donors responded—helping to exceed the campaign goal in six short weeks. A significant gift in memory of Graeme Fletcher Bird and a $20,000 Seaspan Victoria Shipyards employee giving drive matched by the local shipyards leadership closed out the donation match.
With the second phase of It's Critical complete, the design and building plans for the new permanent Seaspan Victoria Shipyards High Acuity Unit are fast-tracked. Last week, representatives from Victoria Hospitals Foundation, Island Health, and Seaspan Victoria Shipyards unveiled the new sign at the interim High Acuity Unit, honouring this incredible gift.
"We're tremendously grateful for the giving spirit and commitment of our community. In the face of a global healthcare crisis, you stepped up to make a difference for our frontline care teams," says Avery Brohman, Executive Director, Victoria Hospitals Foundation. "To all of our amazing donors, community champions, and partners we extend our heartfelt thanks and gratitude. Your support of It's Critical has already made a difference, and will support thousands of doctors, nurses, staff and critically ill patients in our hospitals in the next years. You have helped enhance the world-class healthcare we all rely on. Thank you."
Though It's Critical has reached its $7 million goal, there are ongoing and important critical care needs in our local hospitals that donations can still support. Over the last ten years, RJH has seen an 83% increase in admissions to the ICU, without a corresponding increase in beds. With a growing population and a continuous need for critical care, especially during these trying times, the Foundation is encouraging further critical care donations from the community.
"Our promise to Island Health has been fulfilled, but there are always more needs. We have the opportunity to go above and beyond, to elevate the work of our healthcare heroes, to show them that we are there for them and for one another," adds Brohman. "If our community can keep going, let's keep going."
Community members can still make donations to Victoria Hospitals Foundation in support of critical care by calling 250-519-1750 or visiting victoriahf.ca/critical.
https://www.victoriahf.ca/wp-content/uploads/2021/05/Seaspan-HAU-Large-Group-II-copy.jpg
1164
1911
Victoria Hospitals Foundation
https://www.victoriahf.ca/wp-content/uploads/2018/04/vhf-logo.png
Victoria Hospitals Foundation
2021-05-05 09:27:47
2023-02-27 15:51:42
Community Support of Victoria Hospitals Foundation Exceeds $7 Million, Benefitting New Critical Care Unit at Royal Jubilee Hospital