"There's been a lot of talk about frontline workers and hospital workers. Those people are just about—excuse the pun—run off their feet. They really are. And they're doing such a tremendous job. I wish that people outside the hospital could see it. Having seen what those people have to do and the dedication they put into it, I think it's important that you make your contribution to recognize what they are doing for the population in general."
—Keith Ashton, grateful patient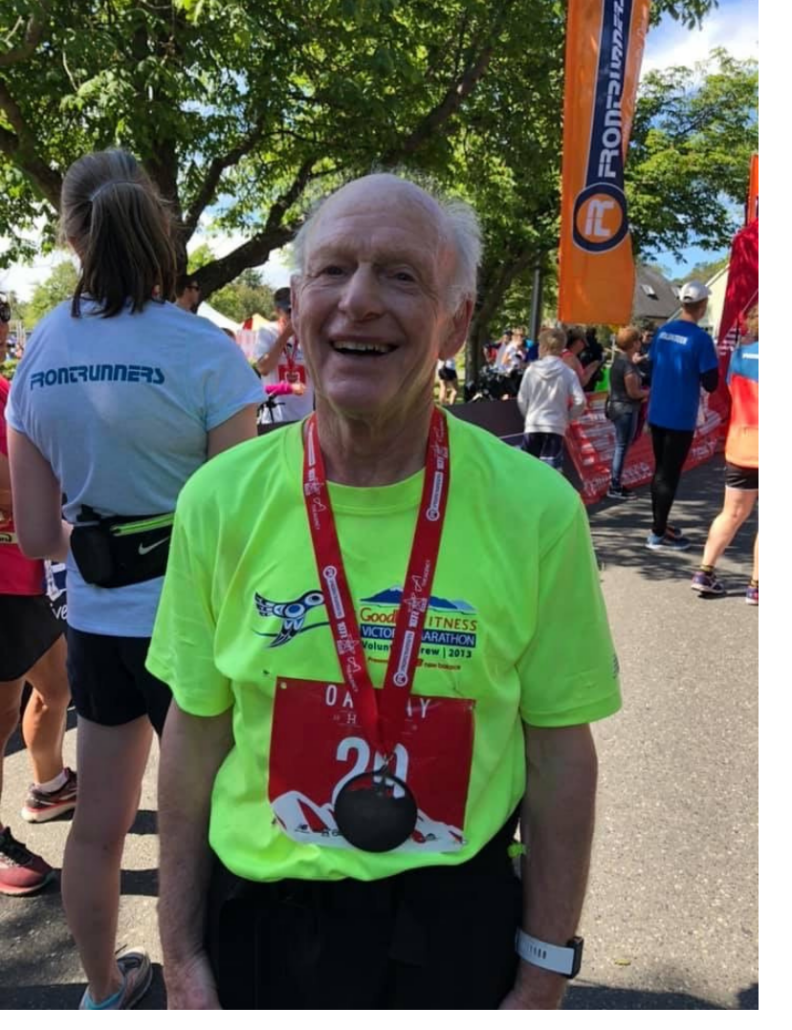 If you ask 81-year-old Keith Ashton why he runs, he'll tell you it's for those who have been literally 'run off their feet' keeping our community healthy in the pandemic—our hospital heroes. This Saturday, May 1st, Keith will run a half marathon to help raise funds for local hospitals, only a year after he himself was a patient with COVID-19.
Keith, his running partner Connie, and members of his running group The Happy Feet, will complete a 21-kilometre route as the culmination of his fundraising efforts for the Victoria Hospitals Foundation's It's Critical campaign. The route will detour to include Keith's Fairfield street so his wife Andrea can join for the final push to the finish line at Mile 0 in James Bay.
It all began after Keith completed his first full marathon in 2019. He and members of The Happy Feet were training and registered for the Vancouver Marathon, set for May 2020. "We were so excited," he shares.
But shortly after returning from a trip to the United Kingdom in March of 2020, Keith became ill. Two weeks later, he was admitted to Royal Jubilee Hospital and was told he had tested positive for COVID-19. Keith would spend two weeks in hospital before being released. He managed to avoid needing critical care, but just barely.
Today, he warns people that COVID-19 is real. "It's not something that you play around with. If you get this thing, you could be in real, serious trouble. And I don't think people realize it because they've never had it."
Once he was back up and running, so to speak, Keith was inspired to give back to the people who helped him, including his physician Dr. Kerrie, who is also a runner. Keith returned to his passion slowly, on the advice of his caregivers, "it was run a block, walk a block, run a block, walk a block, then run two, walk a block and so on, getting back into it that way."
But then another hurdle found its way into Keith's path.
Last November, while on a run with one of his group, Keith noticed a bit of chest pain. The early signs of a heart incident. Andrea credits his running buddy with saving Keith's life. "She took such good care of him, and in spite of his protesting she called for an ambulance. I'm really grateful that she did."
Keith found himself back at Royal Jubilee Hospital, this time waiting for a procedure that would put two stents into his artery. "I steered clear of hospitals for 40 years and then suddenly within the space of 12 months, I was in twice. I really received excellent care."
That care inspired Keith to start his own fundraising campaign for It's Critical. That, and the realization that he may have needed the new High Acuity Unit that it will help fund. "The doctors were great, the staff in the hospitals were great. This is just a way of giving something back."
Connie, Keith's running partner and inspiration, set up the "Run with the Rabbit" campaign in just a few clicks using VHF's new online fundraising program. The title plays off of the group's pet name for Keith—inspired by his Energizer Bunny-like energy.
Are you inspired to create your own fundraiser?
The Victoria Hospitals Foundation and JustGiving—the world's leading online platform for charity giving—are partners in empowering our community members to create fundraisers for causes we are passionate about.
By creating an account on JustGiving.com, you can set up your own custom fundraising webpage to raise money for a birthday or wedding, to support a fitness challenge, to pay tribute to a loved one, or for another unique peer-to-peer fundraiser.
Five months out of hospital and only a week out from his half marathon, Keith has inspired more than just donations. "I've got about six or seven ladies who run with me. Some of them doubted whether they could do a half-marathon, but they've all insisted that on Saturday, the 1st of May, they're going to run with me, safely spaced of course. So if it got them out there to do something that they didn't know they could do, I'm happy for that."
And as for his hopes to run a full marathon again, Keith says it's not out of the question. "My doctors and I are hopeful that my full marathon will come a little further down the way. So at the moment I'm working with the half-marathon."
You can support Keith's fundraising run for It's Critical and find more information about the campaign to expand critical care via the links below.