Celebrating Your Impact

Dear Friends,
It might seem like we just passed a new year, but at the Victoria Hospitals Foundation, we actually celebrate two. It's fitting, really. Just as spring is arriving we are also in a season of renewal—our new fiscal year begins on April 1, 2021. However, before I share my excitement of what a new chapter brings, it's worth pausing to reflect on everything you—our donors—helped advance this past year. Your support has been incredible.
We have a great deal to be grateful for as we conclude our 2020–21 fiscal year. It's even more than the inspiring response to our It's Critical campaign to provide Royal Jubilee Hospital with a High Acuity Unit—the first permanent unit of its kind for Island Health. Through individual fundraising and giving to our greatest area of need, your support this year has also allowed us to create meaningful change across 11 different areas of care in our hospitals. You helped fund priority equipment, important research, special projects, and other innovations. We know you have special connections to specific services in our hospitals and we're proud to tell you a little more about how donors like you helped every area of our hospitals in the last year.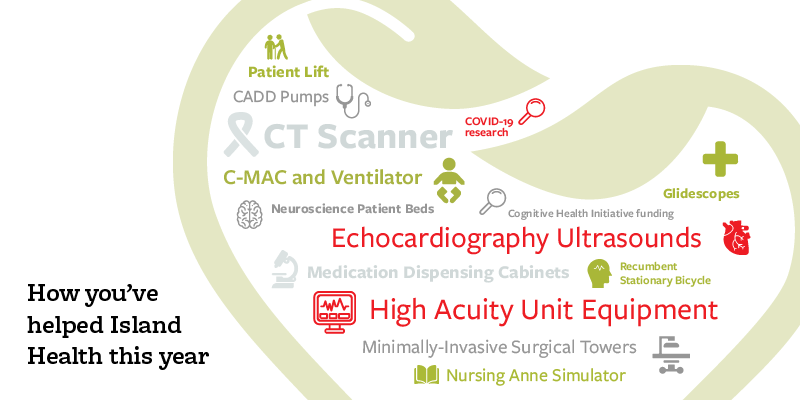 It's important for me to pass on how truly grateful our Island Health colleagues are for your generous support.
I can't tell you how often a caregiver, hospital staff member, or administrator makes a point to express their sincere gratitude and share the impact your gifts have made. This past year, you brought light when many saw dark. This is the most rewarding part of our work—to know that the gifts you've made have advanced the work of our hospital teams.
Like me, you are probably looking ahead with cautious optimism. As we've seen this week, "normal" is still a ways away and our work is far from done. But there is hope for us and for our hospitals. Emerging from the pandemic stronger than ever and continuing to adapt to evolving circumstances is going to rely on our community's continued support. COVID-19 shifted the world's attention to critical healthcare needs, but the everyday work of our local caregivers goes on. Surgeries and cardiac procedures, care for cancer patients, for those recovering from trauma—patients at every age and every stage of their care journey rely on the advanced care our Victoria hospital provide. Emergency care, seniors' care, mental health, and diagnostics. These areas and many more depend on our support.
Most of us never know when we will need the world-class care we have right here. But no matter who your gift supports, you can be proud knowing it will bring comfort in pain, ease in distress, or knowledge in the face of uncertainty. You have the power to do that, and you do. Every day.
On behalf of all of us at the Foundation, we are ever so grateful for your commitment to care. You have done so much this year, and we thank you.

Avery Brohman
Executive Director, Victoria Hospitals Foundation
P.S. I'm excited to share even more about your incredible impact in 2020–21 annual report, coming this summer.  
https://www.victoriahf.ca/wp-content/uploads/2021/04/Thank-You-for-Supporting-Our-Hospitals-5.png
200
2000
Victoria Hospitals Foundation
https://www.victoriahf.ca/wp-content/uploads/2018/04/vhf-logo.png
Victoria Hospitals Foundation
2021-04-07 10:31:50
2021-04-07 10:31:50
Celebrating Your Impact