You can help equip local caregivers like Dr. Scott, a specialist in neurology, with the tools they needs to care for local patients like Linda. Will you show your support with a gift today?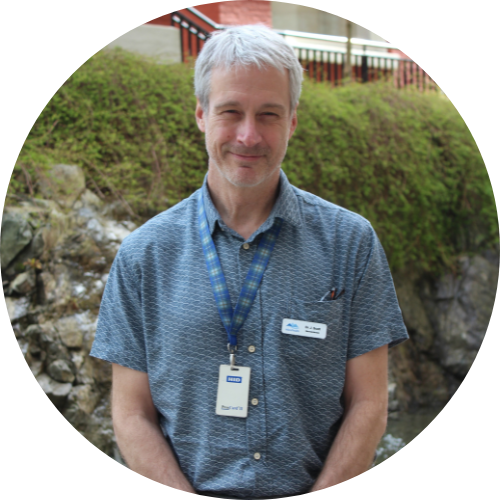 When I first moved to Victoria a decade ago, my colleagues and I transferred many more neurology patients to Vancouver than we do now. With the help of funding and community support from the Victoria Hospitals Foundation (VHF) and its donors, local care continues to advance.
When I met my patient, Linda, she was in the ICU with respiratory failure. My colleagues and I were nearly convinced she had amyotrophic lateral sclerosis (ALS)—a devastating and progressive nervous system disease that, eventually, is fatal. None of us thought she would leave the ICU.
Donor-funded equipment, including an electromyography (EMG) machine, was vital in helping my colleagues and I find a diagnosis—which, fortunately, was not ALS. Quite frankly, this equipment allowed us to give Linda her life back. It was the best news we could possibly give her.
Linda was eventually diagnosed with Anti-IgLON5 disease—a rare kind of autoimmune encephalitis. My colleagues and I had never come across her diagnosis before.
Thanks to the resources and care provided in the ICUs at Victoria General and Royal Jubilee hospitals, Linda did not need to be transferred for care. Five years ago, we would have sent patients with autoimmune encephalitis to Vancouver. Linda is a great example of the power of true multidisciplinary involvement, which includes our respiratory therapists, ICU physicians, neurologists, and excellent nursing care.
It is never ideal when someone has to travel for care. The grief of being away from your home and family, and the loss of independence is significant. Often, there is also a financial toll, as well as mental health repercussions. Fortunately, in Linda's case, I do not believe there is any care that she could have received in Vancouver that she could not receive here on the Island.
However, critical care capacity in our hospitals' ICUs is always a concern. The community can make a profound difference by supporting critical care expansion and priority equipment through the Foundation's Emerge Stronger campaign. Linda truly thought she was going to die from ALS. It made my year to tell her that, while she did need to be treated, if her time came to leave this Earth, it wasn't going to be from this.
Now, Linda is home, and she's doing really well. Advancements in recent years have allowed us to recruit more subspecialists, thanks largely to the advanced equipment and technology VHF donors have helped fund. Linda's condition is rare, and there is some uncertainty about her future—but all of the care she needs, she can receive right here at home.


Dr. James Scott, Specialist in Neurology
Royal Jubilee Hospital & Victoria General Hospital
Over 1,100 patients receive lifesaving critical care in the ICUs at Royal Jubilee and Victoria General hospitals every year. But as our hospitals continue to navigate the COVID-19 pandemic, critical care capacity is an ongoing concern.
Through the Emerge Stronger campaign, you can support critical care expansion at Victoria General Hospital. When patients like Linda need it most, access to leading edge critical care equipment is absolutely vital. Please donate today.