Victoria Hospitals Foundation Campaign Donors Raise $10 Million in 18 Months; Fund 200+ Pieces of Equipment and Innovative Research Projects to Help Local Hospitals Emerge Stronger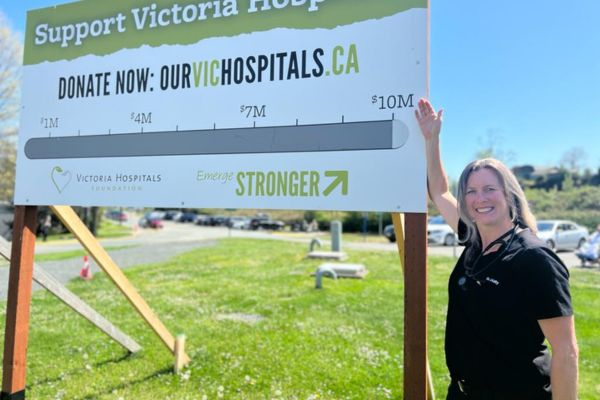 Victoria, BC — The Victoria Hospitals Foundation (VHF) has announced the completion of the Emerge Stronger campaign, a $10 million commitment for Royal Jubilee Hospital (RJH), Victoria General Hospital (VGH), and Gorge Road Hospital (GRH). Over 5,800 donors came together to support the funding of over 200 pieces of equipment and innovative research projects over the course of 18 months.
"We are profoundly grateful for this community who united in support of our local hospitals—and specifically the care teams within them, the patients they serve, and the families they support," says Avery Brohman, Chief Executive Officer, Victoria Hospitals Foundation. "Our donor family—loyal and new donors alike—are bringing the latest equipment advancements and innovation into our local hospitals. A profound thank-you to each of them for making a positive impact on the care that everyone in our community depends on."
Emerge Stronger was VHF's largest campaign in over a decade, and celebrated many milestones along the way:
On October 18, 2021, the campaign launched as a response to community members inquiring how to best support our local hospitals through and post COVID-19. The campaign's first phase, Recovery, aimed to raise $4 million towards priority equipment for essential hospital services impacted by the pandemic.
On December 15, 2021, VHF announced a ground-breaking $5 million donation from the Wilson S.C. Lai Trust, with $1 million supporting Emerge Stronger.
On February 27, 2022, local couple Mike and Ethel Marley started a community match to help raise the last $600,000 needed in the Recovery This act of generosity was influenced by personal healthcare experiences at RJH.
On April 7, 2022, the campaign's second phase, Local Care, was launched. Through the $3 million phase, donors had the opportunity to invest in Island-first advancements to help more patients access specialized care close to home.
On May 28, 2022, VHF hosted the first annual Miracle on the Mountain gala. The event raised an outstanding $430,000 for the campaign, and equipment specific to VGH.
On June 10, 2022, the Emerge Stronger Hospitals Lottery was completed, with over 1,800 community members purchasing tickets.
On November 19, 2022, VHF's 30th Visions gala raised a record-breaking $1.57 million for the campaign, including a $500,000 matching gift from local philanthropists Don and Ruth James through the James Family Foundation.
On February 15, 2023, VHF launched the final phase of the campaign: Innovation, focused on raising funds to support ground-breaking research and equipment. Peninsula Co-op kick-started the phase with a matching gift of $100,000.
Emerge Stronger is funding over 200 pieces of equipment and research projects in nearly every area of care—from Pediatrics to Seniors Care, to benefit patients throughout their healthcare journey. This includes:
An O-Arm imaging system, an Island-first to advance neurosurgery locally and keep advanced brain and spinal surgery patients close to home.
A new Automated Chemistry Line, which plays a key role in the analysis of blood samples. This equipment will contribute to over 3 million tests performed each year within Island Health, from specimens received from various facilities across Vancouver Island. The new line replaces equipment that is 20 years old.
Mitral valve surgical instruments to introduce a new, minimally-invasive cardiac surgery for eligible Island patients, which also keeps individuals closer to their support networks.
New breast imaging software designed to improve detection of breast cancer. Almost 15,000 breast imaging procedures are performed at VGH every year.
Research by Dr. Chen and Dr. Goodlett that aims to develop a quick and affordable technique to identify respiratory pathogens in pneumonia patients.
"Without equipment, we are making critical decisions without the full picture, delaying care, or not providing the right care at all. That's why donor support is key," says Dr. Jill Kelly, Medical Lead, Emergency Department at Royal Jubilee Hospital, and the campaign's first spokesperson. "As care providers, we have a drive and an obligation to ensure that all our patients receive the best possible care. It takes the right expertise, dedication, and equipment to do that. Donors help us with the latter—and it makes all the difference."
Emerge Stronger is one of the initiatives fueled by VHF donors. The Foundation is committed to continuing its fundraising efforts to keep RJH and VGH on the leading edge, while also supporting the caregivers within them, and the 860,000+ Vancouver Islanders they serve.
40% of equipment at Royal Jubilee and Victoria General hospitals is funded by donors.
Contributions to priority equipment needs, research projects, and education can be made at www.victoriahf.ca or by calling 250-519-1750.
https://www.victoriahf.ca/wp-content/uploads/2023/05/Copy-of-a-1.jpg
400
600
Victoria Hospitals Foundation
https://www.victoriahf.ca/wp-content/uploads/2018/04/vhf-logo.png
Victoria Hospitals Foundation
2023-05-07 05:00:03
2023-05-05 14:51:22
Victoria Hospitals Foundation Campaign Donors Raise $10 Million in 18 Months; Fund 200+ Pieces of Equipment and Innovative Research Projects to Help Local Hospitals Emerge Stronger