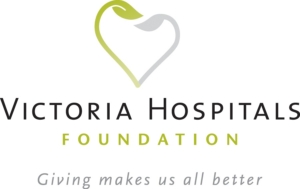 The Victoria Hospitals Foundation is pleased to announce the promotion of Heather Crow to the position of Senior Director, Finance & Administration.
Heather joined the Foundation in May 2019 as Director, Finance & Administration. Heather has been a friend of both the Foundation and Island Health, serving as the Senior Manager on the audits of both organizations for the past six years.
In her new role with the Foundation, as a member of the Executive Leadership team, Heather will continue to work closely with Avery and the Board of Directors to lead the financial and operational excellence of the Foundation.
Heather spent the majority of her professional career at KPMG specializing in Not-For-Profit and Public Sector clients. In addition to a Bachelor of Commerce from the University of Victoria, Heather earned her Masters of Professional Accounting from the University of Saskatchewan and Chartered Accountant designation in 2010 while working at KPMG. Extending beyond her role as an Assurance Senior Manager at KPMG, Heather led numerous HR initiatives and championed many community initiatives in her office. She won KPMG's National Community Leader Award in 2013 for her significant community volunteering. She has extensive experience leading corporate and volunteer teams and working with boards.
Heather's community involvement includes serving as the Run Director for the CIBC Canadian Cancer Society Run for the Cure, Executive Committee for the Leukemia and Lymphoma Society Light the Night, Secretary of The Prodigy Group of the Greater Victoria Chamber of Commerce.
"The recent success our Foundation has achieved is large in part to the excellent leaders who make up our team. Having an executive partner who brings a wealth of financial knowledge in the non-for-profit space and depth of leadership experience has been highly rewarding for our team. Our collaborative approach has empowered the team, and our shared passion towards the Foundation's mission will help advance our ambitious goals for the future," shares Avery Brohman.
"I am grateful to have joined the Victoria Hospitals Foundation during an inspiring time of growth. As a long time contributor to the community, it is thrilling to have my passion be my work. I'm honoured to work with such a talented team daily," Heather said.