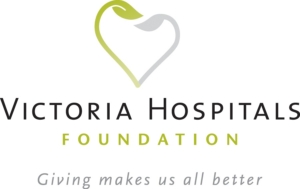 The Board of Directors of the Victoria Hospitals Foundation has appointed Avery Brohman as the Foundation's Executive Director.
Avery joined the Foundation in May of 2018 as the Director, Development & Communications, and for the past year, served as Acting Executive Director. In her new role, Avery is responsible for attracting transformational giving to advance the Victoria Hospitals Foundation's mission. She leads strategic vision and planning, fundraising, board engagement, and partnerships with the executive leadership of Island Health.
Her professional background spans 14 years of non-profit management, development and community engagement at Shaw Communications and some of the most respected National non-profit organizations including Ovarian Cancer Canada and Juvenile Diabetes Research Foundation.
Avery is a graduate from Ryerson University and Conestoga College and was named "Top 40 Under 40" in 2013. She is a mentor with the Association of Fundraising Professionals and has obtained her Certified Fundraising Executive accreditation.
Avery embodies fundraising and inspires philanthropy. She has a track-record of transforming organizations through impactful philanthropy. Under her leadership, the Foundation has seen an increase in community support and looks forward to building on the success and continuing to advance care in our hospitals.
"We're committed to championing philanthropy that transforms care right here at home," said Steve McKerrell, Chair of the Foundation's Board. "Avery has demonstrated that she is uniquely qualified to lead our fundraising during a transformative period for our Foundation. Her vision, passion, and commitment inspires her team and will continue to serve our patients and inspire donors to support our mission to enhance healthcare for our community."
"I am honoured and grateful to the Victoria Hospitals Foundation Board for their confidence in appointing me to lead this great organization and outstanding team of professionals," Avery said. "I am devoted to the mission of the Foundation and look forward to continuing to work with our heroic donors and philanthropic partners to make a difference."