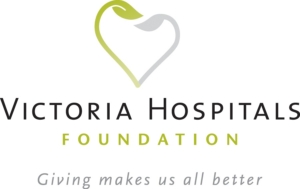 The Victoria Hospitals Foundation Board of Directors wishes to announce that President & CEO Melanie Mahlman has shared that she will be stepping down after 26 successful years of service and dedication to the community.
During this time, the Foundation raised more than $150 million for a variety of patient care areas. Honours include the Association of Health Care Philanthropy capital campaign of the year and being listed among the top ten health charities in BC. Revenue under Ms. Mahlman grew by 24 times over 26 years to nearly $12 million last year.
Melanie has been an integral part of championing a culture of philanthropy in our community, and an instrumental voice and advocate of healthcare on Vancouver Island. Her ability to connect the community to our hospitals in order to advance patient care has enabled us to fund 40% of equipment needs each year. The relationships she has fostered in the medical community and within Island Health have been a fundamental part of our success. She has led three successful capital campaigns, one being the largest healthcare campaign on Vancouver Island. Today, the Victoria Hospitals Foundation is one of the most trusted charities on the Island.
Recognition of Ms. Mahlman's work includes being nominated for a Woman of Distinction award, receiving a British Columbia Achievement Award and a Leadership Victoria Leadership Award. She was nominated as the island's KPMG Community Shift delegate in 2016. In addition to her work with the Foundation, Melanie also served on the B.C. Medical Services Commission for 8 years and served as a member of the National Council of Foundation Executives Advisory Council; she currently serves on the Access to Justice B.C. Leadership & Steering Committees.
"It has been a remarkable honour to do this work, but it is now time to pass the torch. I will take time to support my ailing Mom, get some rest and then consider new opportunities. I am immensely grateful to our generous donors, the media and the talented staff and volunteers that I have worked with who believe in our vision. I especially acknowledge the leaders and devoted care experts at Island Health. Their work is an inspiration and has deeply affected my life. Our thoughtful community is like family and I am blessed to call it home."
We are enthusiastic to continue her impactful work and will always remain grateful for Melanie's dedication to our cause, our patients and our community. We wish her well.