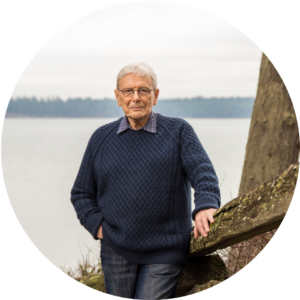 It was Keith's birthday in 1988. "One of my sons was visiting, and he and my wife said, 'We're going to take you for a magical mystery tour,'" recalls Keith. "We ended up at the Victoria Flying Club, where they had booked a discovery flight for me. After that introductory hour of flying around the Saanich Peninsula in the pilot's seat, I was hooked. I immediately started working on my private pilot's licence."
Keith moved to Victoria with his wife Jean in 1982 to take on the position of Director of Science and Technology at Camosun College. He had originally come to Canada from England in 1957 as an aeronautical engineer to work on the Avro Arrow fighter plane in Toronto.
"When I retired from Camosun College, my dream was to become a flying instructor. But arthritis had set in to my knees, and I gave up flying. I still miss it terribly," says Keith.
His arthritis had started to worsen in 1999. For a time, he was a volunteer gardener at Government House, but found it hard to kneel and work. The arthritis became more painful as the years passed.
In 2019, his family doctor referred him to a specialist who told him, "Your body may be 85, but you are still a young man inside. You are a perfect candidate for knee replacement surgery. It will give you a new lease on life."
Keith was determined to prove her right. He underwent his first knee replacement in October 2020, and the second in July 2021—both performed by Dr. Eric Torstensen at Royal Jubilee Hospital.
"The care was outstanding. The recovery period is fairly long, but it's gone like a dream. And it certainly has given me a new lease on life," says Keith. "I'm not having any pain at all. I can go up and down stairs. I don't use a cane anymore."
Keith says his sons, all three of whom live in different countries around the world, have been incredibly supportive.
"One of my sons came to help care for me for a few months while I recovered," Keith says. "And he said, 'You know, Dad, it's unbelievable. You are walking so much better. Your attitude is better.' I couldn't be happier."
At 88, Keith doesn't fly anymore, but he feeds his interest as a volunteer at the BC Aviation Museum. He also likes to paint and sketch, and has taken up learning the clarinet.
"I just had my six month post-op check-up with Dr. Torstensen. He said everything was perfect, and I can walk and ride a bicycle as much as I like."
Keith says that, without the incredible care he received, "life would be complete misery."
In 2019, Keith chose to become a monthly donor to the Victoria Hospitals Foundation because he wanted to ensure he was giving a consistent amount each month that hospitals could count on. "Quality medical care can be enhanced and ensured by making steady, monthly contributions to the foundation," he says.
But his own care journey isn't the only reason Keith decided to become a VHF monthly donor.
In 2017, Keith's wife Jean, who had been living with Alzheimer's disease, was admitted to Royal Jubilee Hospital to have her lungs drained, when she was diagnosed with stage four lung cancer.
"She was diagnosed and was gone very quickly," says Keith. "But the way she was treated at Royal Jubilee was just wonderful. She received excellent care."
Keith wants others in the community to know that a monthly donation of any size can make a difference for local hospitals and care teams. "There are such wonderful people working in the hospitals, but it's also incredibly important to make sure that the most advanced technology is available to them and their patients," he says. "It's always about quality of life, isn't it? And trying to provide the highest quality of life possible."
With the support of his sons and encouragement from his late wife, Keith says he is determined to live life to the fullest.
"Before Jean passed away, she told me, 'You must enjoy the rest of your life.' So, that's what I'm going to do. I've got a new life now. I've got all of these interests, and I'm going to enjoy it."
Our monthly donors know that everyone has a connection to our hospitals. Like you, if they haven't received care themselves, they know someone who has.  And, whether they donate $10, $25, or $100 each month, their commitment creates a legacy that transforms the very care Vancouver Islanders and their families depend on—care that any of us could need at any time. 
Today, will you help advance care for your own family by joining ours?