Nancy's Story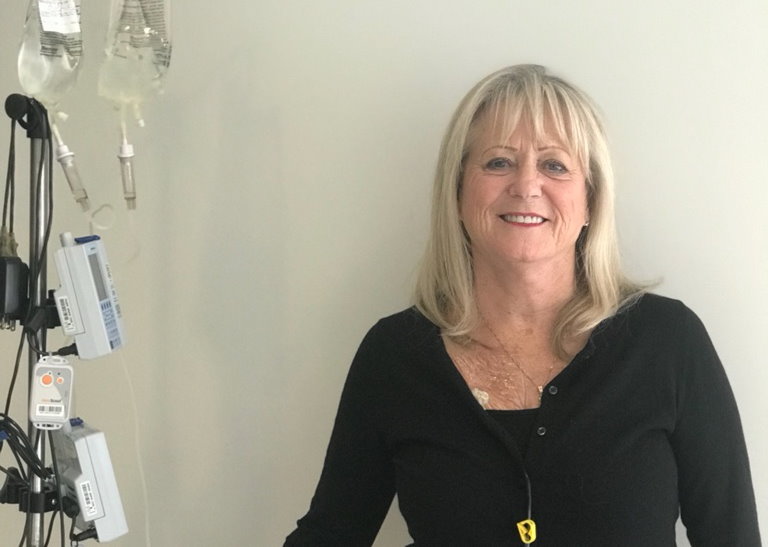 Nancy's story as a patient at our hospitals is a long one. When Nancy and her care teams reviewed the big picture of her long-term treatment plan, they saw that imaging technology like ultrasounds played a vital role in performing the delicate IV procedures she needed.
Intravenous (IV) therapy is necessary for so many types of treatment, and it's in high demand: specialized teams of nurses at Royal Jubilee (RJH) and Victoria General (VGH) hospitals start 5,000 IV and 1,200 PICC (peripherally inserted central catheter) lines per year. IV therapy is not one-size-fits-all – our care teams make treatment plans that use the right needle for the right vein in the specific situation for each patient.
This is one of our patients. This is Nancy's story:
When Nancy receives vital nutrients through a permanent, surgically implanted port in her chest twice a week at RJH, she can watch TV, take a nap, or go for a stroll on a sunny day. Equipment like ultrasounds, and dedicated vascular access specialists at our hospitals, make all the difference in ensuring that her long-term care is easier and less painful.
After having her daughter in the 1970s and actively trying for another child, Nancy was diagnosed with stage three ovarian cancer at age 27. She underwent surgery one month later to remove the cancer, but the radiation that rid her body of cancer cells also damaged surrounding areas like her bladder and bowels.
As a result of radiation and the many surgeries required to correct its effects over the years, her bowels were not long enough to properly absorb nutrients. Without these, her kidneys were shutting down and she had painful cramping, weakness, and trouble sleeping.
"I remember being hinged over, in so much pain," says Nancy. "The only thing that helped were the fluids and nutrients I received through an IV during my weekly visits to the Emergency Department."
But getting poked with an IV so many times means that veins are difficult to find, even for experienced caregivers.
Craig MacKenzie, a nurse and educator at RJH and VGH who specializes in vascular access, explains: "Veins are fragile. When patients have hard-to-see veins, we often need to place IVs in deeper veins under the skin's surface. But to do that, we absolutely need high-tech equipment."
Craig adds, "Ultrasound is a painless, safe, non-invasive technology that can 'see' for the caregiver. With ultrasound images, we ensure we do an IV procedure right the first time to reduce the risk of injury or infection and protect veins from damage."
In Nancy's case, doctors eventually decided a PICC line would be a better fit for her repeated treatments, rather than getting IVs every time. This small adjustment dramatically changed her healthcare and quality of life.
The PICC line allows more of the urgently needed nutrients to enter her system faster because the catheter is positioned closer to her heart where blood flow is stronger. When placing a catheter in a large vein close to the heart, an ultrasound guides it through a vein in the upper arm to within one centimetre of the perfect position. An ultrasound makes this procedure easier and less painful overall. The whole process was completed in 45 minutes, at Nancy's bedside at VGH.
A more advanced IV procedure like a PICC line allows for maximum dilution – the volume of a medicine or fluid that is administered to the body in a given time. Veins closer to the heart have more blood moving through them, meaning more medicine can be administered there while maintaining the same ratio of how much medicine is dispersed at a time. This means the nutrients or medications are easily and efficiently delivered to a patient's vital organs while still protecting veins from further damage.
PICC lines also give patients greater freedom of movement and last longer than an IV in the hand or lower arm that is only viable for a few days before it becomes painful. If cleaned regularly, a PICC line can last for weeks, months, or even a year, so patients like Nancy can avoid repeated pokes for future treatments.
"Vessels can break down from age, injury, and even other treatments like chemotherapy. When a vein is damaged, it cannot be reversed," cautions Nurse Mackenzie. "The newest ultrasound provides superior image quality, imperative for delicate vascular procedures. We identify exactly where to place an IV the first time and ensure there are no clots or blockages."
Eventually, Nancy's doctor inserted a permanent port into her chest. Her care team decided this would make her treatments faster, less painful, and less invasive. When advanced equipment, like ultrasounds for IV therapy, is placed in the hands of experienced specialists in our hospitals, it transforms the care our patients receive. The impact of this excellent care is immense, and felt by patients like Nancy every day.
Nancy can now receive infusions of magnesium, potassium, iron, and even blood at her twice-weekly treatments at RJH. She only feels a small needle prick each time she begins her treatment. "I get the nutrients I need with very little pain and live my life to the fullest," says Nancy. "I spend my days volunteering and feel thankful I can live close to my family."
"Donors to the Foundation's Big Picture campaign can fund ultrasound equipment that makes IV therapy, an integral part of care, painless for patients like me," adds Nancy. "It means so much, truly."
IV ultrasound machines are used more and more to support the most accurate peripheral vascular access procedures at RJH and VGH. This technology improves the accuracy of these procedures and reduces bodily harm. To help fund the ultrasound technology that helps so many patients like Nancy receive the best care possible, please visit victoriahf.ca/donate.
For more information on our Big Picture campaign and to support the thousands of patients that need vascular access procedures at our hospitals annually, please visit victoriahf.ca/bigpicture.
https://www.victoriahf.ca/wp-content/uploads/2019/11/Nancy.jpg
547
768
Victoria Hospitals Foundation
https://www.victoriahf.ca/wp-content/uploads/2018/04/vhf-logo.png
Victoria Hospitals Foundation
2019-11-12 20:16:35
2020-02-10 22:23:50
Nancy's Story