Meet Chelsea McNeil, a Registered Nurse who works in Victoria General Hospital's Labour/Delivery and Mother/Babe units. She has been nursing for nine years. After starting her career in orthopedics, she specialized in perinatal nursing. In honour of National Nursing Week, she shares her passion for nursing and her gratitude for VHF donors.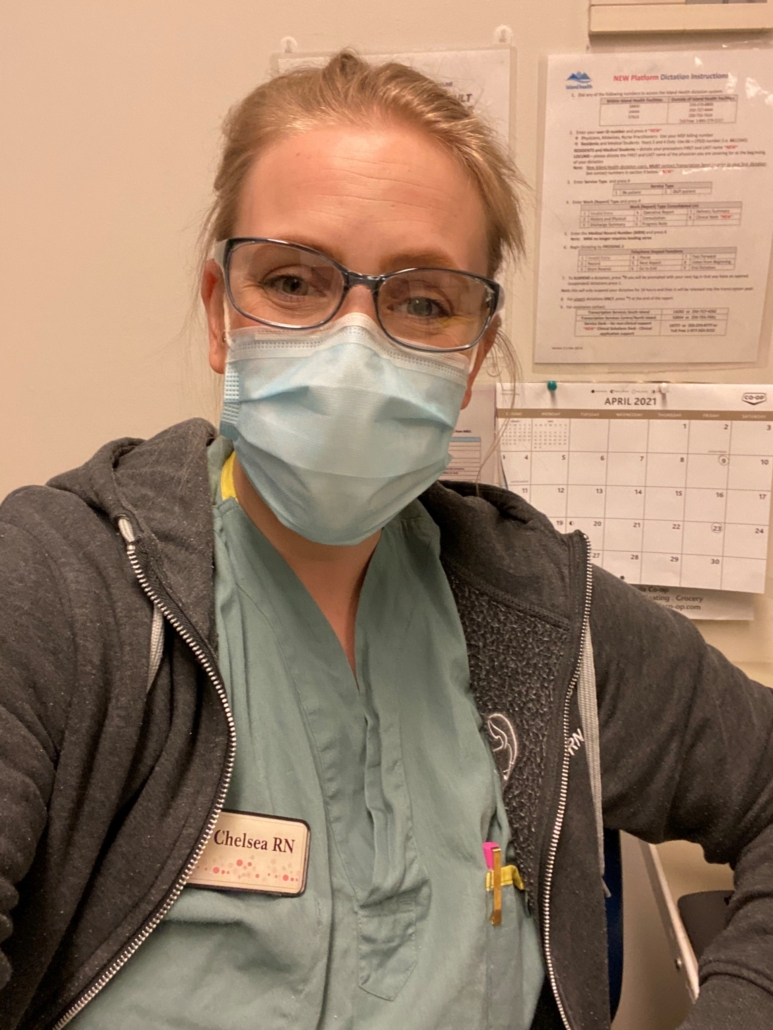 Victoria Hospitals Foundation: Why did you decide to pursue nursing?
Chelsea McNeil: I knew I wanted to be a nurse when I was 15 years old and saw my first birth. I was captivated by the way the nurse acted as a facilitator of peace despite the chaos of the delivery room; after that day, I knew that nothing would give me greater purpose in life than to be able to love on these families one day as they went through their own journey of bringing new life into the world.
VHF: What is your favourite part of your job?
CM: My favourite part of my job is the whole job! I get to come along for the wild ride of labour and delivery, and then have some really good quality teaching moments on the Mother/Babe Unit. I love the breakthroughs, the "aha moments" of new parents, and the little victories that happen between couples. I also go through the rocky days with my mamas and families who have harder, darker journeys: we cry together or sometimes find little moments of joy in the bleakness of it all. I feel so lucky to be able to help these incredibly strong women and families realize their potential and their inner super hero as they battle every day struggles of being a new parent… or for trying to find a new way to make it work when babe decides to throw a curve ball!
VHF: Who or what inspires you?
CM: What inspires me about my job is witnessing the incredible team that I get to work with. There are so many players in the interdisciplinary team that are rooting for these patients and that go the extra mile to make a difference for these families; I can't express just how proud I am to say that I am a part of the perinatal team! Working on a specialized unit surrounded by such strong women who choose to be here every single day to help empower these families makes me especially proud of our nursing team.
VHF: What would you say to donors to our hospitals and people thinking about giving?
CM: Any donation or contribution made to the Victoria Hospitals Foundation, especially when directed to LDR, Mother/Babe or the Neonatal Intensive Care Unit, helps us to continue to love on these families as safely and efficiently as possible.
Please consider supporting our local nurses and Victoria hospitals through our Hospitals Heroes of Victoria initiative.