"This week, I had the pleasure of learning about two inspiring critical care nurses working in our local hospitals. But more than their shared calling of nursing, Rhian and Kayla Ormond are foremost, sisters.
Rhian, a critical care nurse in Royal Jubilee Hospital's Intensive Care Unit, has been a nurse for more than nine years. And her sister Kayla is also a Registered Nurse in intensive care but works on the other side of our community at Victoria General Hospital.
Together, in celebration of National Nursing Week, Rhian and Kayla are sharing their stories about why they answered the call of nursing and what it truly means to be a nurse."
—Avery Brohman, Executive Director, Victoria Hospitals Foundation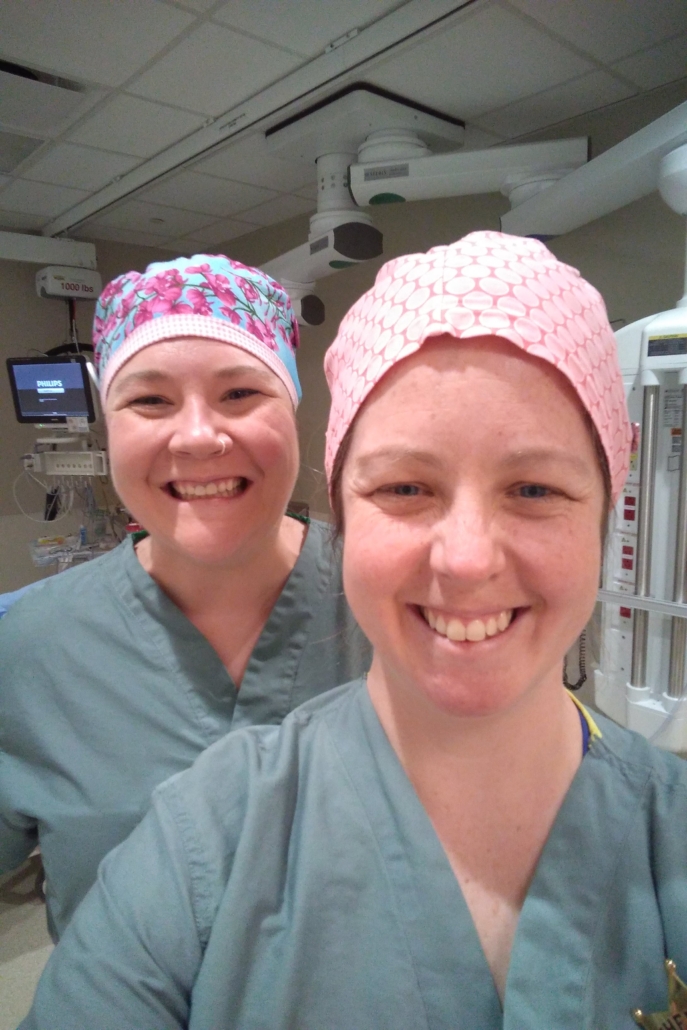 Avery Brohman: Why did you decide to pursue nursing?
Rhian: I originally decided to pursue nursing after I finished my first degree (a Bachelor of Science in Cell Biology) and ended up graduating in the middle of a global recession. There were not many jobs out there and the one I finally found was not ideal. I knew I needed to go back to school and get a degree that would guarantee me a job, and a job with many different career paths. Not only did nursing fit that description, but it would also incorporate my love of science. I am very happy with my decision to become a nurse.
Kayla: My career path was heavily influenced by my parents and how I was raised. Growing up, my parents were always so kind, open-minded, and non-judgmental, and they did whatever they could to help the people around them. It instilled in me the belief that if you can help someone—whether they're your best friend, family member, or a stranger—you should. I believe this is what ultimately led me to nursing and what has kept me in the profession.
A: How would you describe your role?
R: I am a part of a multidisciplinary team that takes care of some of the sickest patients on Vancouver Island. As a nurse, I am constantly at the bedside. But I also coordinate care with physicians, respiratory therapists, allied health professionals, unit clerks, laboratory techs, social workers and others to keep our patients alive and healthy.
K: With the pandemic, our role has also become more challenging in that we are having to be an even bigger social and emotional support for patients and their families. Often, families aren't able to be at the bedside and as nurses, we are stepping up to provide that extra comfort and support. It also means that we are having to find creative ways that allow our patients and their families to feel connected.
A: What is your favourite part of your job?
R: One of my favourite things about my job is the team I work with. My colleagues, and the relationships we build, is what has kept me in nursing all these years. I also love knowing that I have the skills and knowledge to do an extremely difficult job while providing my patients with great care. Finally, I am a self-proclaimed nerd and enjoy learning, and everything in nursing is always changing and there's always an opportunity to learn.
K: There are so many different aspects of my job that I love. For starters, no patient is ever the same and no shift is ever the same—we are constantly learning, being challenged and having to come up with new and unique solutions and care plans. There's also the obvious answer; the times where you see a patient who you've been working with for days (or weeks) make progress, turn a little corner, and you're able to celebrate that little milestone with the family. That's a day where you go home with a smile on your face. But, there's also the days where you have a patient that's not doing well, where despite all our care and work and fighting, they're just not getting better and those days are tough, really tough. But, when you're able to give comfort, support, and kindness to patients and their families in those situations, it's a pretty amazing feeling too. To be able to take some of their burden away, I mean, that's a pretty remarkable thing. Lastly, I have to give a little shout out to my sweet little work family. I am so lucky to work with such an amazing group of smart, talented, interesting and amazing people.
A: What do you wish people knew about being a nurse?
R: I wish that people knew that being a nurse is more than simply carrying out doctors' orders. Although nursing is a "caring profession," it is also a profession that is based on science. Nurses are educated individuals who are expected to work independently, interpret, and respond to a variety of information. For all the work you see a nurse do in a patient's room, there is so much more that goes on behind the scenes.
K: I know nursing is such a rewarding and amazing career in so many different ways, but I do wish people realized how challenging and hard it can be. I'm not just talking about the long shifts or the physical work. Mentally and emotionally, it can be draining. It requires a lot of education, skill, and knowledge to be a good nurse and the responsibility of caring for another human being can be stressful. And although it is an amazing, worthwhile career, it is not easy.
A: Who or what inspires you?
R: Right now, what inspires me is the resilience of everyone, but especially my niece and nephew. They've experienced so many changes and contradictions in this pandemic, but they just continue to be the funny and wonderful people they are.
K: Anyone who knows me, knows I would say my sister (low key obsessed with her). She's smart, hard-working, selfless, generous, kind, and seriously the most amazing person (and nurse!) that I know. She sets the bar pretty high and inspires me to be a better person and a better nurse. Then, there's also the community in Victoria. For example, small business are struggling and yet, they still take the time to make donations or prepare and donate meals to frontline workers to show their thanks and support. It's a pretty remarkable and selfless gesture.
"To Rhian and Kayla, thank you for sharing your experiences and for truly encapsulating what it means to be a nurse. Your bond as sisters and your bond to critical care is inspiring. Thank you.
And to all the nurses in our local hospitals, thank you for your commitment to providing exceptional care every day. Despite the challenges the past year has presented and how they may have changed your role, thank you for continuing to put our local patients first. Whether your work is seen at the bedside or behind the scenes, you are what keeps our hospitals in motion. You, and your work, is so appreciated."
—Avery Brohman, Executive Director, Victoria Hospitals Foundation
Please consider supporting our local nurses and Victoria hospitals through our Hospitals Heroes of Victoria initiative.