LOCAL SAVE-ON-FOODS STORES HELPING CARE FOR OUR LITTLEST AND MOST FRAGILE PATIENTS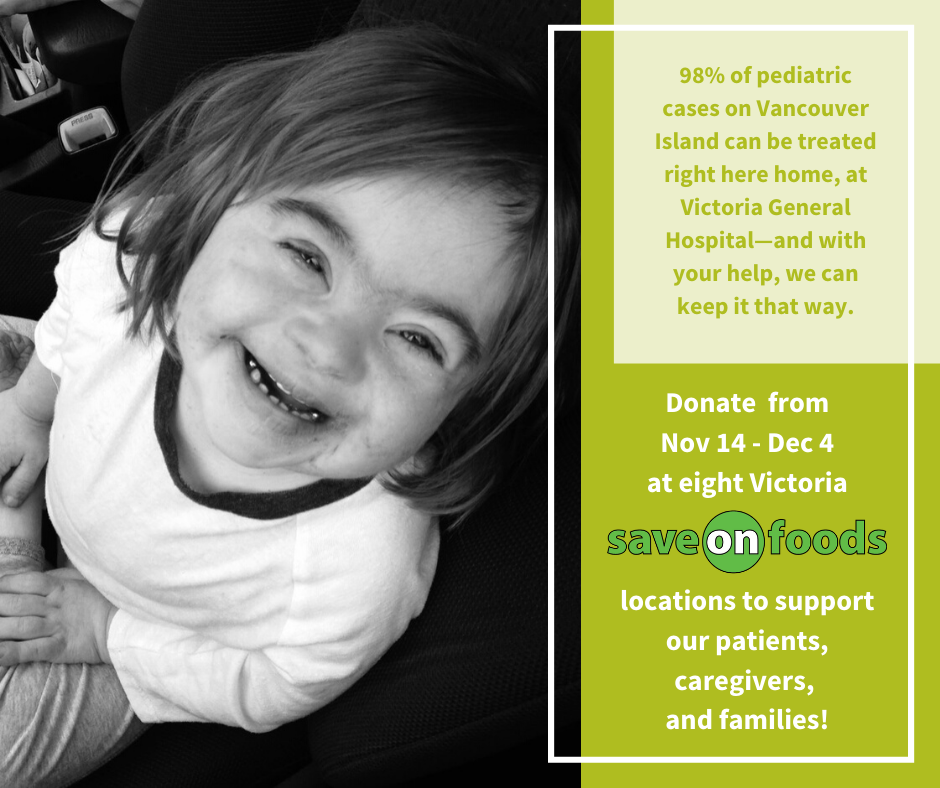 Victoria, BC — Eight Save-On-Foods stores in Greater Victoria are launching an inaugural at-the-till campaign to support the purchase of a new, critically needed patient monitor for the Pediatric Intensive Care Unit (PICU) at Victoria General Hospital (VGH).
From November 14 to December 4, customers at the Blanshard Street, Fort Street, Pandora Avenue, Sidney, Tillicum, University Heights, Vic West, and Westshore Save-On-Foods locations can donate towards this priority equipment that provides critically important information and enables immediate and informed action by our pediatric caregivers. Many small donations made at the till with a purchase add up to a major impact on our community.
"We are committed to helping our local community in all aspects of our work from carefully sourcing local products to supporting causes like pediatric care at VGH through the Victoria Hospitals Foundation," says Brent Wellman, Assistant Manager at the Save-On-Foods on Blanshard Street. "We are so proud that the generosity of our customers can make a difference right here in Greater Victoria for our Island kids."
98% of pediatric cases on Vancouver Island can be treated at VGH. Here, more than 2,000 pediatric patients are cared for every year, with one in eight children requiring care in the PICU.
"With 250 children in the PICU every year, the need to support our tiniest patients is critical. Our community knows this. Over the last five years, our donors have impactfully and generously funded 80% of equipment in the PICU," says a/ Executive Director, Avery Brohman. "To now have our local Save-On-Foods stores and their generous customers join this important cause means our caregivers can have access to leading-edge equipment, and our littlest patients can continue to receive the very best care, right here at home. We are deeply thankful."
Much like any technology, hospital equipment changes quickly. Ensuring our caregivers have tools of the highest quality means our littlest and most fragile patients can continue to receive excellent care here at VGH.
With the generous support of the community, this at-the-till campaign aims to raise $25,000 over three weeks. To learn more about Save-On-Foods at the till campaign, visit www.victoriahf.ca/saveonfoods
https://www.victoriahf.ca/wp-content/uploads/2019/11/Copy-of-Untitled-7.png
788
940
Victoria Hospitals Foundation
https://www.victoriahf.ca/wp-content/uploads/2018/04/vhf-logo.png
Victoria Hospitals Foundation
2019-11-14 16:57:47
2019-11-14 17:03:14
LOCAL SAVE-ON-FOODS STORES HELPING CARE FOR OUR LITTLEST AND MOST FRAGILE PATIENTS