TB Vets Charitable Foundation funds new critical care ventilator for Victoria Hospitals Foundation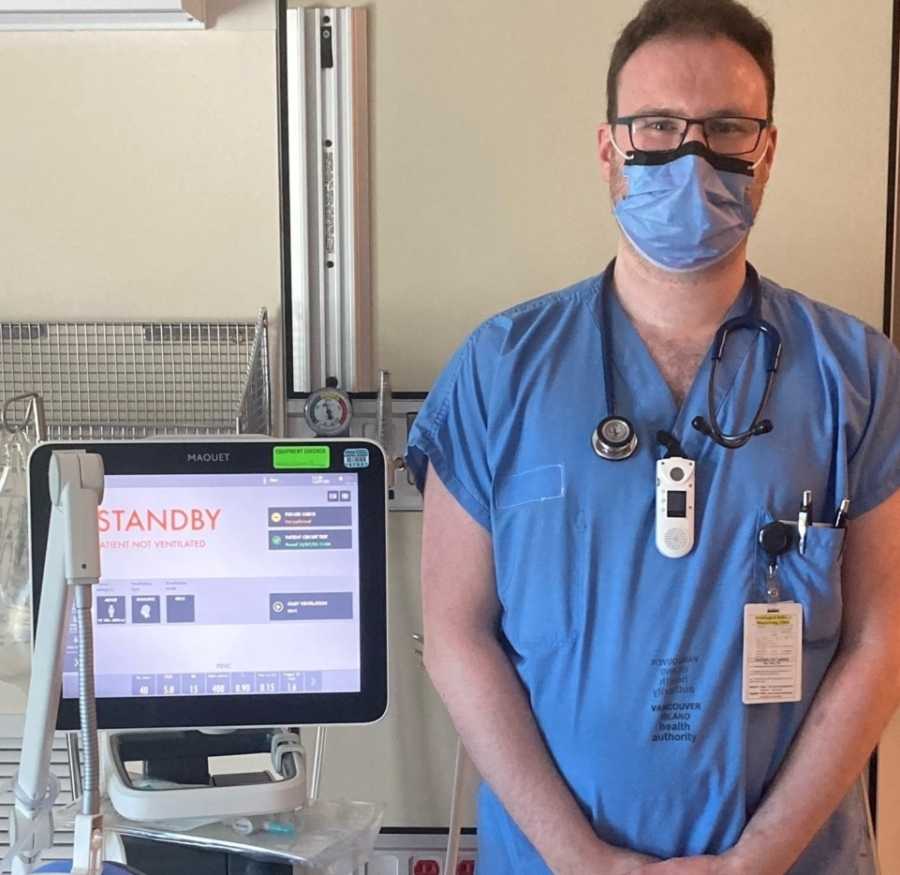 TB Vets Charitable Foundation continues to lead the way in supporting respiratory health throughout the province and right here on Vancouver Island. When Victoria Hospitals Foundation (VHF) approached TB Vets with the urgent need for a new ventilator for Victoria General Hospital (VGH) last year, they answered the call with a generous $53,000 donation.
"TB Vets is proud to support the respiratory health of Vancouver Islanders. We know that life-saving care is made possible through essential equipment and the dedicated teams who care for critically ill patients. It is an honour to play a role in ensuring local hospitals are prepared to support those most in need," says Kandys Merola, CEO of TB Vets Charitable Foundation.
 As local hospitals and communities were strained under the impact of the Delta wave of the COVID-19 pandemic, this vital equipment helped care teams navigate a particularly challenging time.
"Respiratory support has always been a critical care need. Now, more than ever, we have seen the vital importance of having this leading-edge equipment here on the Island for so many patients requiring urgent respiratory care," says Alec McKay, Director of Development for the Victoria Hospitals Foundation. "'Thank you' is not enough to express our gratitude for TB Vets Charitable Foundation and their dedication to helping our care teams with life-saving equipment that our Island communities rely on."
In the early fall of 2021, an extra 18 to 20 patients per day required ventilation at Victoria hospitals. By October, this number had risen to an unprecedented 25 patients per day, up from an average of 6 per day during non-pandemic times. Without additional equipment, hospital care teams would not have been able to handle the volume of patients requiring ventilation.
The new, interactive Servo-U Ventilator Unit helps rehabilitate patients as the equipment can be programmed to respond to muscle movement in the lungs and interact with the patient's natural breathing processes. It also has heated air valves that kill bacteria and viruses, eliminating possible transmission of disease between patients and medical staff. Mechanical ventilators are complex machines that can be adjusted to meet the unique needs of each patient. They assist our specialists in monitoring key vital signs and provide adjustments to how much oxygen is delivered, helping to improve the patient's comfort level and ensure proper oxygen levels in the blood.
"When staff look back on this time, they will remember many things. One of those things will be working with this ventilator, using it to try and keep a family from suffering the ultimate loss. Without purchases of equipment like the Servo-U, we would not be able to save lives," says Zachary Hilberry, Regional Practice Lead for Respiratory Services at Island Health.
The Servo-U ventilator can be used on adults, children, and preterm babies, who can fit into the palm of a large hand. This equipment has been used to help save the lives of many small children in the Victoria General Pediatric ICU (PICU). The ventilator has the capacity to ventilate many who need assistance breathing — from a large adult with very stiff, sick lungs full of fluid from COVID-19 pneumonia, to a young child struggling with an asthma attack.
"Ventilators that are purchased with donor money for adults often wind up saving little babies too, because the modern ventilator has this capability. When we get premature twins being born, a Servo-U with neonatal software upgrades will be there beside the incubator, keeping a baby breathing while they rest and grow stronger," says Hillberry.
The state-of-art ventilator, currently in use at VGH's Respiratory Services department, will be used in the donor-supported High Acuity Unit (HAU) later this year. The HAU will provide an intermediary level of care between Intensive Care and Acute Care for patients who are not quite ill enough for the ICU but still need highly specialized support and monitoring.
Since 1982, TB Vets Charitable Foundation has funded an outstanding $1.5 million of urgently needed respiratory equipment at Royal Jubilee and Victoria General hospitals, helping countless patients—from newborns to seniors—receive state-of-the-art respiratory care.
"VHF is truly grateful for, and honoured by, our longstanding partnership with TB Vets. Their extraordinary giving has supported respiratory patients in our province for over 75 years," says McKay.
The TB Vets Charitable Foundation supports respiratory needs throughout the province. Funds are primarily raised through the TB Vets Key Tag program, started in 1946 to support vital research, equipment, and education.
https://www.victoriahf.ca/wp-content/uploads/2022/08/The-new-ventilator-funded-by-TB-Vets-alongside-Dillon-Meagher-a-Respiratory-Therapist-1-e1659714518546.jpg
875
900
Victoria Hospitals Foundation
https://www.victoriahf.ca/wp-content/uploads/2018/04/vhf-logo.png
Victoria Hospitals Foundation
2022-08-05 08:46:17
2023-01-26 09:52:33
TB Vets Charitable Foundation funds new critical care ventilator for Victoria Hospitals Foundation