Unveiling the Lai Brothers Concourse & Wilson S.C. Lai Critical Care Visitor's Room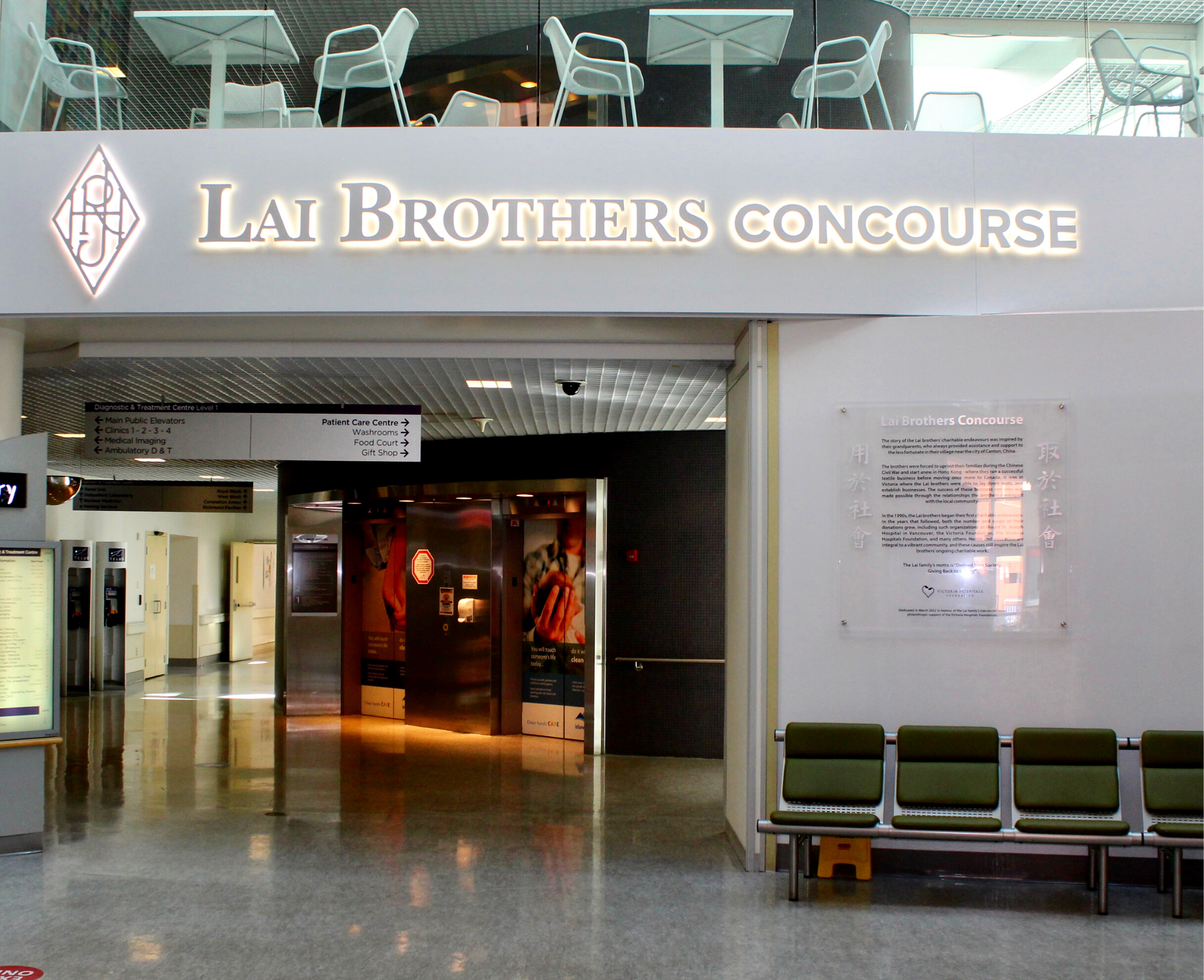 With deep gratitude, the Victoria Hospitals Foundation is thrilled to unveil the Lai Brothers Concourse, a new name for the first floor concourse of the Diagnostic & Treatment Centre, in recognition of a transformative $5 million gift from the Wilson S.C. Lai Trust in support of Royal Jubilee (RJH) and Victoria General (VGH) hospitals. The Intensive Care Visitor's Room will be renamed the Wilson S. C. Lai Critical Care Waiting Room, honouring this significant investment towards advancing critical care.
"In all that we do as a family, we are driven by our motto, Derived from Society, Giving Back to Society," says the Lai family. "This donation is just that: a gift back to the community and to thank our care teams for all they do in support of our community, and to continue to establish strong hospitals on the Island. We hope others can join us in appreciating our doctors, nurses, and healthcare teams."
This groundbreaking gift is an important step towards advancing critical care, including supporting the opening of VGH's first High Acuity Unit, which will provide an intermediate level of care between the Intensive Care Unit and Acute Care units. Island Health was the only health authority without a High Acuity Unit until donors, including the Lai family, stepped in to offer Royal Jubilee Hospital a permanent unit in 2020/21.
The remainder of this historic gift will support advanced equipment needs earmarked as priority pieces by Island Health, and will supplement the Lai Family Scholarship Fund, which has supported 325 Island Health employees in advancing their education since 2013.
"Thanks to the outstanding generosity of the Lai family, we're able to see real benefits to Victoria-area hospitals; a gift of life-saving care so thoughtfully shared with the community," says Adrian Dix, Minister of Health. "This donation will make a big impact in the region, supporting the purchase of even more much-needed hospital equipment to help make our hospitals the best they can be."
"This generous gift comes at a time when it will make such a difference in our hospitals, not only for patient care, but as a reminder to our Island Health family that the community deeply values their tireless efforts. We are sincerely grateful to the Wilson S.C. Lai Trust for this incredible gift," says Leah Hollins, Board Chair, Island Health.
With this $5 million gift, the Lai family builds on their strong history of supporting the Victoria Hospitals Foundation—the largest donor in its history—and, to date, has given more than $8 million, including:
$250,000 to Equipped to Heal, VHF's mental health campaign in 2021
$590,000 to It's Critical, VHF's campaign supporting the RJH High Acuity Unit in 2020 and 2021
$1 million to advance surgical services, with upgrades to the Medical Device Reprocessing Departments, at RJH and VGH in 2019
$500,000 to establish the Lai Brothers Lecture Theatre and Lai Family Scholarship Fund in 2012
"This incredible display of generosity is philanthropy in its purest form. The Lai family has become part of our family at VHF, and it deeply resonates that this gift is helping many, many other families in our community through a gift that is so far-reaching. Future patients will benefit for years from expanded services and equipment that this family has gifted us, and care teams will feel the gratitude and recognition they so deserve," says Avery Brohman, Chief Executive Officer, Victoria Hospitals Foundation.
The Lai family hopes their donation creates momentum through VHF's Emerge Stronger campaign and encourages others to give back to the hospitals and care teams that have been relentless in the pursuit of providing the best local care possible.
Become a donor today by making a gift at victoriahf.ca/donatenow
https://www.victoriahf.ca/wp-content/uploads/2022/08/Lai-Brothers-Concourse-signage-inside-1.png
1667
2048
Victoria Hospitals Foundation
https://www.victoriahf.ca/wp-content/uploads/2018/04/vhf-logo.png
Victoria Hospitals Foundation
2022-08-04 11:34:27
2022-08-04 11:34:27
Unveiling the Lai Brothers Concourse & Wilson S.C. Lai Critical Care Visitor's Room