Victoria Hospitals Foundation Marks $5 Million Milestone Towards $10 Million Emerge Stronger Campaign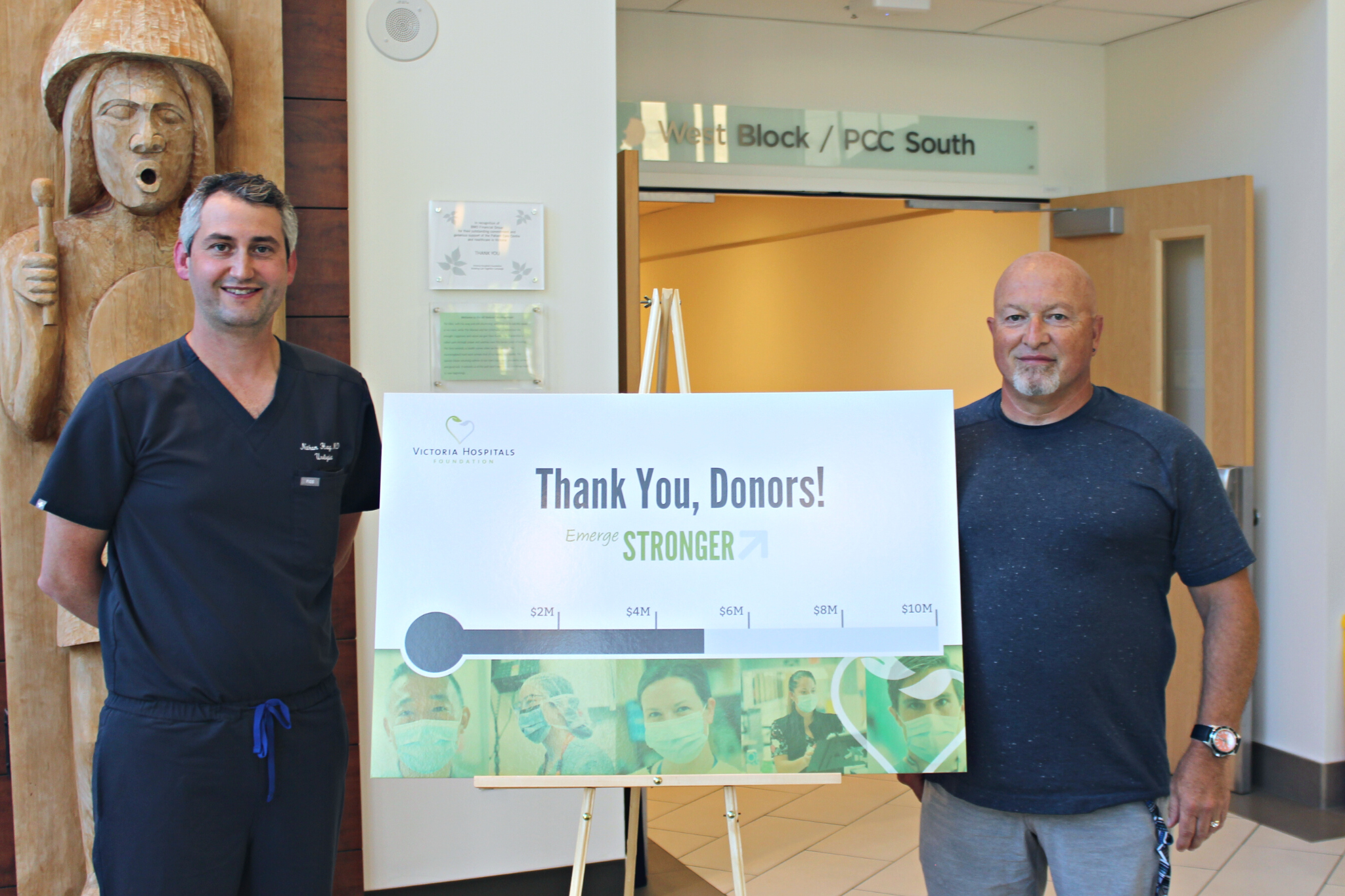 The Victoria Hospitals Foundation (VHF) has announced a pivotal milestone in its $10 million Emerge Stronger campaign today, with community donations officially surpassing the $5 million mark in support of priority equipment needs at Royal Jubilee Hospital (RJH), Victoria General Hospital (VGH), and Gorge Road Hospital (GRH). Launched in October 2021 to help Island Health respond to the lasting effects of the COVID-19 pandemic, this remarkable community response will support local care teams as they navigate the greatest healthcare challenge of our generation. To date, more than 3,000 donors have funded over 180 pieces of priority equipment for essential hospital services.
"No one could have anticipated the impact the COVID-19 pandemic would have on our healthcare system, and how tirelessly our caregivers continue to work to ensure hospital care remains excellent here in Victoria—care our entire Island relies on. As a Foundation, we knew we needed to respond boldly and do everything we could to return the care that our hospitals have provided to us," said Avery Brohman, CEO of the Victoria Hospitals Foundation. "We heard first-hand that new and replacement equipment was the best way we could support the growing needs in our hospitals. I am extremely grateful for every single donor who has helped us support hospital services impacted by the pandemic while advancing local care on Vancouver Island. With the help of our community, we celebrate this halfway mark of our most ambitious annual fundraising campaign to date, and we will continue to stand united with our hospitals as they stand ready to care for all of us."
Donations to the Emerge Stronger campaign support every single area of care — from newborn care to seniors' health. To date, this community investment has raised funds in support of priority equipment such as:
New breast imaging software for the Mammography department, designed to improve detection of breast cancer. Almost 15,000 breast imaging procedures are performed at VGH every year.
A state-of-the-art retinal laser for the Ophthalmology department, used for surgical treatment of retinal damage due to diabetes, as well as tears and age. This advanced technology enhances patient comfort with greatly reduced treatment times. Approximately 20-25 laser treatments per week are delivered to Vancouver Island patients.
An O-Arm imaging system for the Neurosurgery department, an Island-first to advance neurosurgery locally and keep advanced brain and spinal surgery patients close to home.
New ureteroscopes for the Urology department, which allow for early detection and diagnosis of a variety of urinary tract conditions. These scopes also allow surgeons to perform minimally invasive surgeries using an endoscopic approach.
"Our healthcare system continues to face a great deal of stress. Our teams rely on having the right equipment and resources to ensure that everyone who walks through our doors gets the treatment they need," said Dr. Nathan Hoag, Island Health Urologist. "These community donations directly impact the quality of care that we are able to provide our patients with, every day."
Victoria resident and recent Island Health patient Lionel Polard shared how priority equipment led to early detection and treatment of Stage 1 bladder cancer and a subsequent cancerous tumor in his ureter.
"I would not be where I am today if it wasn't for this equipment. Having access to early detection and minimally invasive surgery truly saved my life," said Polard. "I am thankful for the caring community of donors whose support equips our hospital teams with the tools they need to save lives. You never know when you could need this equipment yourself. The better the equipment is, the better our system becomes—and the more people we can save."
Over 40% of the life-changing equipment at Royal Jubilee and Victoria General hospitals is funded by donors. New and past donors are invited to support care teams and keep hospitals on the leading edge through VHF's Emerge Stronger campaign. The current $3 million Local Care phase of the campaign invests in Island-first equipment that keeps patients close to home. Through the $3 million Innovation phase, the campaign will also fund leading-edge healthcare research, and enable new models for enhanced delivery of care.
Contributions to the Emerge Stronger campaign can be made by donating online at victoriahf.ca/stronger, mailing a cheque, through gifts of securities, or calling 250-519-1750.
Campaign stories will be unveiled throughout the campaign at: victoriahf.ca/stronger
https://www.victoriahf.ca/wp-content/uploads/2022/07/Dr.-Nathan-Hoag-and-patient-Lionel.png
1365
2048
Victoria Hospitals Foundation
https://www.victoriahf.ca/wp-content/uploads/2018/04/vhf-logo.png
Victoria Hospitals Foundation
2022-07-29 11:06:57
2022-07-29 11:06:57
Victoria Hospitals Foundation Marks $5 Million Milestone Towards $10 Million Emerge Stronger Campaign