TD Bank Group Fosters Innovative Island Clinic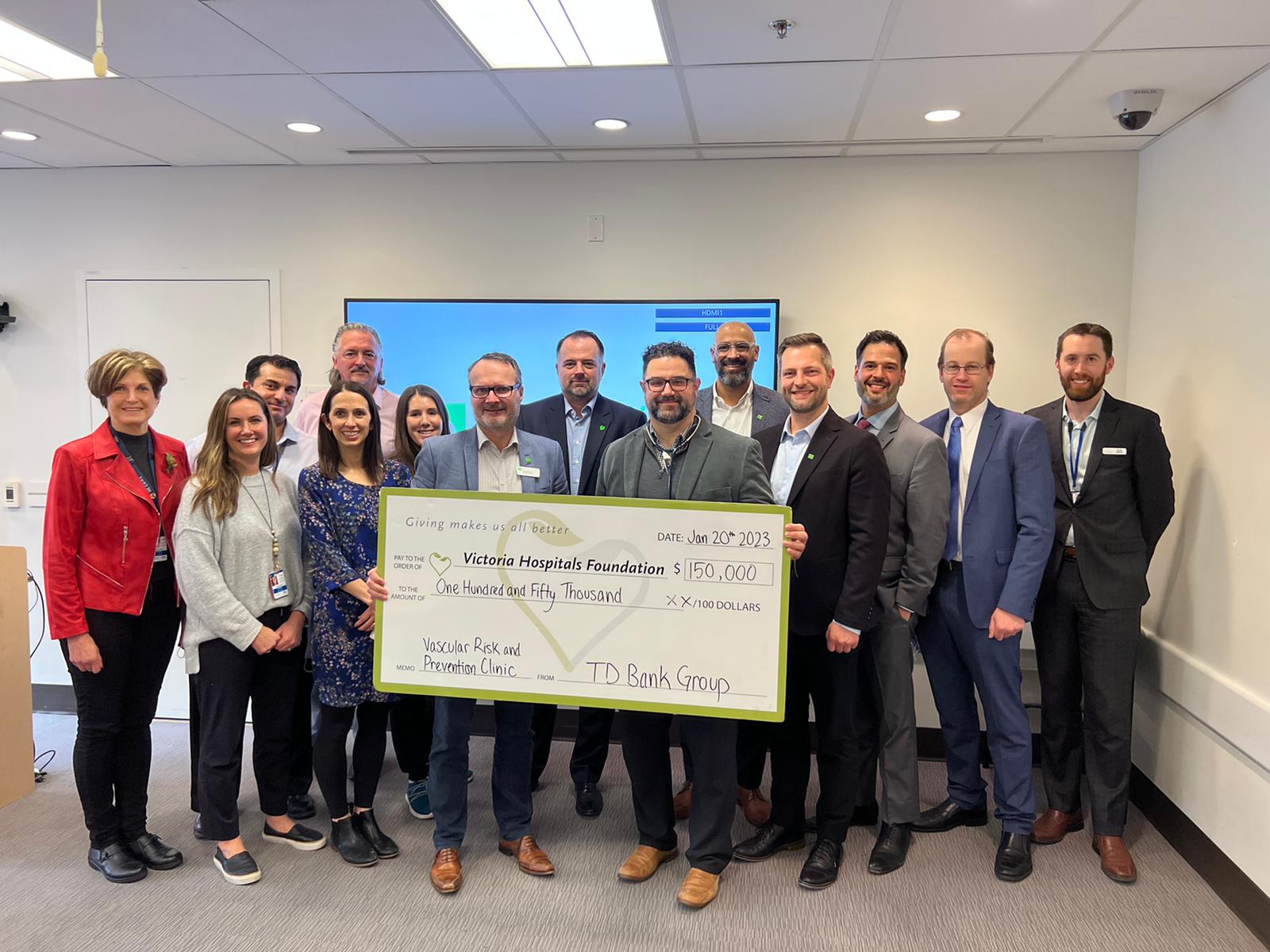 Victoria, B.C. — The Victoria Hospitals Foundation is grateful to recognize generous donations totaling $150,000 from TD Bank Group (TD) to advance heart health for at-risk residents across Vancouver Island. In 2021, a $50,000 gift provided through the TD Ready Commitment—the bank's corporate citizen platform—helped launch the Vascular Risk & Prevention Clinic (VRPC) at Royal Jubilee Hospital (RJH). This has been recently renewed with a second gift of $100,000 to enable the clinic's operations and growth.
The VPRC provides advanced primary and secondary prevention therapies for patients at the highest levels of cardiovascular risk. In addition to advanced lipid-lowering therapy, the clinic focuses on novel anticoagulant strategies as well as managing other cardiac risk factors, such as smoking cessation, hypertension, and diabetes. Its mission is to reduce cardiovascular events on Vancouver Island through expert use of novel and evidence-based preventative strategies.
Cardiovascular disease (CVD) is a leading cause of death for Canadians. Those with early onset CVD have a high lifetime risk of recurring heart attacks and strokes. With nearly a quarter of Vancouver Island residents over the age of 65, the clinic meets a vital and urgent need, delivering advanced preventative care while reducing the need for acute cardiac care.
"Care at the Vascular Risk & Prevention Clinic is driven by best practice, evidence, and data to achieve the highest level of quality and safety. Support from the TD Ready Commitment will improve care and outcomes for cardiac patients for years to come, giving them confidence about their health and a better outlook for their future," says Dr. Chris Franco, Medical Lead, Cardiology at RJH.
"TD is proud to support the innovative and life-saving work at the Vascular Risk and Prevention Clinic, which is enhancing outcomes for cardiac patients across Vancouver Island," says Bruce Gray, Vancouver Island District Vice President, TD Bank Group. "Through the TD Ready Commitment, our corporate citizenship platform, we're investing in solutions that improve access to early intervention and care for chronic conditions, including cardiovascular disease."
"We are deeply grateful to TD for investing in preventive healthcare for our community that will ultimately save lives. Initiatives like the Vascular Risk & Prevention Clinic would not be possible without the generous support of donors like TD," says Alec McKay, Director of Development, Victoria Hospitals Foundation.
The VRPC is integrated into Island Health's Heart Health program as a centralized location for clinical care, offering prevention strategies, enhanced diagnostic procedures, and a variety of cardiac programs for patients experiencing various types of heart diseases.
RJH is a Heart Health Centre of Excellence and Vancouver Island's referral centre for cardiac care. Over the past 30 years, the Heart Health program at RJH has grown into a national leader and pioneer in cardiac care. To learn more about how VHF supports cardiac care, or to donate, visit victoriahf.ca/cardiac-care or call 250-519-1750.
― 30 ―
https://www.victoriahf.ca/wp-content/uploads/2023/03/TD-Bank-Group-photo.jpg
1200
1600
Victoria Hospitals Foundation
https://www.victoriahf.ca/wp-content/uploads/2018/04/vhf-logo.png
Victoria Hospitals Foundation
2023-03-06 10:51:03
2023-03-06 10:54:09
TD Bank Group Fosters Innovative Island Clinic