Meet Tom Siemens, VHF's New Board Chair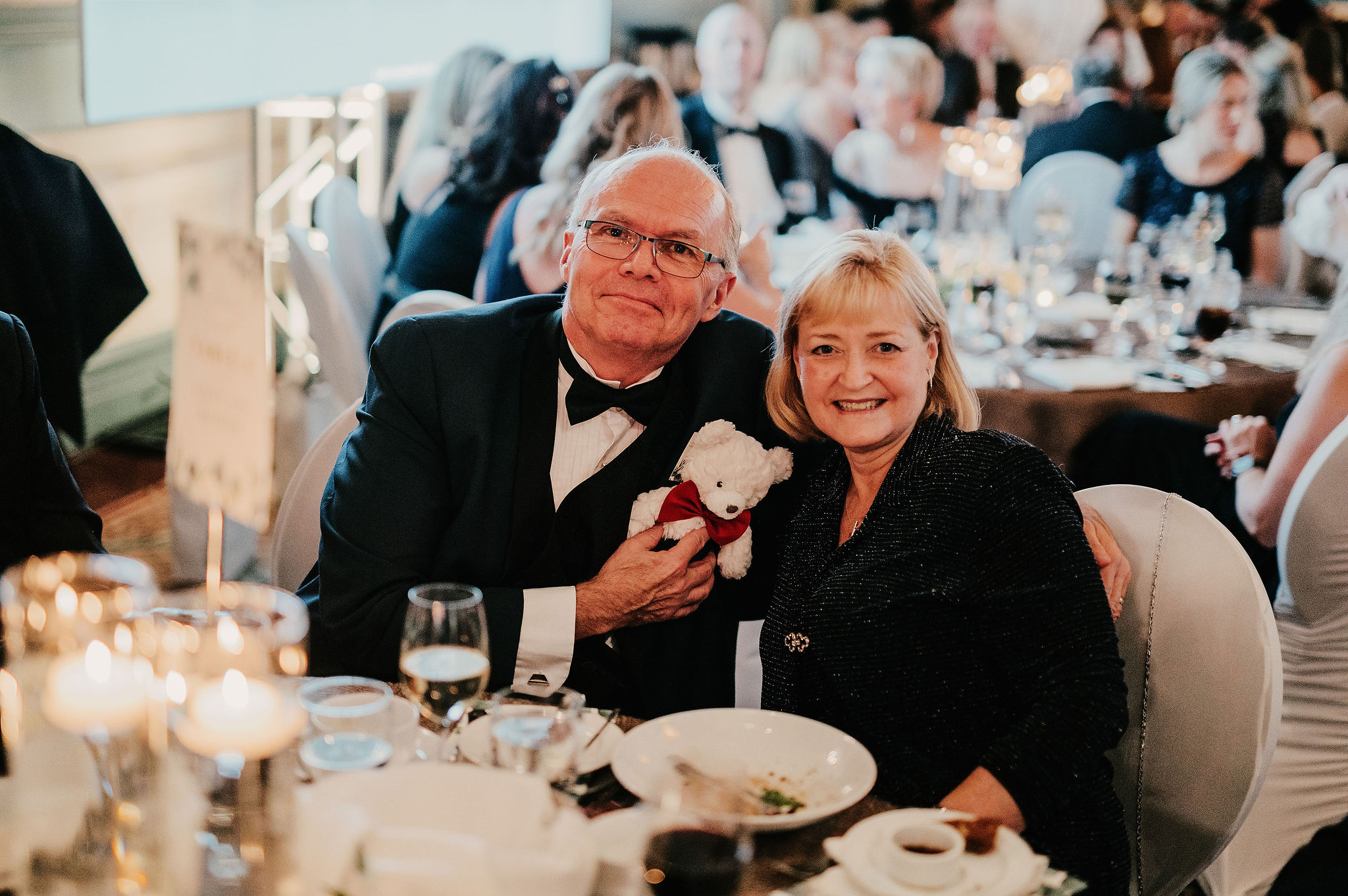 Tom Siemens and his wife, Terri, at VHF's 2019 Annual Visions Fundraising Gala
(Please Note: This article is no longer current. You can find an up-to-date listing of VHF's Board of Directors here.)
Tom Siemens joined the Victoria Hospitals Foundation Board of Directors in 2018 and now serves as Chair. He has supported our local hospitals through volunteer leadership for many years, including serving on Campaign Cabinets for VHF.
He brings to the Foundation his extensive experience in finance and other disciplines. During his tenure in Victoria, Mr. Siemens has been extensively involved with a variety of community organizations at the governance level.
Mr. Siemens holds an MBA from the University of Manitoba and designations from the Institute of Canadian Bankers (ICB) and the Canadian Securities Institute (CSI).  Mr. Siemens resides in Victoria with his wife, Terri.  They have three adult children.
We thank Mr. Siemens for his dedication to serving our community and VHF. We look forward to working more closely with him as we continue to make a difference in our local hospitals.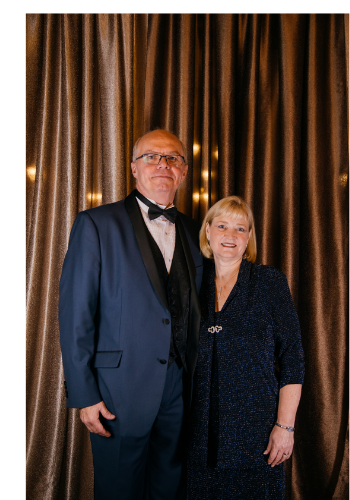 A Conversation with Tom Siemens
VHF: How are you connected to Victoria?
Tom Siemens: I was born in Calgary, but I grew up partly in Nairobi. When I returned to Canada, I moved to Winnipeg. That's where I met and married my high school sweetheart, Terri. It's also where I began my career with the Royal Bank of Canada (RBC).
Our family saw a lot of Canada in my work with RBC. We lived in Calgary, Toronto, and Saskatoon before settling in Victoria in 2001. Moving here was ideal as our three kids could call the same community home through junior high and high school. In 2018, I retired after 36 years with RBC.
How long have you been a VHF supporter?
I was asked to be a member of the strategic advisory committee for VHF's Together We Care campaign from 2001 to 2004 . Between 2011 and 2014, I also served as a cabinet member for the Building Care Together capital campaign for the Patient Care Centre at Royal Jubilee Hospital.
What compelled you to give your time to VHF?
As a volunteer and community leader during my career with RBC, I typically split my focus three ways—the arts, education, and healthcare. They're the three critical elements in a healthy community. Now that I'm retired, I still follow that same formula. I give my time to advance causes that matter to me and my family.
What is your favourite VHF memory?
Many of my favourite VHF memories are from Visions fundraising galas. It is always such an inspiring opportunity to reconnect with our caregivers, patients, and our giving community. I am always reminded of Visions when the raffle bears that we've collected over the years come out each Christmas at our house.
What would you say to our giving community right now?
I would say that despite the dark periods of the past year, there is light at the end of the tunnel. I've always believed the adage "people are at their best when things are at their worst." I think we can really see that.
In our lifetimes, there has never been a more powerful illustration of the importance of how we prepare our hospitals and caregivers for the long term. The return on that investment is our community's safety in times like these.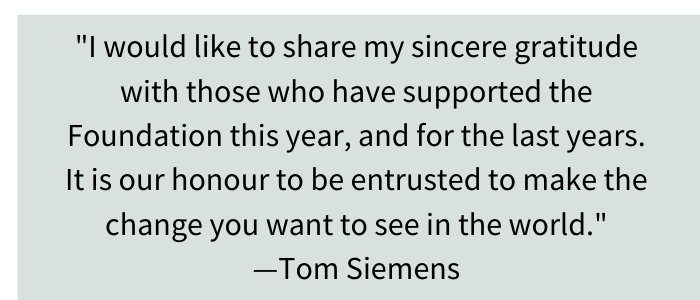 What does the future look like at VHF?
In a moment like this, healthcare and its delivery are evolving rapidly. It's incredible to look back on this year and see how we much we've had to adapt. It's critical that we evolve the ways we support our hospitals and caregivers as well.
The last two years have seen a great amount of growth and development at VHF. With new staff leadership and new members recently welcomed to the Board, we are in a strong position to build on the momentum of our recent successes.
Anything else you would like to add?
I would like to share my sincere gratitude with those who have supported the Foundation this year, and for the last years. It is our honour to be entrusted to make the change you want to see in the world.
What matters more than anything is our impact. The difference we make for the person who needs answers, or relief, or a life-changing treatment with a piece of equipment that we can—all together—put in the hands of a caregiver. I won't ever forget that, and I know the team won't either. It will continue to guide every decision we make as a foundation.
Want more VHF news like this directly in your inbox? Hear it first by signing up for our digital newsletter and email updates.
https://www.victoriahf.ca/wp-content/uploads/2021/01/DSC2300.jpg
1362
2048
Victoria Hospitals Foundation
https://www.victoriahf.ca/wp-content/uploads/2018/04/vhf-logo.png
Victoria Hospitals Foundation
2021-01-21 08:49:54
2023-02-27 15:47:54
Meet Tom Siemens, VHF's New Board Chair