An Interview with Dr. Jeffrey Bishop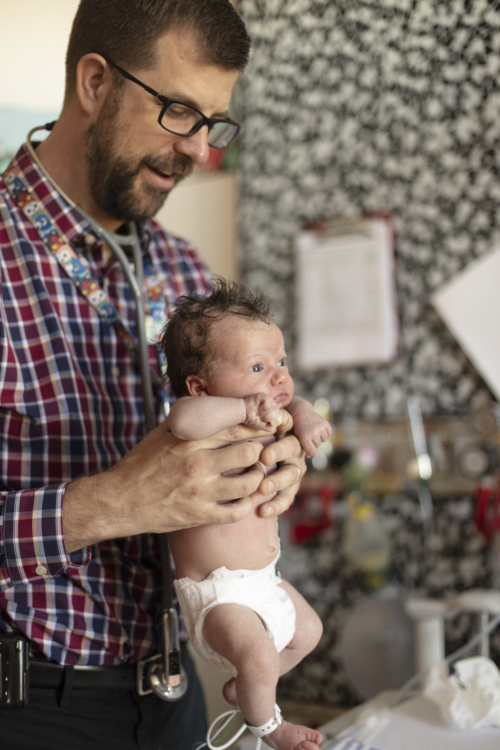 In support of our campaign, You Are Vital: Pediatrics, Dr. Jeffrey Bishop shares a few remarks about the important role of the Pediatric Intensive Care Unit (PICU) at Victoria General Hospital (VGH). The Unit is in critical need of new monitors – for more information and to donate, please visit www.victoriahf.ca/vitalkids.
What does your day look like working in the PICU?
As we draw more pediatric experts to practice in Victoria, we are able to care for the vast majority of sick children close to where their families and support networks are. For 98​% of children needing care, we have the expertise here on Vancouver Island. This includes multiple surgeons and medical physicians with pediatric subspecialty training based right here in Victoria. These physicians care for some of the sickest children in the province and our job in the PICU is often to support the work that they do.
Care in the PICU runs 24 hours a day. We work as an interdisciplinary team with multiple professionals including nurses, pharmacists, respiratory therapists, physiotherapists, occupational therapists, social workers and many others. I cannot say enough about what a privilege it is to work with the team that we have here in Victoria. There is something about working with critically ill children and their families that attracts amazing individuals. For example, our nurses are medical experts and the support that they provide to children and their families is truly remarkable.
How many children are you caring for each day?
We are a five bed PICU so in theory we have up to 5 children admitted to the unit at any given time. We also provide phone and telehealth support to other hospitals on Vancouver Island. Usually this means discussing cases with Paediatricians in other Vancouver Island communities and working with them to decide whether children can be appropriately cared for close to home or whether they would benefit from admission to our unit.
How does it affect you personally caring for sick children?
Caring for critically ill children can be stressful but it is also extremely rewarding. Kids are truly much stronger than adults. We often see children recover from illnesses that would lead to death in adult patients.
I think it would be difficult to not to feel sadness, anger, frustration and even helplessness when faced with children who are critically ill or dying. These are not life events that most people confront daily. We work closely as a team to identify and validate those feelings as they arise and to also recognize what a privilege it is to be allowed by children and families to share their experiences with them.
As difficult as our jobs can be, the most challenging non-patient role in our unit is that of a parent. To watch as your child goes through a stay in the PICU is incredibly difficult and many families are affected emotionally by the experience for the rest of their lives. When we do our job of treating pain and anxiety well, our patients often have minimal recollection of their time in the PICU. Most parents however, will likely never forget their stay.
https://www.victoriahf.ca/wp-content/uploads/2019/07/0O6A9165-e1564432878104.jpg
750
500
Victoria Hospitals Foundation
https://www.victoriahf.ca/wp-content/uploads/2018/04/vhf-logo.png
Victoria Hospitals Foundation
2019-07-12 18:05:07
2020-02-10 22:24:49
An Interview with Dr. Jeffrey Bishop