Local Canadian Tire Stores Heartfelt Impact on Cardiac Care Teams at Royal Jubilee Hospital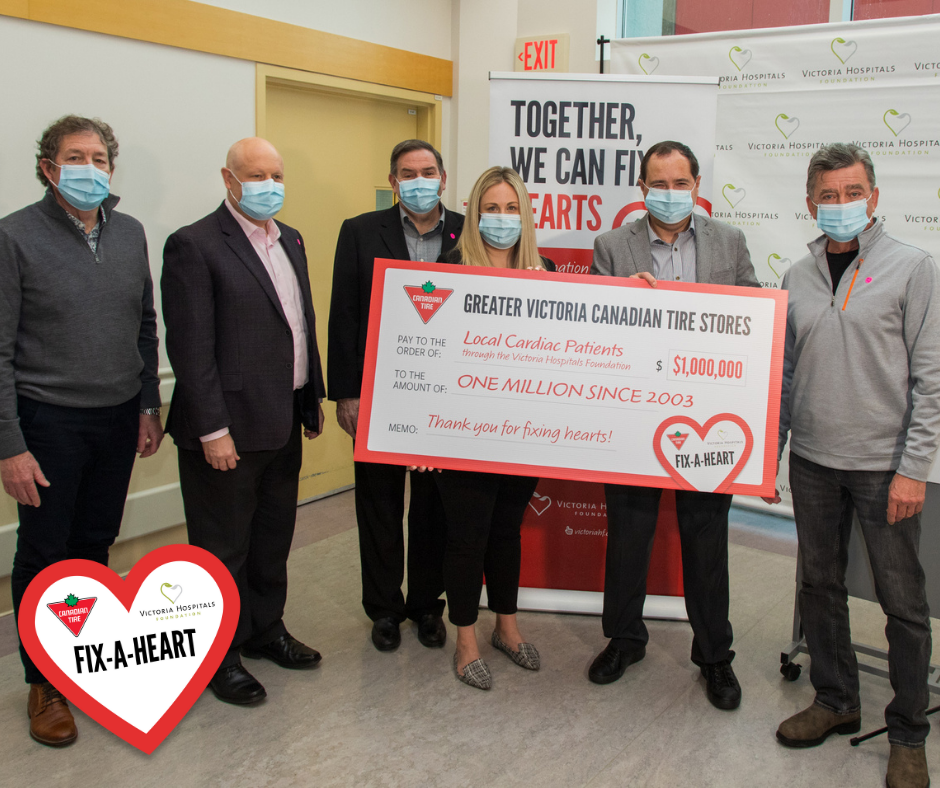 Victoria, B.C. — For the 19th consecutive year, local Canadian Tire owners, staff, and customers helped support the Heart Health team at Royal Jubilee Hospital (RJH) by funding urgent cardiac equipment needs. Through Canadian Tire's annual Fix-A-Heart campaign—a local initiative, customer donations at the Hillside, View Royal, Royal Oak, North Saanich, and Langford stores, as well as the Gordon Head Auto Centre raised more than $79,000 for cardiac care in December 2021.
Funds raised will support a new $150,000 echocardiography ultrasound machine for RJH as part of the Victoria Hospital Foundation's Emerge Stronger campaign. Each echocardiography unit is used for up to 3,000 procedures every year, and this machine will be one of four new echocardiography machines to support cardiac demand at RJH. Echocardiography helps diagnose and treat patients with suspected or known heart disease. Most commonly, an echocardiogram is used to assess heart valves, detect damage after a heart attack, and determine how well the heart is functioning at rest and during exercise.
This community impact marks a momentous first step towards Greater Victoria Canadian Tire stores' recently renewed pledge to raise $1 million for critical cardiac equipment at RJH over the next ten years — adding to their first $1 million goal completed in 2020. The announcement was made in late 2021.
"We are humbled by the heartfelt generosity of our local Canadian Tire owners, staff, and their customers. The Fix-A-Heart campaign is a bright display of community spirit each year," says Avery Brohman, Executive Director, Victoria Hospitals Foundation. "Our cardiac care teams at Royal Jubilee Hospital depend on our donor community to equip them with the priority resources they need. Each year, our Foundation raises money for our award-winning Heart Health program here in Victoria, and we are grateful to all who help our hospitals stay on the leading edge of healthcare."
The Fix-A-Heart initiative was launched in 2003 by former Langford Canadian Tire store owner Peter Spillete, a long-time champion for cardiac care across Vancouver Island. Upon Peter's passing in 2008, local Canadian Tire owners honoured his vision through this annual tradition that has continued ever since.
Between 2003-2020, Fix-A-Heart raised more than $1 million to support leading-edge cardiac equipment needs at RJH. This impact is far reaching across the community and enhances care for the over 100,000 Vancouver Island residents who undergo cardiac assessments through RJH's Heart Health program each year.
"The Fix-A-Heart campaign is all about heart: giving back to the community, our cardiac care teams and patients. Our local stores are honoured to support such an important cause in our local community alongside our customers," says Justin Young, Owner, Canadian Tire Hillside. "My peers and I are proud to see the impact our local stores have made on cardiac care for Victoria, and we are delighted to be renewing our commitment over the next decade."
Since 2003, Fix-A-Heart has raised more than $1 million dollars for cardiac care on Vancouver Island. Their ultimate goal is to raise $2 million by 2030.
Royal Jubilee is the Heart Health referral centre for all 860,000+ residents of Vancouver Island. The Heart Health program administers to cardiac needs such as open-heart surgeries, angiograms, angioplasties, cardiac device insertions and electrophysiology procedures. Every year, over 200,000 Vancouver Island residents undergo cardiac assessment and more than 6,300 cardiac procedures. In 2018, this dynamic program celebrated its 25,000th open-heart surgery—a monumental milestone
To learn more about the Heart Health program at Royal Jubilee Hospital and to donate, please visit victoriahf.ca/cardiac-care.
https://www.victoriahf.ca/wp-content/uploads/2022/02/Canadian-Tire-release.png
788
940
Victoria Hospitals Foundation
https://www.victoriahf.ca/wp-content/uploads/2018/04/vhf-logo.png
Victoria Hospitals Foundation
2022-02-28 15:48:44
2023-04-14 15:05:47
Local Canadian Tire Stores Heartfelt Impact on Cardiac Care Teams at Royal Jubilee Hospital