Victoria Hospitals Foundation to Launch New $10 Million Campaign. Emerge Stronger Will Fund 200+ Pieces of Priority Equipment at Royal Jubilee, Victoria General, and Gorge Road Hospitals, Support Care Teams In the Face of Unprecedented Demand for Care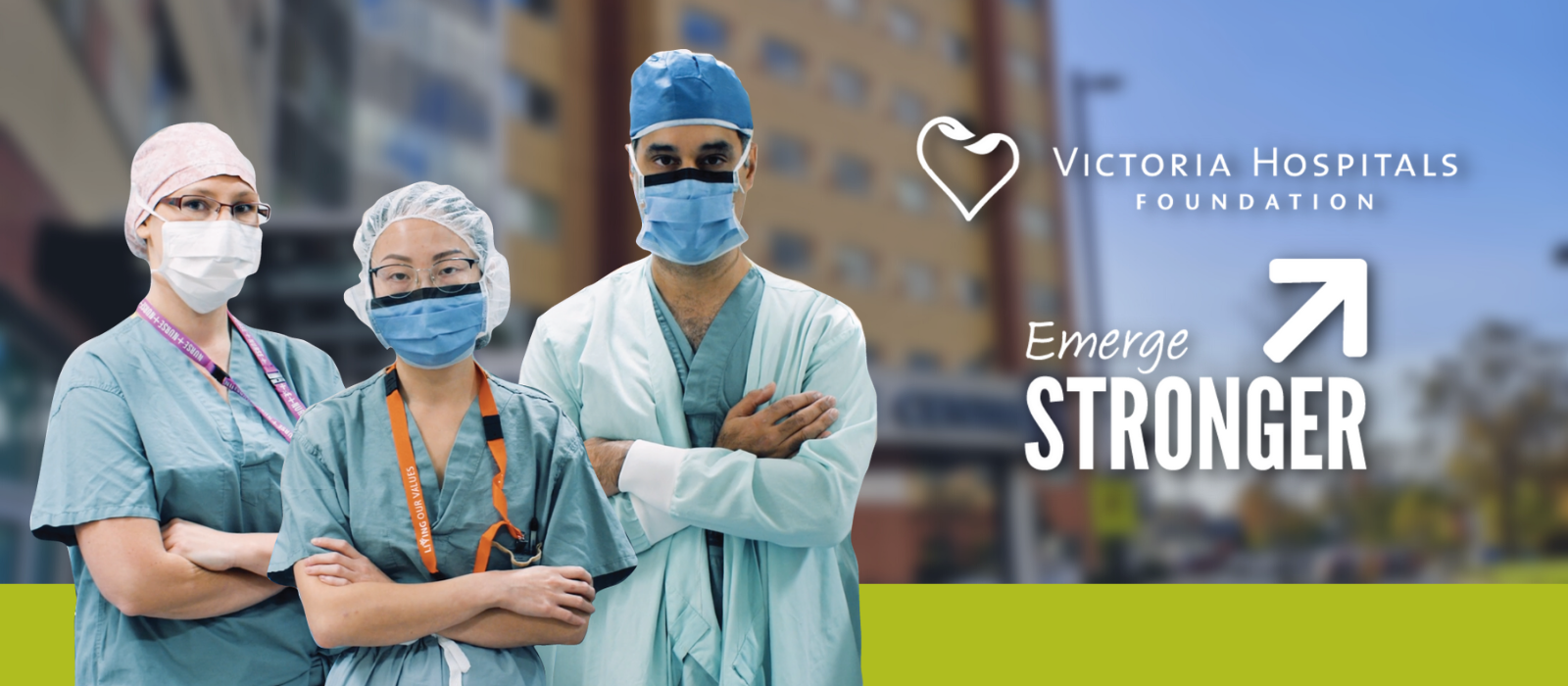 Victoria, BC — The Victoria Hospitals Foundation (VHF) has announced a remarkable commitment of $10 million for priority equipment needs at Royal Jubilee Hospital (RJH), Victoria General Hospital (VGH), and Gorge Road Hospital (GRH). The campaign, titled Emerge Stronger, is an investment to help Island Health emerge stronger as a healthcare system post-COVID-19, and a response to community members who have been inquiring about how they can best support local hospitals. VHF is unveiling one of its largest campaigns—during this difficult time in hospital settings—as a tribute to their partner, Island Health, and all local healthcare providers.
"We have all witnessed the great stress building on our healthcare system, from increased hospitalizations impacting hospital capacity to the cumulative effects of staff burnout in our care teams. This isn't the future we saw three months ago—but we all have the ability to help our hospitals emerge stronger out of this," says Avery Brohman, Executive Director of the Victoria Hospitals Foundation. "Now is the time to ensure we recognize our caregivers with the equipment they need and tools they have asked for. We know our donor family can help us bring the latest equipment advancements and innovation into our local hospitals as they have done in the past and continue to advance our community's health as a whole."
One in five Vancouver Islanders received care in one or more of the three Victoria hospitals last year, and 8.7 million assessments were administered by the RJH and VGH care teams—including more than 212,000 COVID-19 tests. This work and service to the community would not be possible without the expertise and tireless dedication of 6,900 local healthcare professionals.
"Our healthcare workers have shown tremendous resilience and dedication in providing care over the last year and a half through incredibly challenging times. The outpouring of community support honouring their efforts is deeply appreciated," shares Kathy MacNeil, President & CEO of Island Health. "We are so grateful for the generosity of the Victoria Hospitals Foundation's donors who continue to help advance healthcare today, and well into the future. Thank you on behalf of all of us at Island Health."
With an unprecedented demand in the hospitals, equipment renewal is needed much more often than it was pre-pandemic. The $10 million will support equipment in nearly every area of care—from Pediatrics to Seniors Care, to benefit patients throughout their healthcare journey, in whatever form that journey takes. Over 200 pieces of equipment were marked as a priority by Island Health, which includes the following:
An O-Arm, an Island-first to advance neurosurgery locally and keep advanced brain and spinal surgery patients close to home.

A

 new chemistry line, which plays a key role in the analysis of blood samples. The lab at RJH performs over 3 million tests per year from specimens received from various facilities across Vancouver Island. This will replace equipment that is 20 years old.
Mitral valve equipment to introduce a new, minimally invasive cardiac surgery for Island patients, which also keeps individuals closer to their support networks.
New breast imaging software designed to improve detection of breast cancer. Almost 15,000 breast imaging procedures are performed at VGH every year.
A state-of-the-art retinal laser for surgical treatment of retinal damage due to diabetes, as well as tears and age. This advanced technology enhances patient comfort with greatly reduced treatment times. Approximately 20-25 laser treatments per week are delivered to Vancouver Island patients.
The campaign will also fund leading-edge healthcare research, and enable new models for enhanced delivery of care.
"Without equipment, we are making critical decisions without the full picture, delaying care, or not providing the right care at all. That's why donor support is key," says Dr. Jill Kelly, Medical Lead, Emergency at Royal Jubilee Hospital. "Many of us in the emergency department choose this field because of the unpredictability of it. But only because there is a solid, established foundation to support us: the right expertise, the right equipment, and common acknowledgment that our work matters. Donors to the Victoria Hospitals Foundation are that solid foundation."
Emerge Stronger will move through three phases:
Recovery: Funding priority equipment for essential hospital services impacted by the pandemic
Local Care: Investing in Island-first advancements to keep care local and patients close to home
Innovation: Contributing to leading-edge research and new models of care
VHF is inviting new and past donors to come together for this important initiative to support caregivers and keep hospitals on the leading edge. This is an important step forward in welcoming a healthier tomorrow for the 850,000 Vancouver Islanders served by RJH and VGH. The support of the community through the Victoria Hospitals Foundation allows critical equipment to be placed in our hospitals sooner. 40% of equipment at Royal Jubilee and Victoria General hospitals is funded by donors.
Contributions to this ambitious campaign can be made by donating online at www.victoriahf.ca/stronger, mailing a cheque, through gifts of securities, or
calling 250-519-1750.
https://www.victoriahf.ca/wp-content/uploads/2021/10/Media-post-for-website.png
700
1600
Victoria Hospitals Foundation
https://www.victoriahf.ca/wp-content/uploads/2018/04/vhf-logo.png
Victoria Hospitals Foundation
2021-10-18 17:26:51
2021-11-19 09:44:26
Victoria Hospitals Foundation to Launch New $10 Million Campaign. Emerge Stronger Will Fund 200+ Pieces of Priority Equipment at Royal Jubilee, Victoria General, and Gorge Road Hospitals, Support Care Teams In the Face of Unprecedented Demand for Care