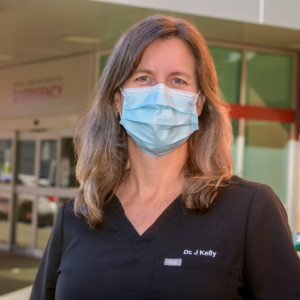 To be honest, it's been a very dark period in our hospitals recently. COVID-19 has brought a surge of patients, stress, verbal and physical abuse towards staff, protests, and constant change.
But we also see hope—you have to be able to see it to do what we do. Hope in vaccines. In messages of support. In donations from community members like you who honour our work and value the elevation of care. Hope keeps us going.
I've wanted to be a doctor for as long as I can remember. The Emergency Department (ED) looks like chaos at times, but there is a rhythm to it that makes sense and fits my personality. What's the best part? Two phenomenal teams at Royal Jubilee (RJH) and Victoria General (VGH) hospitals that feel like family. And the memories of so many patients, each deepening our sense of purpose and determination:
Memories of the young adult we resuscitated, their body unnaturally limp as my colleagues lined up to take over CPR every two minutes so that our fatigue didn't compromise their care. And the collective and audible exhale we emitted when their pulse came back.
The tiny baby we delivered in the parking lot last night, and their beautiful cry as it echoed through VGH. I can still hear it.
The man—only in his mid-forties—who came to us with a severe stroke, underwent a clot retrieval, and afterwards lifted both arms in a grand hurrah!
There are the sad memories, too. Like the frail 98-year-old whose slender hand I held, while listening to her breath get shallower, until finally it stopped. And then I held it a little while longer, until her family arrived.
Through each outcome for every patient, we can rest assured when we know we've provided the best possible care. And frankly, that would not be possible without proper equipment. Without the equipment that you help fund, we are making critical decisions without the full picture. Or we are delaying care, or not providing the right care at all.
Many of us choose the ED because of the unpredictability of it. But only because there is a solid, established foundation to support us: the right expertise, the right equipment, and common acknowledgment that our work matters. Donors, you are that solid foundation.
Thank you for championing our work and honouring my colleagues with your support. At this pivotal moment, will you continue to stand behind us with a gift today?
In hopes that our paths never cross, but with my deepest gratitude,
Dr. Jill Kelly, CCFP(EM)
Emergency Physician, Royal Jubilee and Victoria General hospitals
Medical Lead, Emergency RJH