Dr. Khala Albert is a physician in the Emergency Departments at Royal Jubilee and Victoria General hospitals.
For Dr. Albert, medicine is in the family. Her father was a rural family doctor and her mom a nurse practitioner who worked at the same clinic as her dad. Her parents enjoyed what they did. It was the focus of dinner conversations. They showed her that medicine was a noble, fulfilling profession that gave meaning to their lives. This led Dr. Albert to pursue it. Today, she's a mother to twenty-month-old June and four-year-old Anna. To highlight the moms working in our hospitals in honour of Mother's Day, we asked Dr. Albert to share her perspective as a mother and an ER doctor in this unusual time.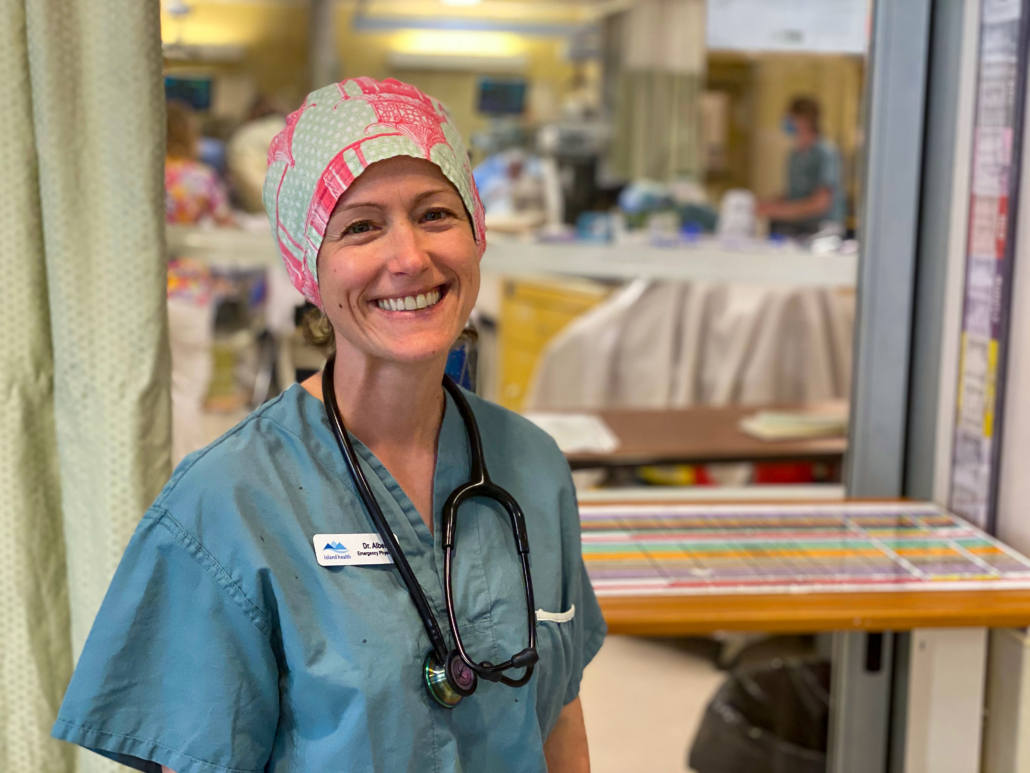 How has the COVID-19 pandemic affected you as a parent?
As an ER doctor and a mother in the COVID-19 crisis, I thought I'd be worried. But I was inspired. I knew what my role was. I couldn't step back from my duties as a doctor. I was proud to have skills that were useful. If anything, I feel a greater sense of purpose. I also feel immense appreciation from our community. I work eight- to ten-hour shifts, often at night. I often miss breakfast with the kids, but I see them off to day care or off to bed. I'm able to do this because I have a spouse who works from home, never complains and enjoys being a father. I'm also working this Mother's Day. When I get home, I'll try to get some sleep, then enjoy what's left of this special day with my kids.
Has this changed you at all, personally and in your role as an ER doctor?
I'll never be the same after the pandemic. I'm not a germaphobe. As far as physicians are concerned, I'm probably on the lower end of the spectrum. It's not something that gives me great anxiety. I'm not a mom who carries around hand sanitizer everywhere like my mother did. [Laughter] Maybe that's because I'm rebelling in some way because I come from a medical family—our house was immaculately clean. But this experience was different.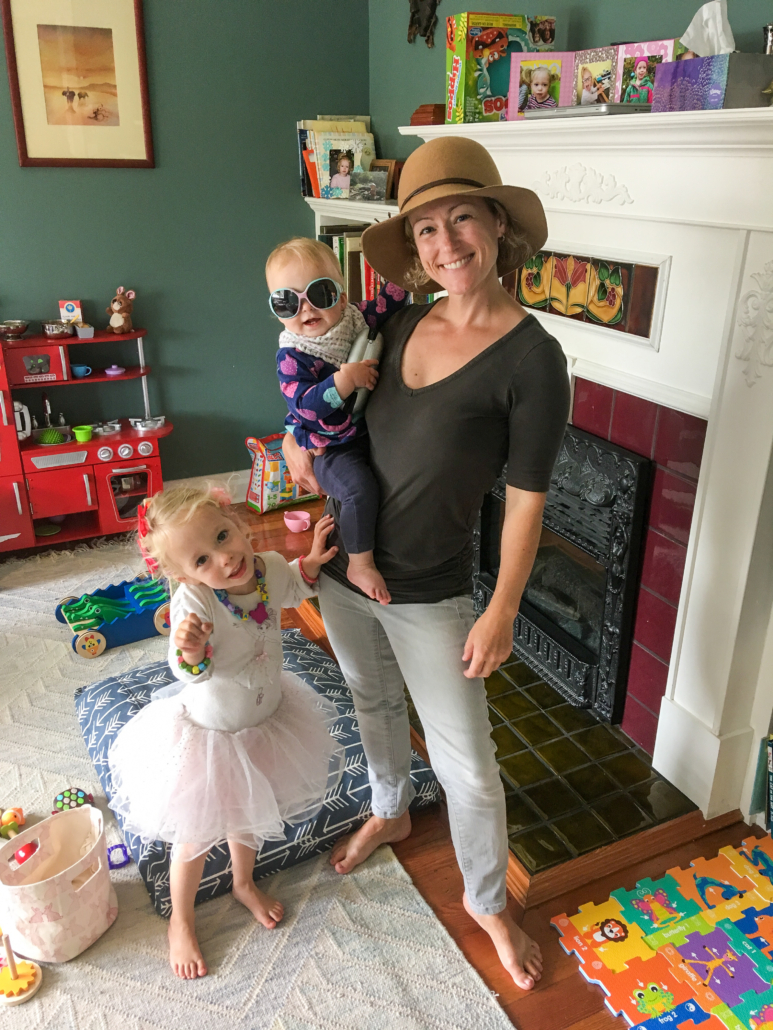 Getting to and from work has changed drastically. My car is now the "work car"—the car seats are in my spouse's car—and it's seldom used, if at all, by anyone else. I have a to-and-from work outfit. I have two pairs of shoes for work: one for to and from work and one for the length of my shift. Because I'm a small person, scrubs make me seem child-like. I used to wear my own professional-looking clothing, but now I wear scrubs, a surgical scrub hat, a face mask, and goggles through most of my day. Doctors, nurses, we all look the same: our mouths, faces, and hair are covered. Many people shower before heading home. I haven't yet felt it was necessary because of the low rates of COVID-19 infection locally. I come home and quickly dodge the children if they're up. I change out of my transport clothing and into something new. That's my routine now.
What are some of your favourite Mother's Day moments?
Every Mother's Day, our daycare makes a questionnaire booklet for the children. Even if the kids are 18 months old, the staff will ask them questions about their mothers. And the answers are hilarious. "I love my Mom because…" To which my daughter responded, "She wears nail polish and I want to stay with her, but she still has to go to work".  Or, "My mom is so happy when…" to which my daughter, at two, responded, "She puts me down and I don't cry". They fill out these booklets which I so look forward to every year. (I'm now realizing that I'm not going to get one this year—which is a bit sad.) It always comes with a craft—something I truly adore and I will keep forever.
For Mother's Day one year, we went to Beacon Hill Park for a picnic. We played bocce. Anna was 18 months old. It was chaos. We opened up these gifts and Anna was just so proud. It was a perfect day.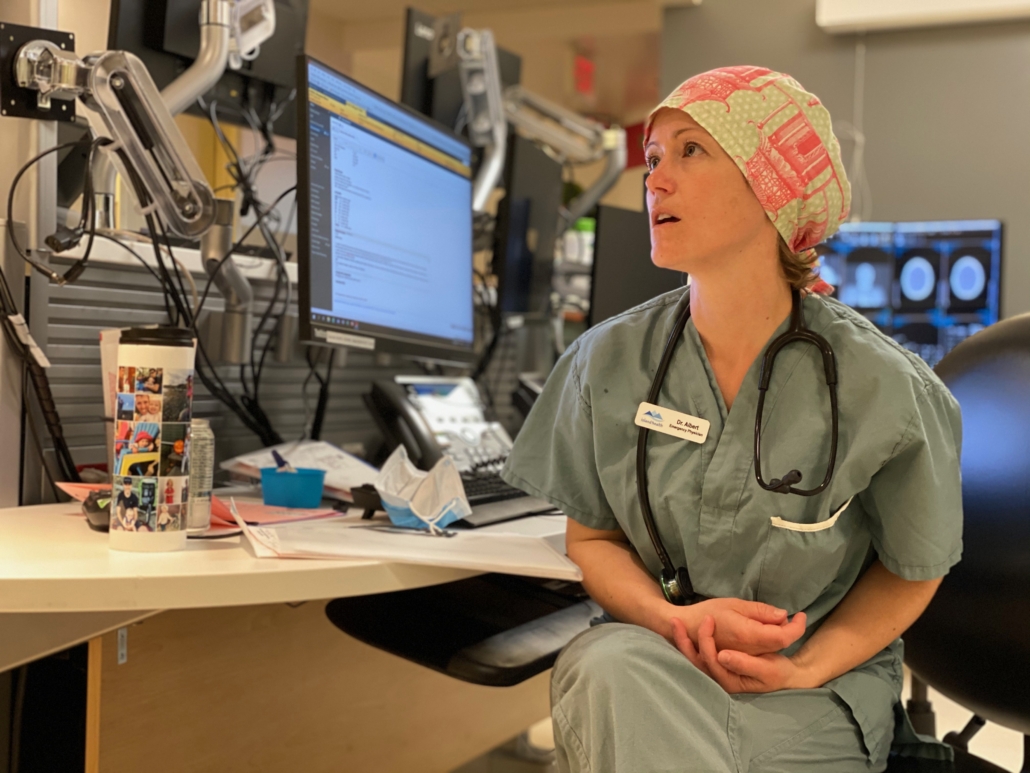 What would you say to our community right now?
I see messages online that people should use this time to get closer with your children or start a business or learn a language. But I think we're all just trying to survive. There will be hard times. There will be good times. It's okay to just be good enough. You don't have to be super great. Be kind to yourself. Be present with your children when you can and just get through this. It will end.

Right now we're asked to physically distance ourselves from others in our community and extended families. This can feel isolating. Yet I see so much love and affection that everyone is expressing—at a distance—to their neighbours. When someone asks for help, they're answered. Our sense of community in Victoria, our unity to others, is at an all-time high. So much is uncertain at this particular time because we don't yet know when we can loosen these restrictions and regain a sense of normal. I don't feel like a hero.  I feel lucky.  There are many in Victoria who have suffered immensely either directly or indirectly due to COVID 19.  I hope the community support and generosity will remain long after the pandemic has ended.
We are grateful to Dr. Albert for being so generous with her time.
Read another story from a mother working in our hospitals on the front line of our community's COVID-19 response. Dr. Bri Budlovsky is an ER doctor who was inspired to pursue medicine after her father's traumatic accident. During the COVID-19 pandemic, she found a new definition of bravery. She wants, more than anything else, to be a role model for her daughters.
As part of our Hospital Heroes of Victoria initiative, you can send messages of encouragement and gratitude directly to our front line hospital workers. Or, to learn more about our local hospitals' greatest needs, visit our It's Critical campaign page.