Jordan shares his mental health journey and the care he received at Royal Jubilee Hospital in support of the Victoria Hospitals Foundation's Equipped to Heal campaign. The Foundation has been entrusted to share this story on mental health—we are deeply grateful.
Please note: The important story below contains references to sensitive topics about mental health.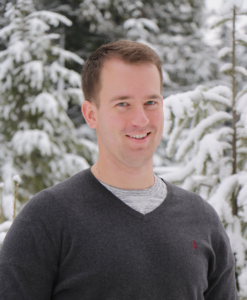 My mental health journey has been a long and winding road. Right now, I'm in a good place with a full adult life—I have a supportive family, a house with my partner Melanie, and we just welcomed our healthy baby girl, Aubrey. I'm in my third year of my electrical engineering degree, gaining work experience and about to start my career.
But all this wouldn't be possible without the resources and support for people like me who are struggling with their mental health. I am so thankful for the care I received at Royal Jubilee Hospital (RJH).
Victoria has always been my forever home. I went to high school here and made a lot of friends. It was when I moved out of the house and took on a lot between working and going to school that my family started noticing that I was stressed out more than usual. I had a lot of unknowns at that time—I had a tough time making ends meet and getting the grades I needed to take the next step in my education. You can imagine needing to put in more hours of work in a day than there are, on top of trying to sleep and trying to keep your life together as well as you can. It was a lot to handle at 20 years old. It was all too much for me. I felt like I had no real way to achieve my goals until I got a lot of support from my community, family, and friends.
With my family's help, I got assessed at RJH in 2012. From my experience that I described to my care team, I was diagnosed with psychosis and I was able to get medication to help me see changes in my behaviour over time. I was at RJH for inpatient monitoring for about six weeks. At that time, I felt hopeless, but it was all for the best.
From there, I worked hard to get back into the community with the help of outpatient support and a group home for several months, resources that were more accessible to me through the hospital. Here, I was able to get my thoughts organized and find work opportunities. I started working sales after doing some administration work thanks to a previous volunteer experience.
I did end up having a setback about a year after that. But I knew I just had to stay with it and have a positive attitude. I kept on trucking and kept looking for success in myself and then in all areas of my life. I was able to make friends through the mental health system and eventually got back on the right track.
I had a new goal of moving to Alberta to work in the oil fields so I could eventually come back to Victoria with enough money to pursue my dream career in science and technology. I was there for four years.
Now that I'm back in Victoria, I'm reflecting on the people who have helped me the most. My family is definitely number one. They were able to see what's best for me. I appreciate all their support because it would've been pretty tough to ever get anywhere without it. The trust between myself and my family forms the foundation of my social support system that helped me during my mental health crisis.
To people in our community thinking of giving, your donation shows that same kind of support for people who need help the most. I felt the impact of donor generosity when I was in the hospital—I would see the sign on the wall of the Jim Pattison Atrium and Concourse in the Patient Care Centre at RJH. I would walk by the donor wall and see the thousands of names of real people that have supported the hospitals. And I used to think that maybe there is hope after all.
I had moments of wondering if the mental health care system was right for me. But when there are donations to improve and expand access to mental health care from people in the community, it shows that the system is supported by people who care and it's here to support all of us. Here to support people needing mental health care like me. Thank you for showing you care.
—Jordan, grateful patient and Victoria community member